Creamy cheesy sauce wraps around penne pasta and ground beef to make this delicious Arnie Mac Cheesy Pasta – it'll be a new family favorite!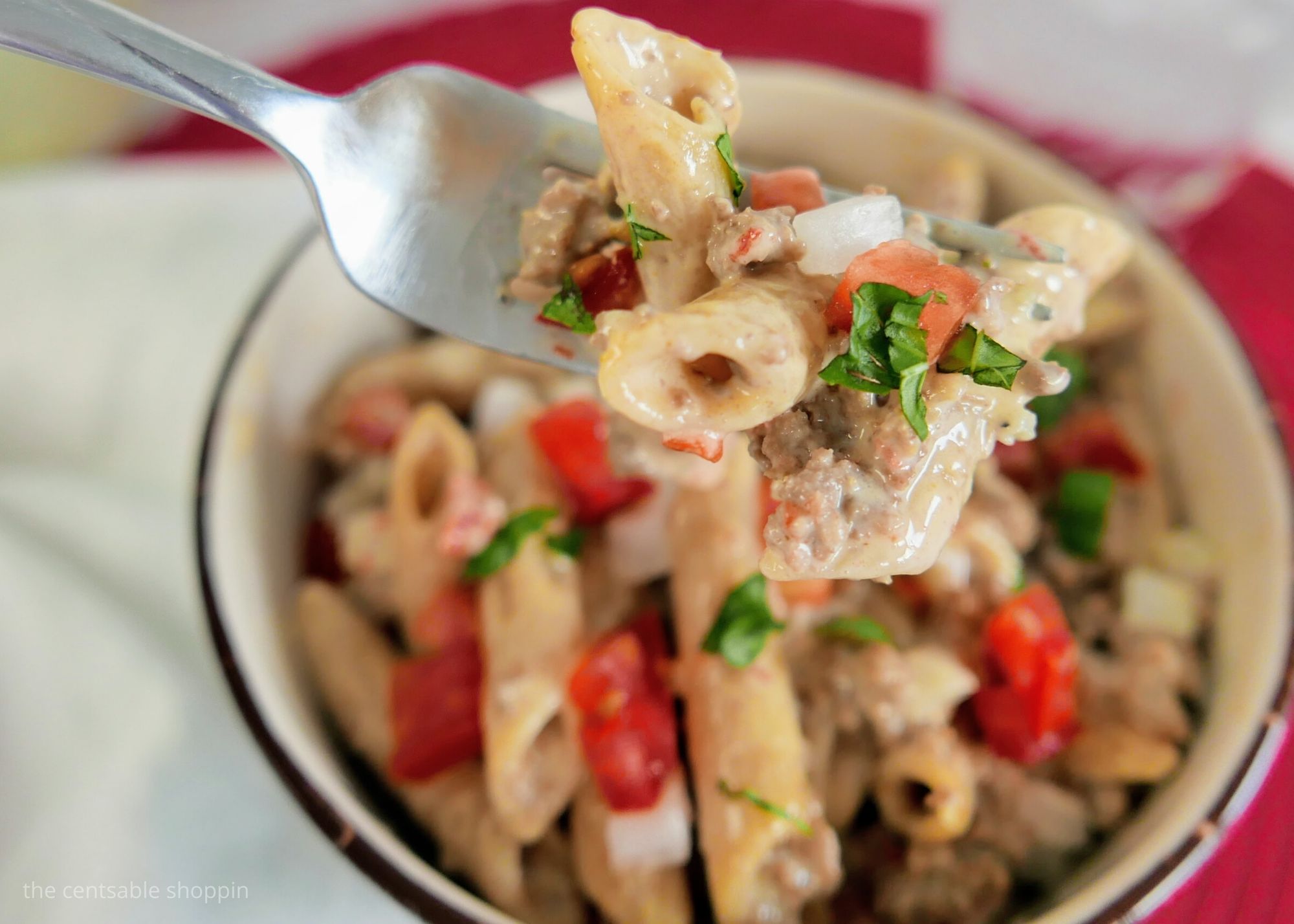 Every family has their favorite dinner meals. That one dinner that we rely on the most to pull us through on a busy night. Maybe even that family favorite that we lean towards when we don't know what else to make.
This cheesy pasta is definitely that favorite for us.
When I was in college, and for a short time, I worked at Outback Steakhouse as a server. The kitchen manager, Arnie, made up a recipe using the macaroni and cheese from the kids menu, and a ground up burger.
That was when Arnie Mac was born.
Arnie Mac became every server's favorite meal — and something I still make to this day!
Arnie Mac Cheesy Pasta
This dish is made with simple ingredients that come together to taste incredible. A box of whole wheat penne pasta, wrapped in a delicious cheese, diced tomatoes, a little ground beef, and your favorite seasonings. It is a favorite with kids and super quick to throw on the table. Perfect for busy nights!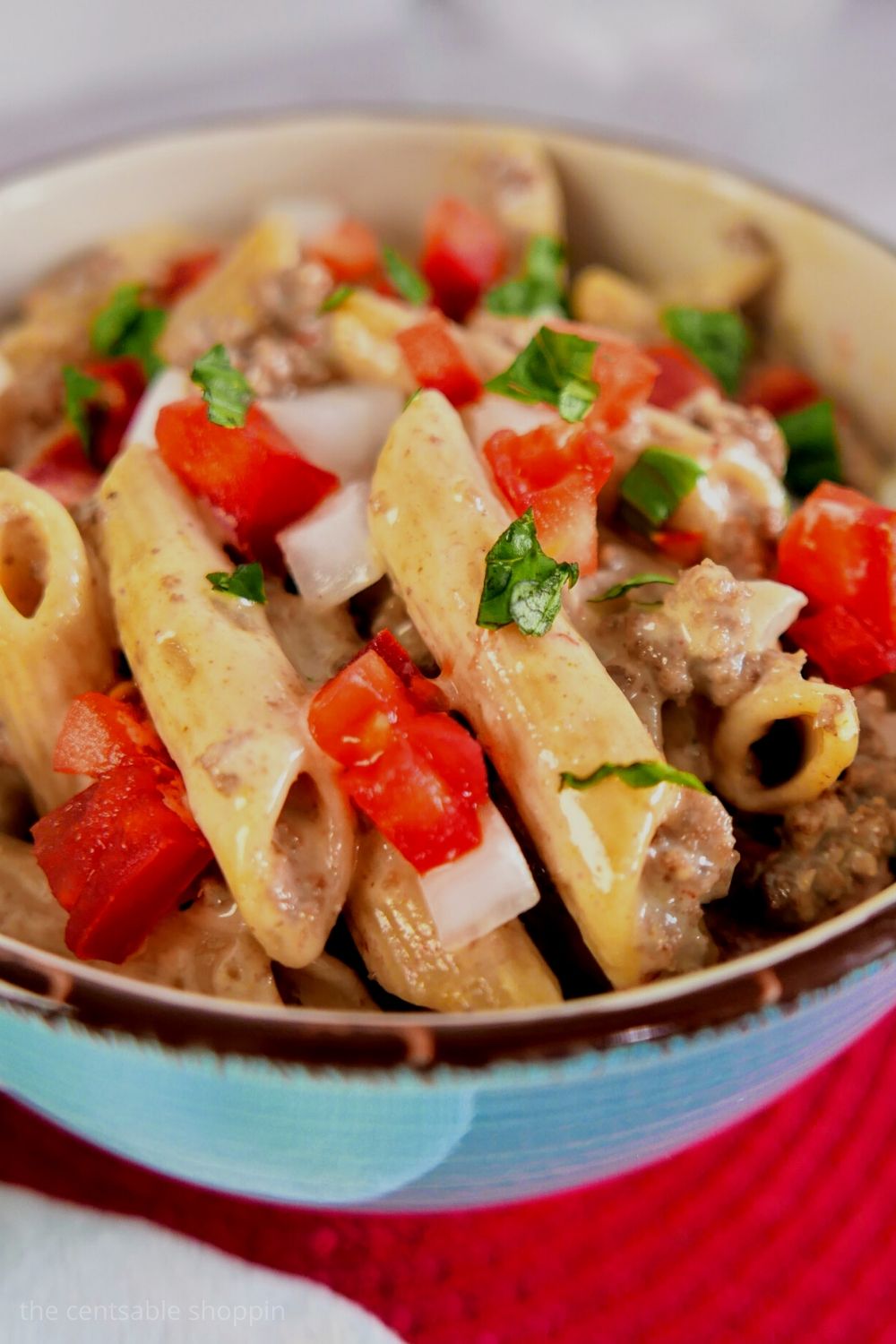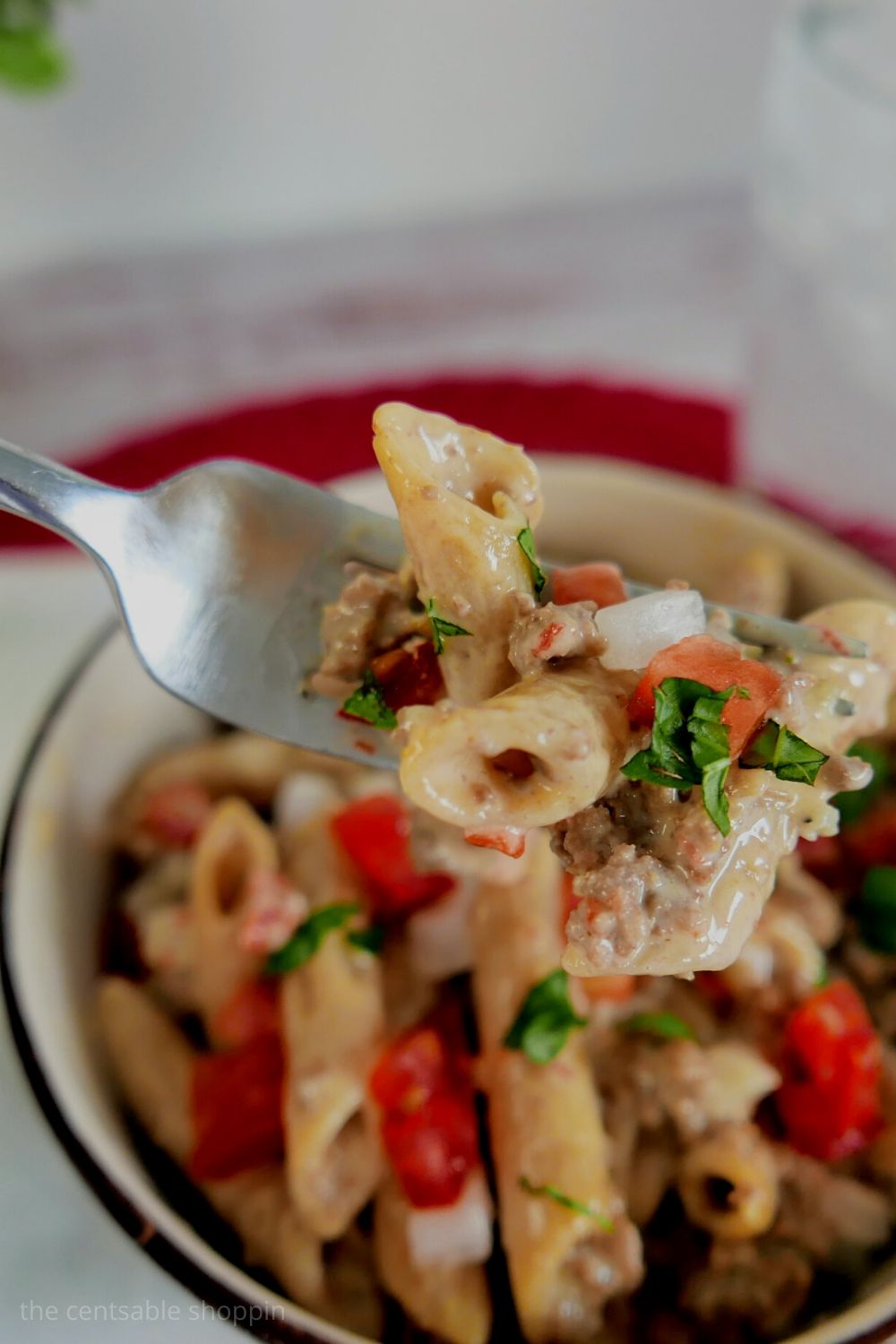 There are plenty of other better names that could be used for this pasta, but it will always be Arnie Mac to me.
OTHER CASSEROLE AND SLOW COOKER RECIPES:
Does your family have a favorite dinner meal that you rely on for busy nights? If not, this Arnie Mac Cheesy Pasta might just be the newest family favorite.
Arnie Mac Cheesy Pasta
Creamy cheesy sauce wraps around penne pasta and ground beef to make this delicious Arnie Mac Cheesy Pasta - it'll be a new family favorite!
Ingredients
12

oz

whole wheat penne pasta

1

lb

ground beef

93/7

1/2

tsp

garlic powder

1/4

tsp

ground cayenne pepper

1/2

ea

white onion

diced

16

oz

original velveeta cheese

1

pint

heavy whipping cream

2

ea

roma tomatoes

diced

1/2

tsp

salt

or more to taste

1/4

tsp

pepper

or more to taste
Instructions
Bring a large pot of salted water to a boil. Add the whole wheat pasta, and cook until al dente. 

While the pasta is cooking, add ground beef to a large skillet pan. Season beef with the garlic powder, cayenne pepper, salt, and pepper and cook over medium-high heat. When beef is almost done cooking, add the ½ diced onion, reserving a tbsp to top the pasta at the end of cooking. Cook onion until slightly transparent, and ground beef is browned. While the beef is cooking, dice the roma tomatoes, and set aside. 

Drain the pasta, and add to the ground beef skillet. Reduce heat to simmer. 

Cut the velveeta cheese into large cubes, and add to the pot used to cook the pasta. Pour the heavy whipping cream over the cheese cubes, and cook over medium heat, stirring constantly. The whipping cream scorches easily, so it's important to continuously stir. Once the cheese sauce is completely melted, pour over the pasta and ground beef in the large skillet pan. Stir well to mix all ingredients together. 

Add the roma tomatoes to the skillet, reserving two tablespoons. Gently mix the tomatoes into the pasta, just enough to incorporate. Top the pasta with the reserved onions and tomatoes, and serve. 
Did you make this recipe?
If you did, please take a second to leave a 5-star rating and a comment to let me know how you enjoyed it!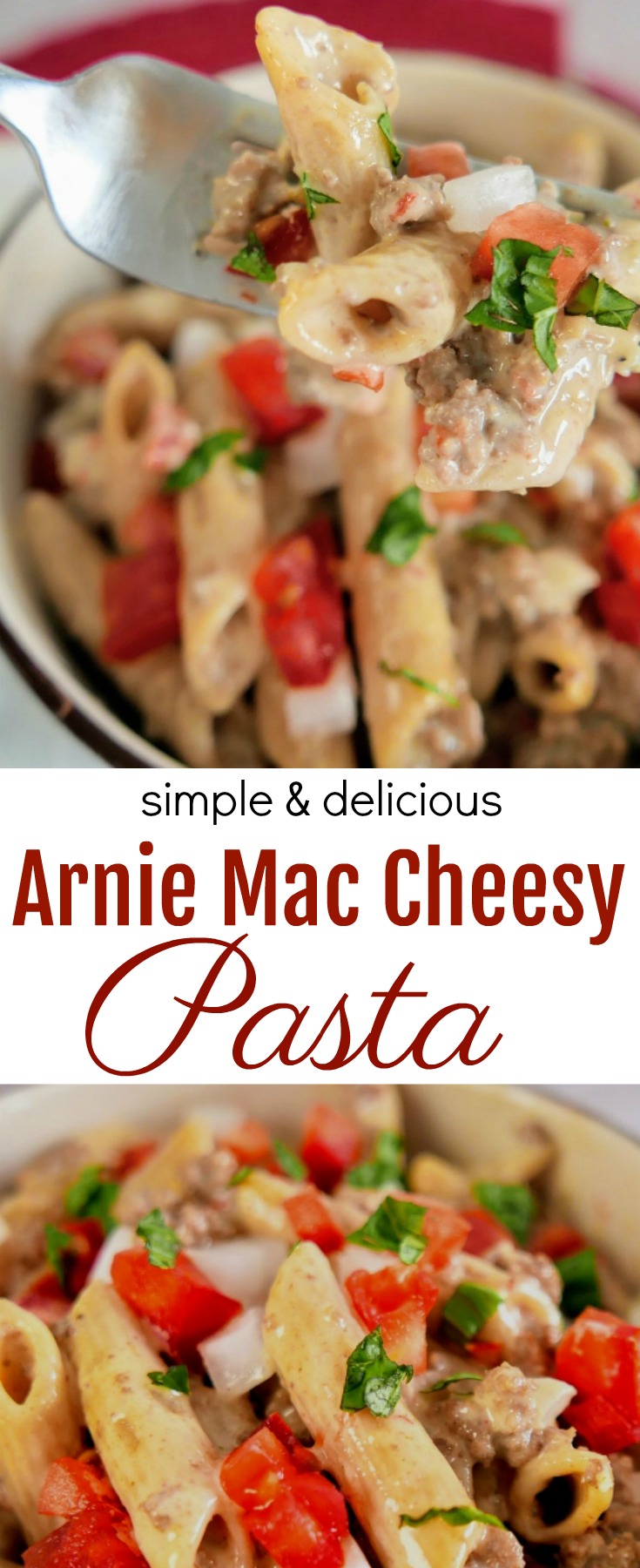 Looking for more quick and easy family favorites?