This kid-friendly cheeseburger casserole comes together in less than 30 minutes with simple ingredients to make a nice twist on traditional cheeseburgers!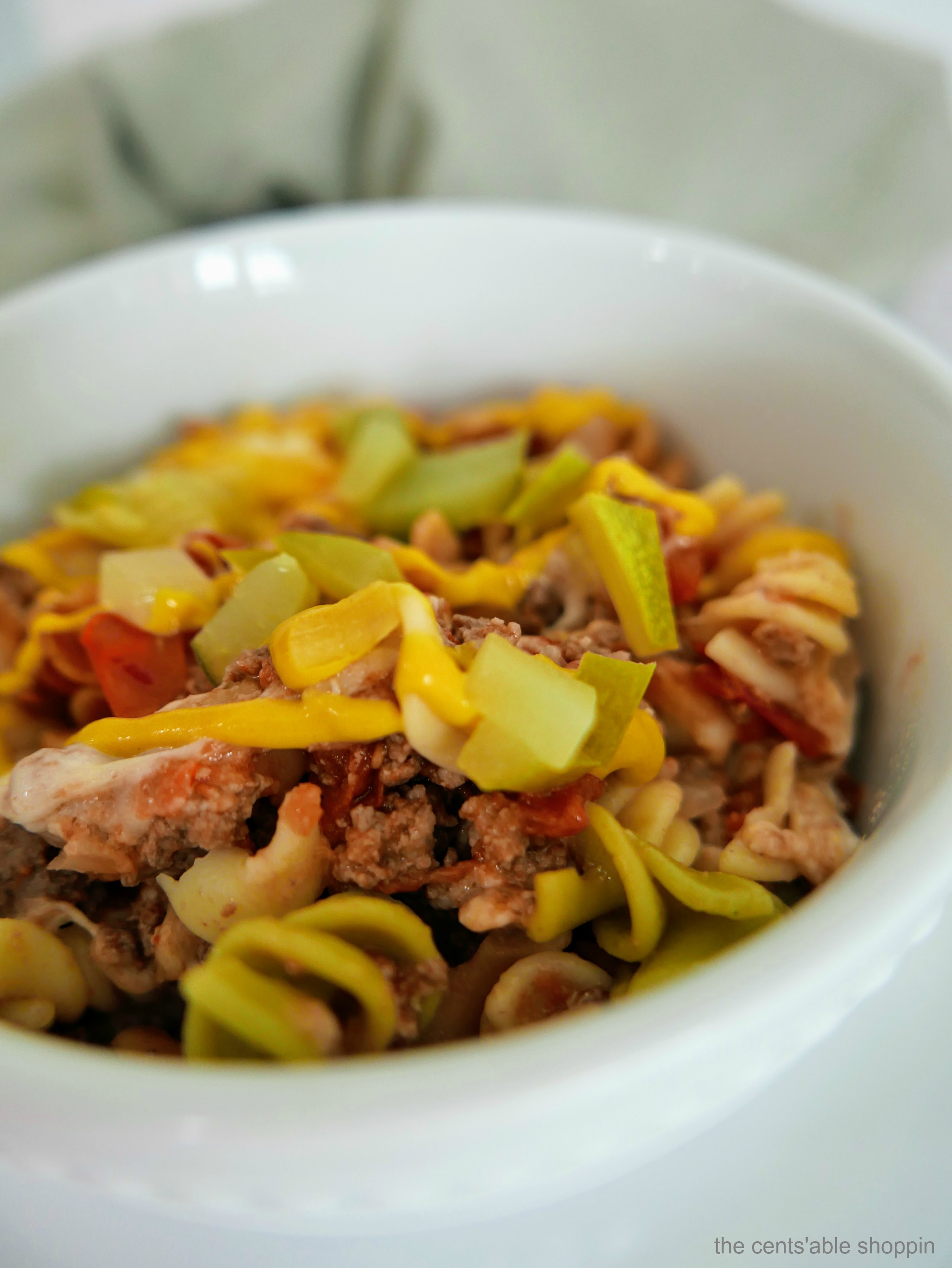 Here's an easy meal that's kid-friendly too. Just a heads up though.. it's not the prettiest meal. Like any casserole, it's a smorgasbord of things all mashed together and tossed into one big dish. This is the hard part as a food blogger — trying to make things look less like a pile of food you might not want to eat and trying to capture it to look like something you might want to eat.
But.. I can promise you one thing. It will taste delicious.
Anyways, I wanted to play around with simple ingredients I had sitting in the pantry. That and tri-color rotini pasta. Who doesn't love colored anything? Pasta especially.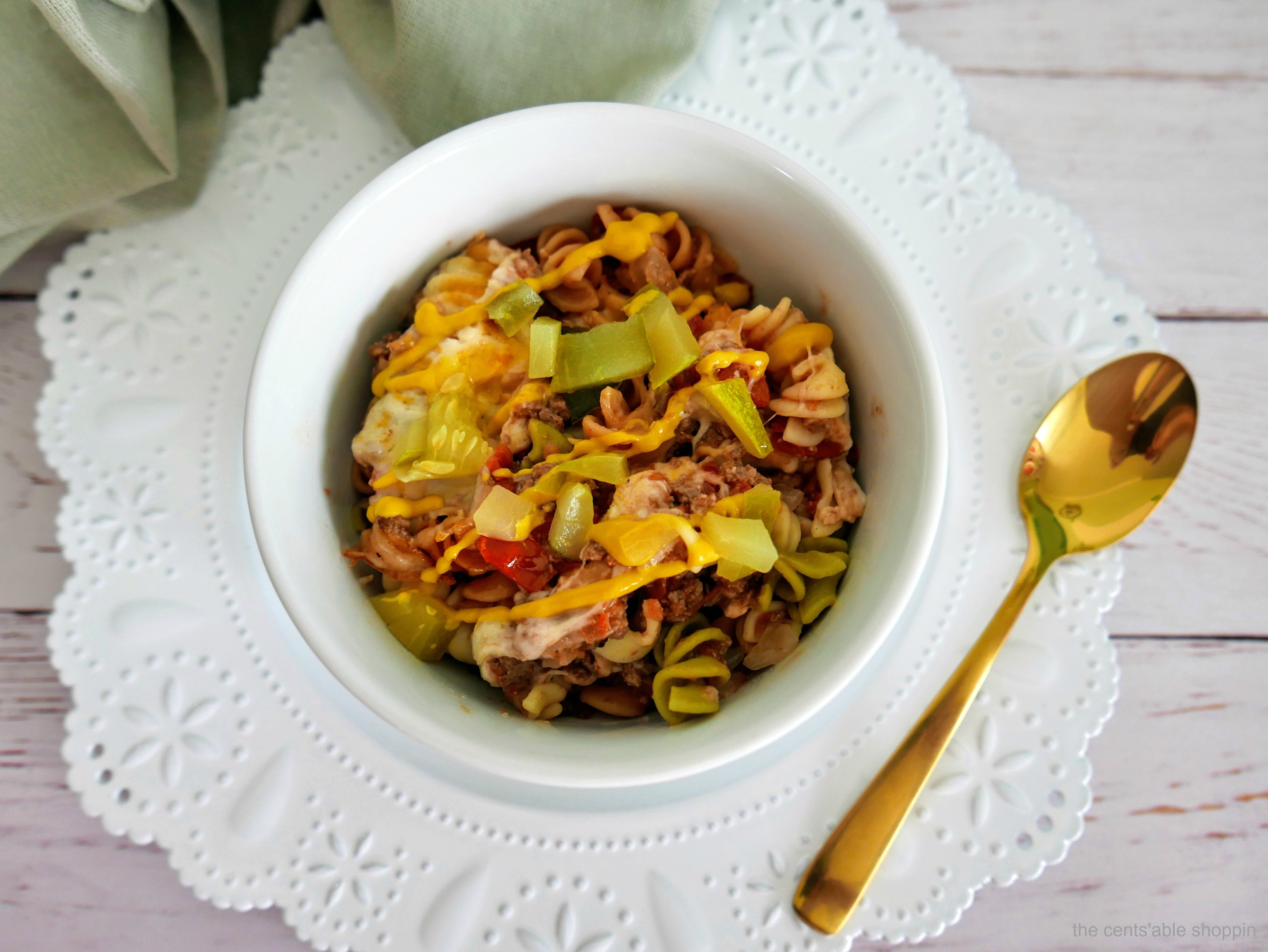 Cheeseburger Casserole
So, I found this recipe where tri-color rotini meets ground beef and diced tomatoes and decided to give it a go. It's simple and easy and comes together in less than 30 minutes from start to finish.
All the flavors you love in a regular cheeseburger with all the fun of colored pasta.
Lately, I've been doing a lot of casseroles trying to make up for my error in judgement last year by not cooking seasonal. Normally I'm not a huge fan of casseroles, because most of them aren't all that great. But this year I've somehow stumbled on several fantastic casseroles – so perhaps this year I knew what to look for.
Plus.. casseroles make cooking for 5 kids so much easier to handle.
So, this recipe is simple one of the good ones. Boil up some rotini pasta and drain. Sautés some veggies and add some ground beef. Season and then mix it all together with a can of diced tomatoes. Top with cheese and dump some more in the dish. Top with more cheese love and then that's it. That is as simple as simple gets.
Let's get started!
Cheeseburger Casserole
This kid-friendly cheeseburger casserole comes together in less than 30 minutes with simple ingredients to make a nice twist on traditional cheeseburgers!
Ingredients
2

C

tri-color rotini pasta

2

tsp

olive oil

1

onion

diced

2

cloves garlic

minced

1

lb

ground beef

93% lean

3/4

tsp

salt

1/2

tsp

pepper

2

Tbsp

tomato paste

28

oz

diced tomatoes

2

Tbsp

dijon mustard

2.5

C

shredded cheese

mozzarella and cheddar blend

1/4

C

dill pickles

diced

yellow mustard

optional
Instructions
Preheat oven to 350℉. Spray a 9 x 13 inch baking dish with cooking spray. In a large pot, bring salted water to a boil. Add the rotini pasta, and cook until al dente, approximately 8 minutes. 

While the pasta is cooking, heat the olive oil in a large skillet over medium heat. Add the onions and cook approximately 5 minutes, or until soft and translucent. Stir in the garlic, and cook for 30 seconds. Add the ground beef and cook until browned. Season with salt and pepper. 

Add tomato paste, diced tomatoes, and dijon mustard to the skillet, and cook for 2 minutes, or until slightly thickened.

Pour the meat mixture into the well drained pasta, and mix well. Add ½ c cheese to the pasta and meat mixture, and stir well.

Spread mixture into the prepared baking dish. Top with the remaining cheese, and bake until the cheese is melted, about 15 minutes. Top with a drizzle of yellow mustard and the diced pickles before serving. 
If you try this recipe and love it, make sure to rate the recipe and tag us on Facebook to let us know how it turned out!