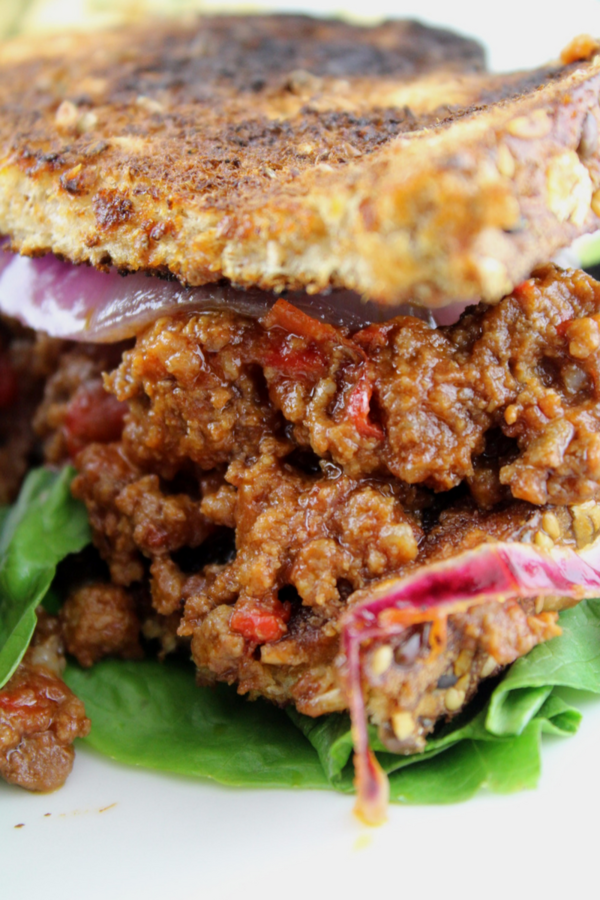 These Mexican Sloppy Joes are a twist on the traditional Homemade Sloppy Joe Recipe – and definitely suitable for your Instant Pot.
Sloppy Joes are the ultimate comfort food — even more when the weather is cooler and the winter rolls around. If your kids love traditional sloppy joes (all of mine do!) they will likely love this twist as well.
You can certainly turn up the heat in this recipe depending on the tolerance of the rest of the family – add a few more chipotle chiles instead of just one, and a spoon or two extra of sauce. Making your own sauce is much better and easier than purchasing commercial sloppy joe "wich" sauce simply because you control the ingredients.
Sloppy Joes can be made on the stovetop by browning up some ground beef – they can also be made in the Instant Pot too, depending on what you prefer to use given the season you are in. Here in Arizona I prefer using my Instant Pot so I don't heat up the house, but if your stovetop is easier then this recipe is definitely adaptable.
Serve up with a nice fluffy homemade hamburger bun, or between two toasted pieces of bread for a chance of pace – pile some baked beans on your plate and an ear of corn and you have quite a generous dinner meal.
A traditional twist on homemade sloppy joes with the addition of Mexican spices and chile.
Ingredients
3 cloves garlic, minced
1 lb ground beef or ground turkey, 85% lean or greater
1 red or green bell pepper, diced
1/2 C. sweet onion, diced
1 chipotle chile + 1 tsp chile in adobo sauce
1 generous tsp ground cumin
1/2 tsp chili powder
1/2 tsp onion powder
1/2 tsp garlic powder
1 tsp kosher salt
1/4 C. organic ketchup
1 can tomato paste, 6 oz
6 oz water
2 Tbsp coconut sugar (or substitute brown sugar)
Hamburger Buns or toasted bread
Instructions
In your Instant Pot using the saute feature, add the garlic, ground beef, red bell pepper, onion, and diced chipotle chile.
Season with cumin, chili powder, onion powder, garlic powder, and salt.
Saute until the meat is browned, then turn OFF the saute function.
Add the chipotle chile sauce (1 tsp), coconut sugar, tomato paste, water, and ketchup and give it a stir to combine.
Place the lid on the Instant Pot and seal the valve.
Set the timer for manual (high) for 4 minutes.
At the completion of the 4 minutes, use a quick release, and give it a good stir.
Serve on top of buns or between two slices of toasted bread.
Notes
A traditional twist on homemade sloppy joes with the addition of Mexican spices and chile.
https://www.thecentsableshoppin.com/instant-pot-mexican-sloppy-joes/