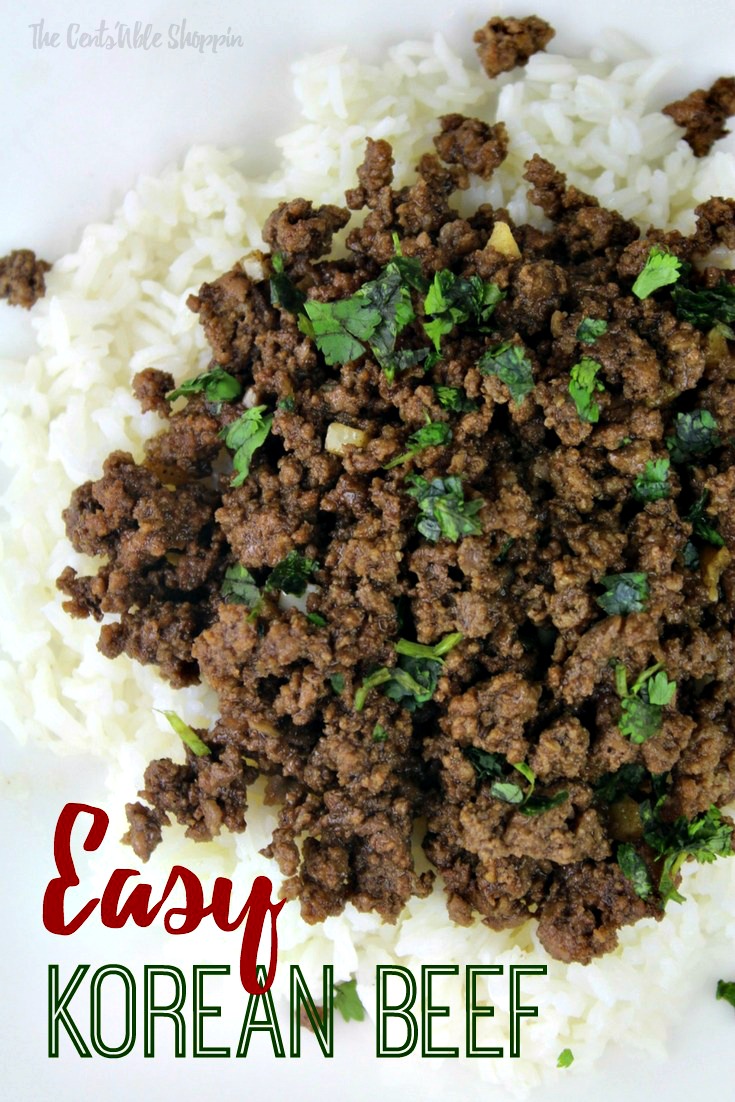 Every so often our weeknights are busy – kids have practice, sports, lessons… perhaps you are working late. In those cases, while it might be easier to pull through a drive-through window and order for the carload … eating at home is more cost effective and better for your health, too.
Everyone I know loves this easy Korean Beef – it's something we have been making for several years and it's one of those easy, weeknight go-to recipes that takes just a few minutes to throw together. In less than ten minutes, it can be ready and on the table (provided you start with thawed ground beef!)
As for the rice, well that's easily made in the Instant Pot in just 7 minutes (one cup white rice to a cup and a half of water, high pressure for 7 min). Have I told you how much I love this Instant Pot? Ours has been part of our kitchen now for 2 years and counting. It truly does some amazing things.
To make this easy Koren Beef, pull out your skillet and cook your beef and garlic over medium heat, just 6-8 minutes. breaking the beef into crumbles as you go. In the meantime, combine your soy (or, in our case, soy alternative!) and seasonings.
Stir that sauce into the beef and simmer on the lowest stove top setting until heated through. We love to serve ours with rice, and a bit of chopped cilantro – but it's also delicious with chopped green onions, too. Throw in some variation by adding a bag of frozen broccoli and a jar of drained mushrooms, or snow peas. If you are looking to serve it atop rice, then feel free to double the sauce too!

Or, be bold – instead of white rice use brown rice cooked up in the Instant Pot!
This recipe is so easy to make, perfect for a weeknight, and perfect for those evenings that you aren't up for turning on the oven. Here in Arizona… that's a wonderful thing considering our summer temps can be well over 100 degrees!
An easy Korean Beef recipe with simple ingredients that can be ready in just minutes!
Ingredients
1 lb lean ground beef (90%)
3 cloves garlic, minced
1/8 C. brown sugar (or, 2 Tbsp)
1/4 C. soy sauce* (or, soy alternative, see far below)
1/2 tsp ground ginger
2 Tbsp sesame oil
optional: 1/4 tsp crushed red pepper flakes
garnish: green onions, chopped thin
3 C. cooked white rice
Instructions
In a large skillet, combine the garlic and ground beef and saute until no longer pink (6-8 min).
In a second bowl, combine the brown sugar, soy (or, alternative), oil and seasonings. Stir that sauce into the cooked beef.
Simmer the beef on low to allow the meat to absorb the flavors.
Serve on top of rice and garnish with red pepper flakes and green onions.
https://www.thecentsableshoppin.com/quick-and-easy-korean-beef/
We prefer not to use soy sauce, and we aim for soy-free Worcestershire sauce in our home – if you aren't as concerned about soy sauce or soy in your Worcestershire, feel free to use regular varieties. If you, like us, prefer to make your own, feel free to use this recipe, below.
It keeps for 7 days within your refrigerator.
Soy-free Worcestershire Sauce alternative:
4 tsp balsamic vinegar
1 1/2 C. organic beef broth
2 tsp unsulphured molasses
1/4 tsp ground ginger
pinch garlic powder
pinch white pepper
optional: salt, to taste
Combine all ingredients with the exception of salt and bring to a boil. Reduce to a simmer until reduced by half. Pour into a glass bottle. Refrigerate for up to 7 days.