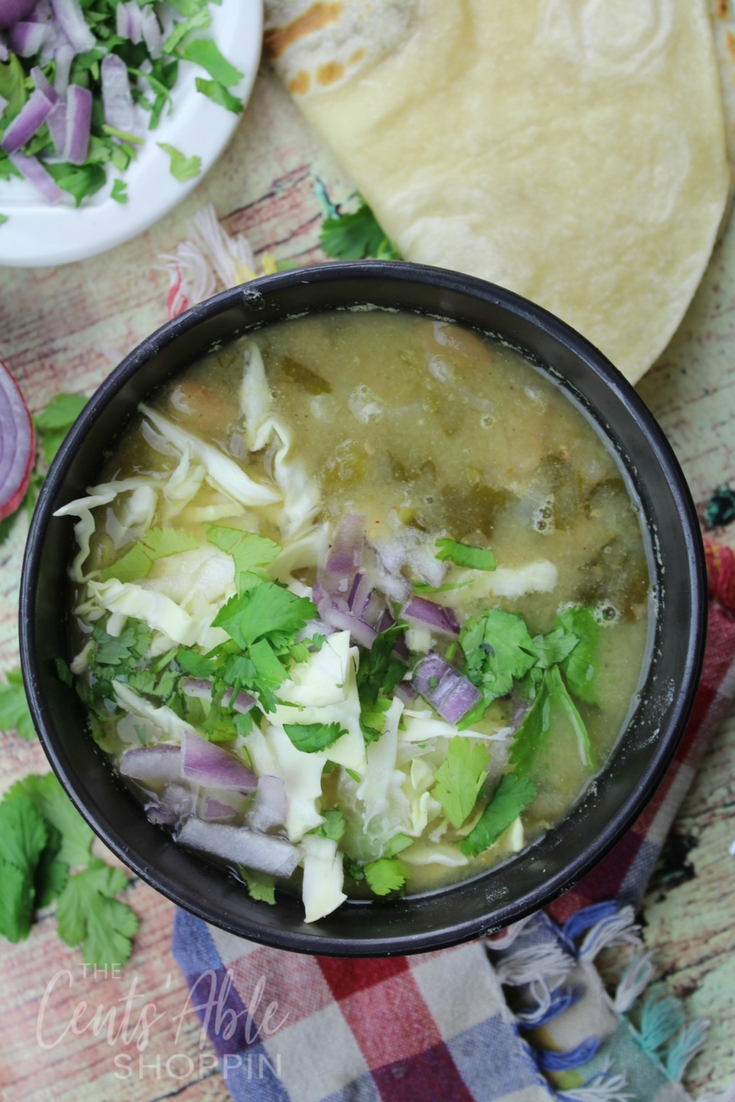 Tomatillos are one of those vegetables that you don't often think of when it comes to soup – normally, you would roast them up and throw in the blender to make Pasta Sauce, or perhaps even Roasted Tomatillo and Avocado Salsa.
If you want to be really really different, you can pickle them too ~ believe it or not, they are delicious and pickling is rather easy, especially if you have a garden full of tomatillos to use up quickly.
They also work well combined with ground beef to make a spicy ground beef hash to serve on nachos or in tacos ~ easily done in the Instant Pot. In the food world, nothing really holds the attention like a weird recipe that you probably haven't heard of anywhere else: Roasted Tomatillo and Bean Soup.
Although you can toss some chicken into this recipe, it's perfect to eat without – easy to put together on the stove top or in the Instant Pot if your burners are taken up by other dishes.
Eaten raw, tomatillos have a very lemon-like flavor to them. Once cooked, they really do soften up and their flavors mellow — they are a perfect compliment to pinto or peruano beans – which can be soaked prior to cooking, unless you choose to use canned – they are full of fiber and an affordable way to feed a large family.
Pinto beans tend to be darker in color, but peruano beans are lighter and much creamier in texture. Also known as Mayocaba beans, you can find them at your latin market in the bulk bins – we actually prefer them to pinto beans and although they cook up quite fast in the Instant Pot, I find that soaking them is an even healthier way to incorporate them into our diet.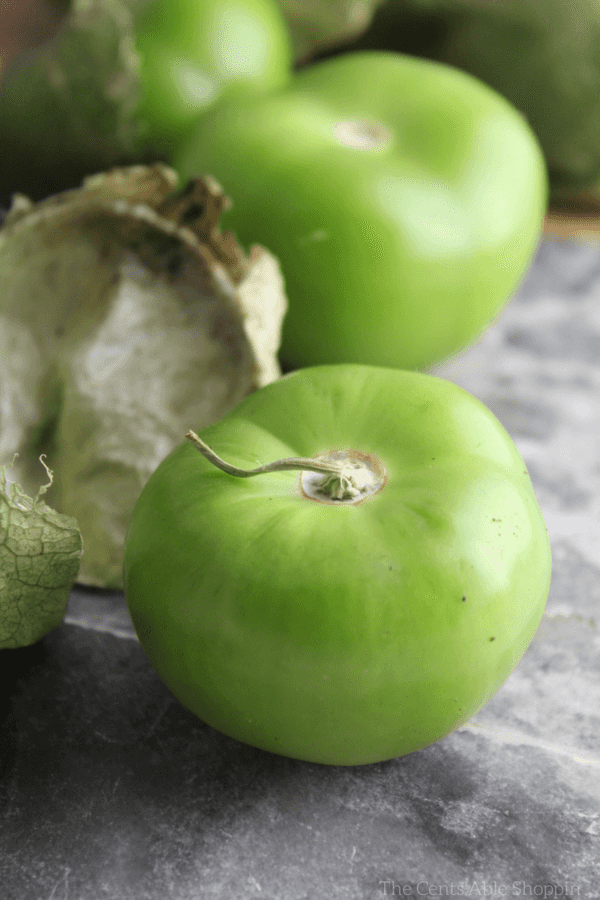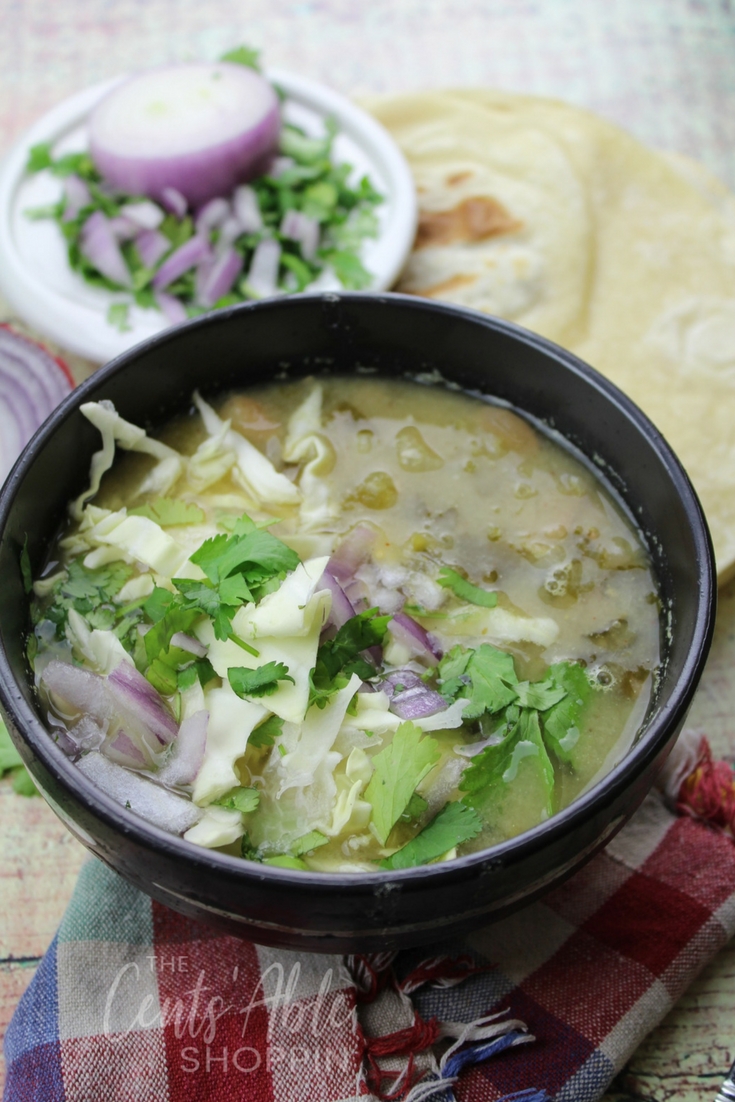 Serve this soup with some warm corn or flour tortillas for a really enjoyable, satisfying meal that everyone will love. Or, if you are a biscuit-loving kind of person, serve it with these low-carb Cheddar Jalapeño biscuits, for even more flavor.
Meatless Tomatillo and Bean Soup
Ingredients
1 lb tomatillos, husks removed, and washed
3 garlic cloves, diced
1 medium onion, sliced thin
1 tbsp extra virgin olive oil
3 cans (15 oz each) pinto beans, drained
4 C. chicken broth (or sub vegetable broth)
1 tsp cumin
1 tsp salt, or more to taste
1/4 tsp pepper, or more to taste
3 Tbsp corn flour, preferably organic
1/4 C. cilantro, chopped
avocado, diced - to serve
lime wedges - to serve
1/2 C. shredded cabbage - to serve
1/4 C. sliced radish - to serve
organic tortilla chips - to serve
Instructions
Place your tomatillos on a lined baking sheet and roast at 450 degrees F until browned and skin is soft/puffy. Remove from the oven and throw the tomatillos in the blender with the garlic. Puree until smooth.
In a large dutch oven, add your olive oil, and onions - saute until soft. Add your broth, pinto beans, cumin, salt, and pepper and stir well to combine.
Remove 1/4 C. of the soup and stir in the corn flour - mixture should be a thick paste. Return that paste back to the larger pot and stir to combine - simmer on low/medium just until combined.
Add cilantro just before removing from the heat.
Ladle into bowls and serve with diced avocado, shredded cabbage, diced radish, organic tortilla chips, additional pepper, and lime wedges.
https://www.thecentsableshoppin.com/meatless-tomatillo-and-bean-soup/