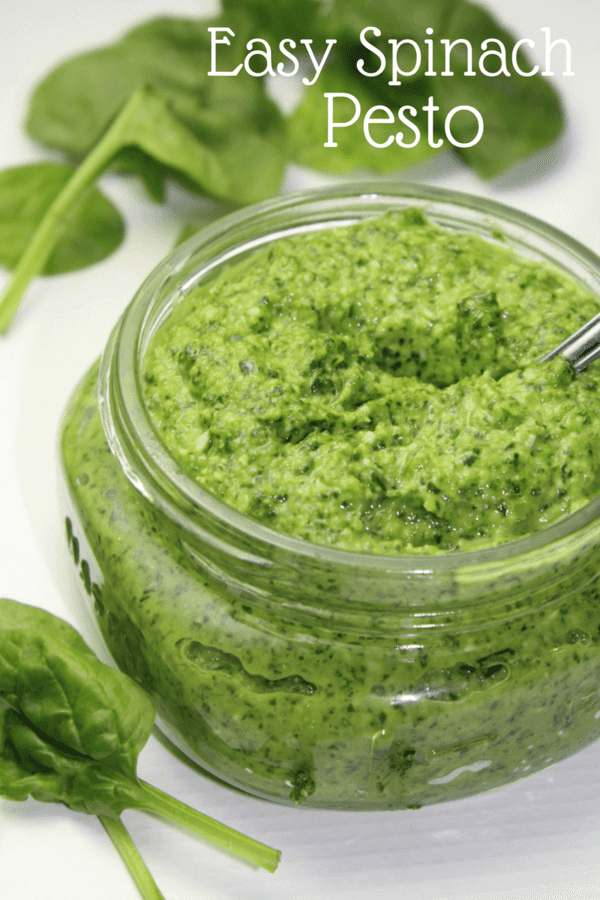 Spinach Pesto is one of those things that I'm grateful for ~ not only is it easy to make, everyone loves it and it helps us use bundles and bundles of spinach from the Farmer's Market.
When the Farmer's Market has bag upon bag of Spinach and the market is almost over.. they are eager to give me the extra bags that haven't sold. And I'll always take spinach because I can use it. Guys, I can only eat so much spinach salad.
This pesto is a wonderful way to use that spinach, especially since it keeps a long time and gives some variety from the traditional spinach salad. We can mix spinach pesto with pasta for spinach pesto pasta, and we especially love to spread pesto on our homemade breadsticks before we bake them – YUM-O!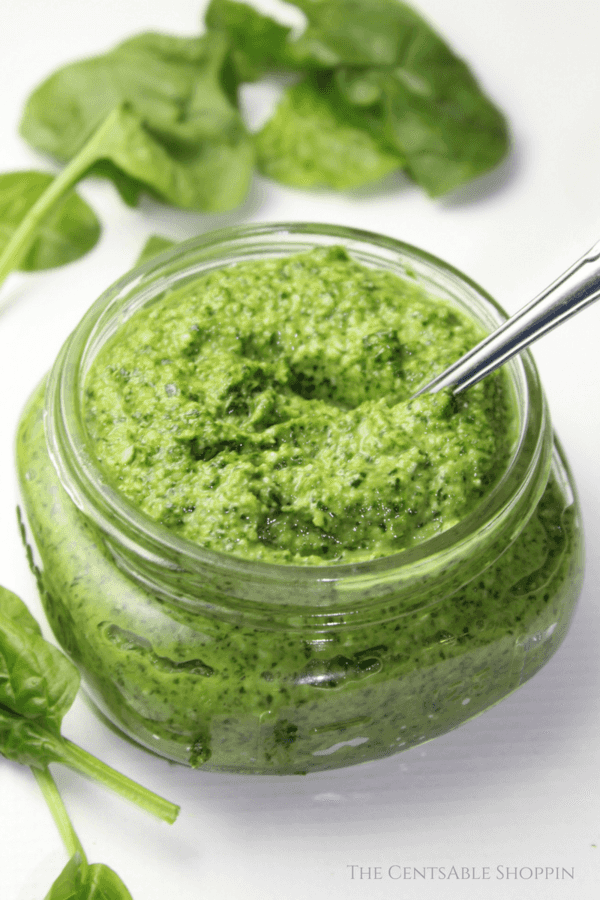 Spinach Pesto is always so easy to make with ingredients we have in the pantry. Pine Nuts last such a long time when you use them sparingly (like in this recipe).. and if you can't get to the Farmer's Market, there is always bagged spinach to be had.
Easy Spinach Pesto
2016-10-28 16:35:00
An easy spinach pesto recipe that is a great way to use up too much spinach.
Ingredients
5 cloves garlic
2 C. fresh spinach
1/4 C. extra virgin olive oil
1/2 C. pine nuts
1 tsp sea salt
2 tsp lemon juice
3 Tbsp dried basil
1 tsp sugar
Optional: 1/4 C. parmesan cheese
Instructions
Put all items (with the exception of the parmesan cheese) in the food processor.
Process until combined - continually scraping down the sides.
Add additional oil as needed.
Dress with parmesan cheese.
Add a little bit if oil to the top of the jar to keep it fresh while you store the pesto, and keep the finished pesto in the refrigerator.
The CentsAble Shoppin https://www.thecentsableshoppin.com/