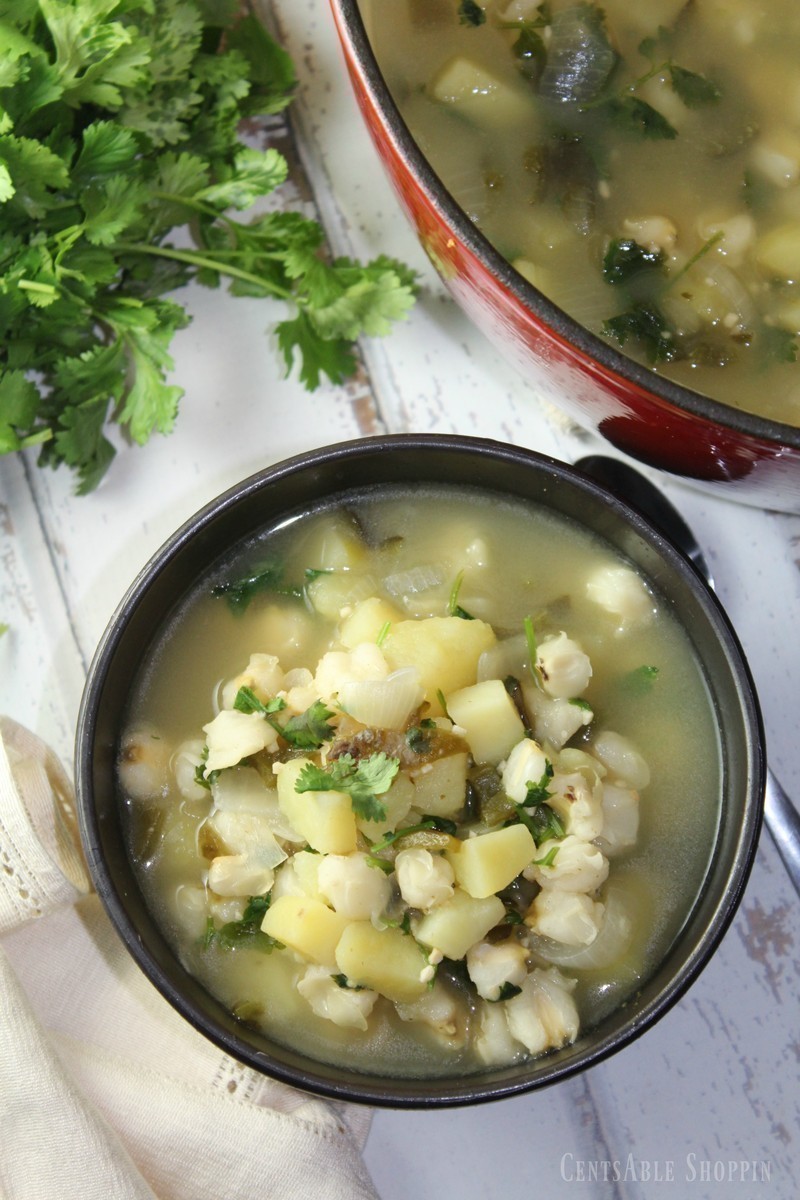 Soups are probably the most versatile meal you can throw together – not only do they make great leftovers, you can truly eat them all year long. Moreover, if you have an Instant Pot or Dutch Oven, you can make them in a matter of minutes, with almost anything you have in the fridge or pantry.
Soups are my go-to when we have to bring a dish to share. Every weekend we spend several hours at church, followed by a fellowship meal and Soups are the most requested item.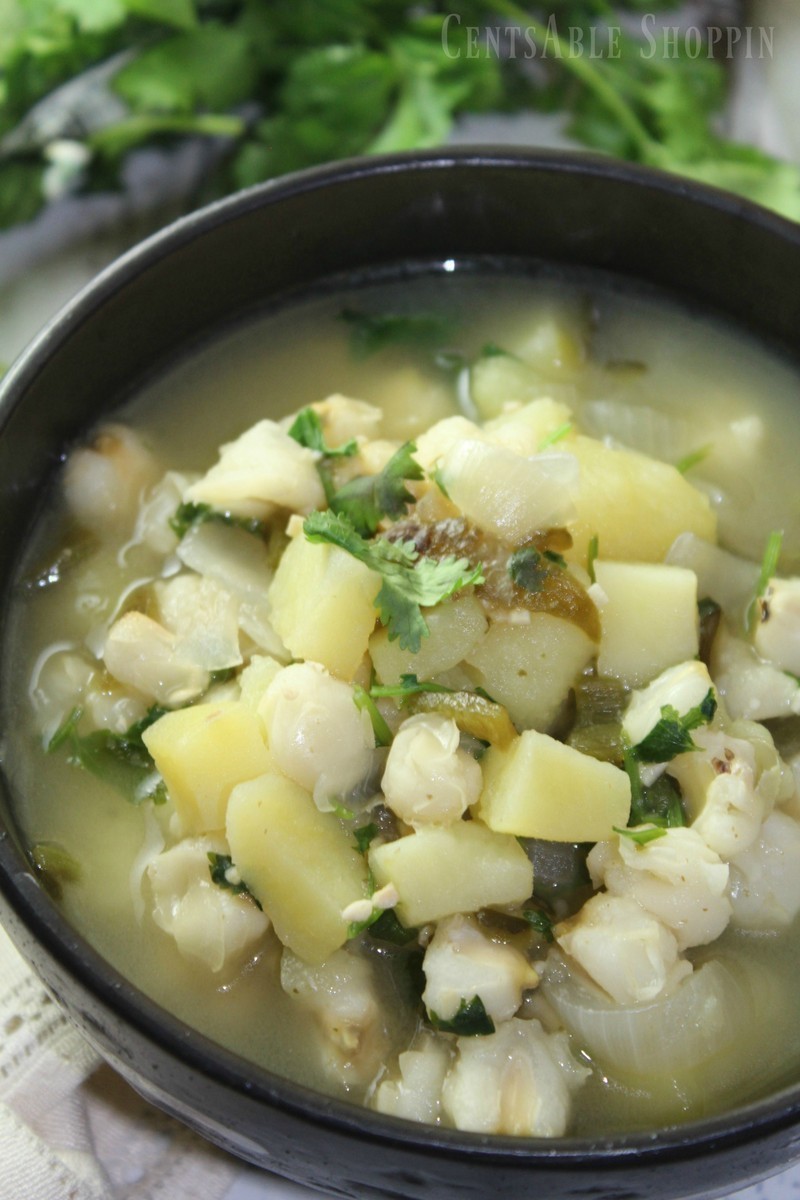 I'm known as the "soup lady" – there hasn't ever been a fellowship dinner that we have had any soup leftover, it all gets eaten up and we bring home an empty pot.
The best part about this Potato Hominy Soup is that you can dress it up with any meat you wish – while we opted out of the meat, it was just as amazing. It's incredibly easy to make and full of flavor – it'll definitely be a staple recipe you make over and over again.
Your Instant Pot would work amazing for this soup – our Instant Pot was making yogurt all day so we resorted to our second favorite appliance – our Dutch Oven.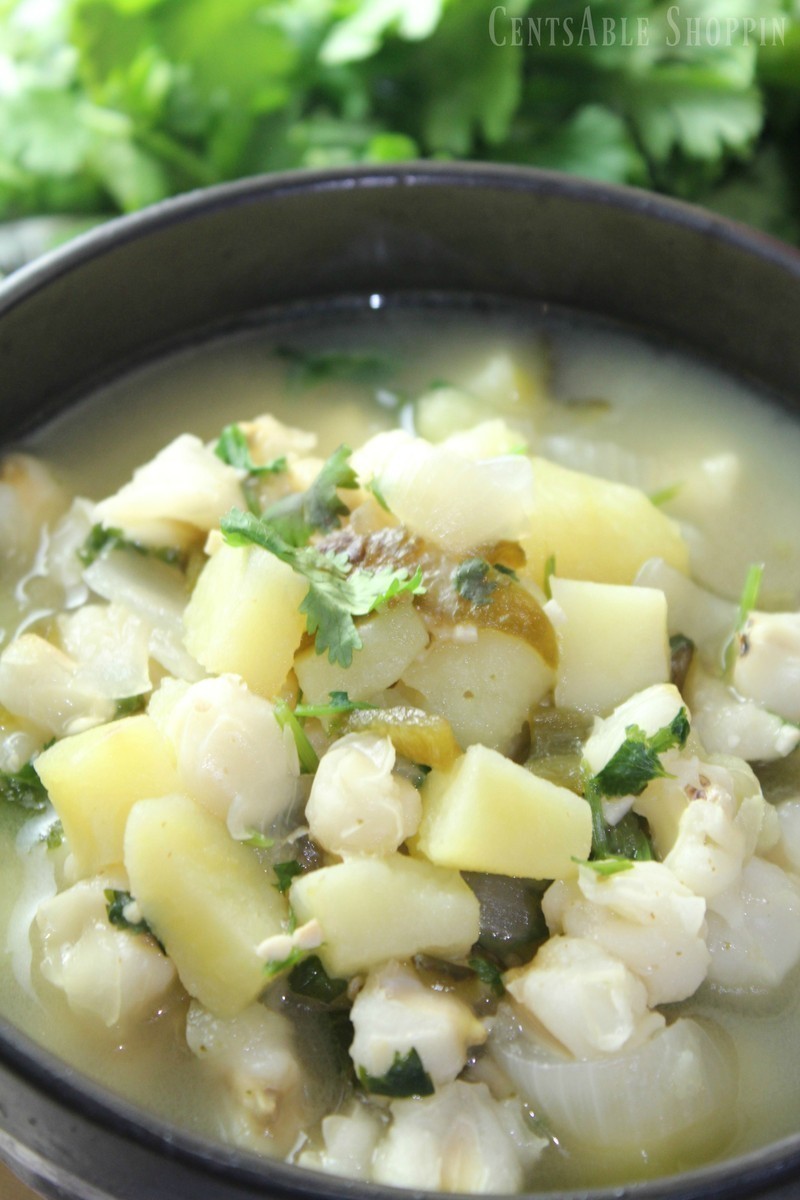 It's incredibly hard (I should say impossible) to find organic canned hominy – we used an organic white corn kit to make our hominy. The best part about the corn kit is that you know it's organic.
The worst part? If you are not a planner you can't just crack open a can & make this soup last minute.
Looking to buy a white corn kit? We had to really hunt ours down – we found a wonderful company in South Carolina that carries white hominy kits in several sizes (1, 5, 10 or even 20 lb bags). They also sell Polenta, and Grits, too.


Feel free to use what works for you – if you don't mind regular hominy you can use the variety you find in your regular store.
Potato Hominy Soup
2016-09-11 03:34:00
Serves 6
Combine potatoes, poblano chiles and hominy in this rich and hearty soup that is easy to make & full of flavor.
Ingredients
2 Tbsp olive oil
1 large onion, sliced thin
3 cloves garlic, chopped
1 tsp ground cumin
3-4 medium potatoes, peeled and diced
2-3 poblano (pasilla) chiles, roasted, skinned, seeded and diced
8 C. vegetable broth
4 C. white hominy
1/2 bunch cilantro, chopped
1 - 1/2 tsp salt or to taste
Instructions
Heat the oil in your dutch oven and saute the onion and garlic for 2-3 minutes or until soft.
Add the cumin, stir well.
Add in the potatoes, green chiles, hominy, and vegetable broth.
Simmer the soup, covered, over low/medium heat for 45 minutes.
Stir in the chopped cilantro and salt - add more salt if needed.
Ladle into bowls.
Notes
If making in your instant pot, use the saute feature to saute the onion & garlic. Turn OFF, and add all other items, place the lid on the pot, close the valve and set the timer to manual for 4 minutes. Once it beeps, wait 5 minutes & let pressure release naturally. Add in cilantro and salt, then ladle into bowls.
Adapted from Food.com
The CentsAble Shoppin https://www.thecentsableshoppin.com/
Checkout over 100 Deliciously Yummy Instant Pot Recipes – from easy dinner meals to meatless meals, Mexican food and more.