Prospector Trail is a family-friendly, 3 mile hike in the Far East Valley of the Superstition Mountains, Arizona – the trail is beautiful at any time of the year!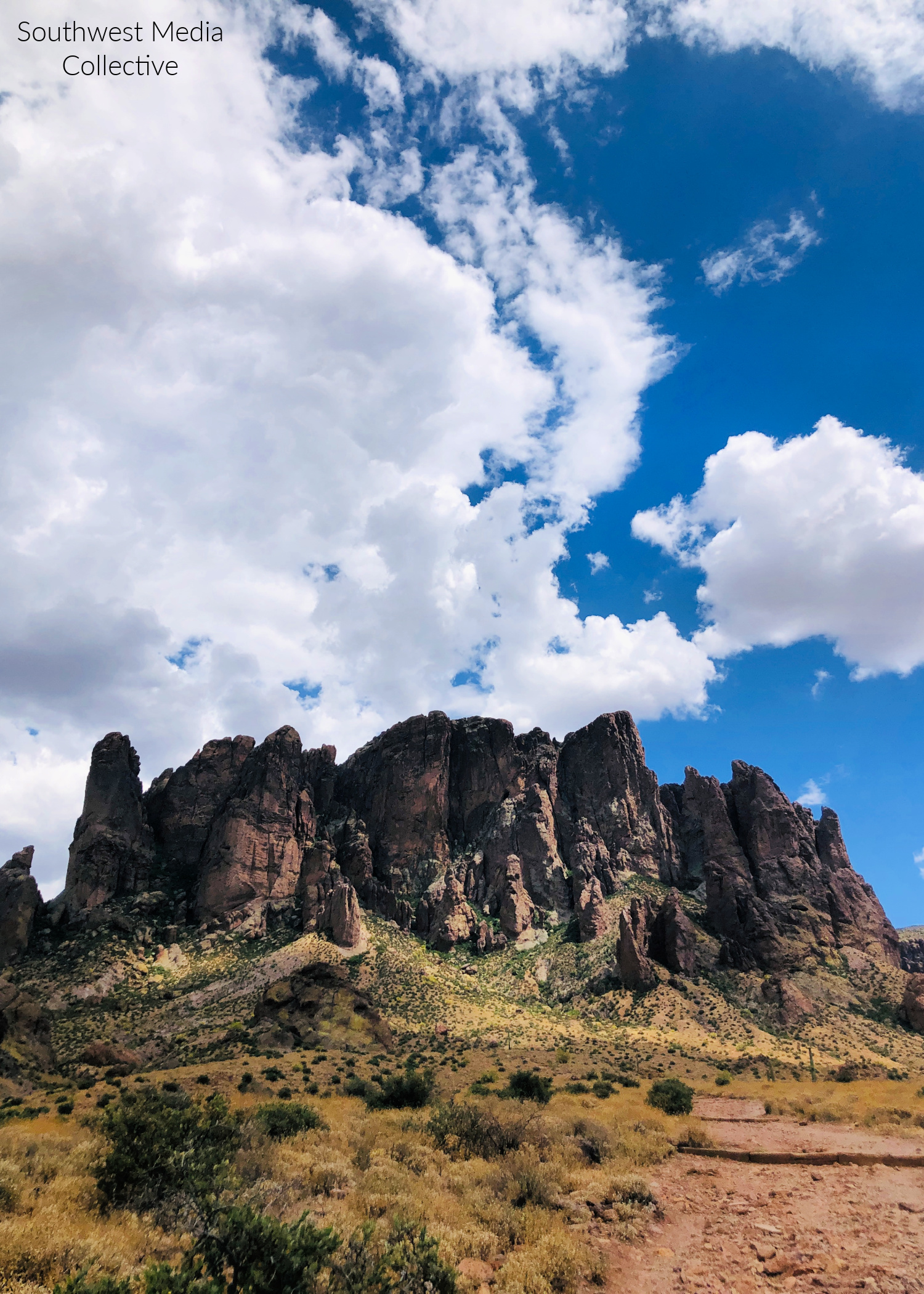 If you are looking for a really great, family-friendly hike in the East Valley, then Prospector Trail is one of my all-time favorites.
Not only does this trail afford the most GORGEOUS views of the Superstitions, it's completely doable for people of all ages. While many of the hikes in the Superstition Mountains require parking at the Lost Dutchman State Park (and paying a fee), this one doesn't require parking with any fee…
And that makes it even more incredible – parking is completely free – woo hoo for that!
To find the trail head:
Take US60 east to Idaho Road. Go north on Idaho to the traffic circle, take HWY 88 east approximately 1/2 mile past Goldfield Ghost Town to First Water Road.
Go right on First Water Road and park on the immediate left (there is a significant area for parking). The trail head is on the opposite side of the parking area between two metal poles.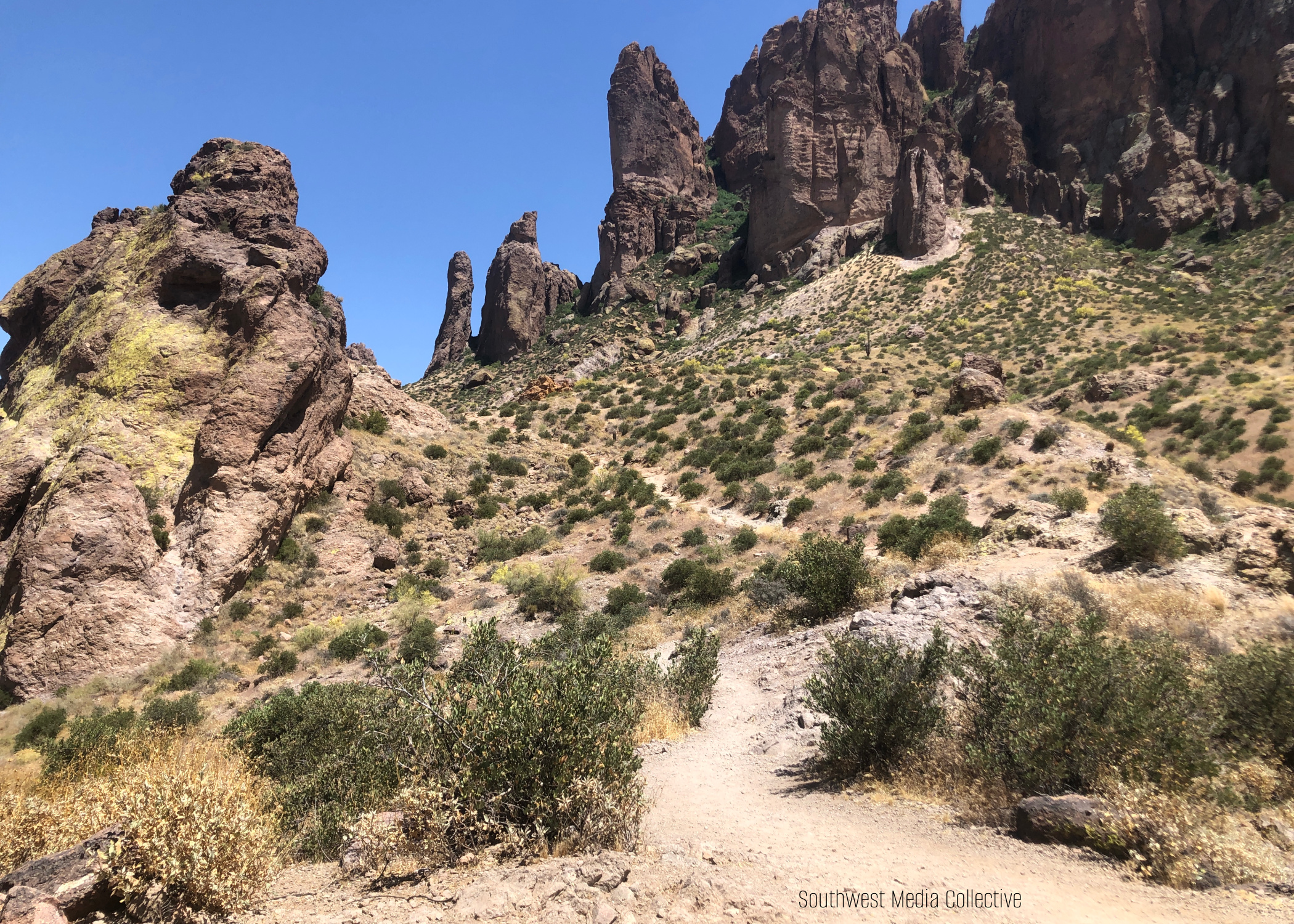 TIPS FOR A SUCCESSFUL EXPERIENCE
Be prepared – AllTrails shows that the hike is just under 2 miles. That will ultimately depend on where you park! I don't like to travel too far down the rutted road. I prefer to park and walk down that rutted road to the trail head which can easily add 1/2 mile each way.
Parking – Parking is FREE on First Water Road, however, there is one caveat: when the hiking weather is nice (less than 80 degrees) and on the weekend, the parking fills up VERY quickly! On those days, arrive early.
Take water – if you are going solo or with your children, take more than you need, especially if you are hiking in the heat of the day.
Pack it out, pack it in – please don't leave trash on the trail. Take your trash with you and dump it at the gas station or even better, back at home.
Look and listen – summer is snake season and they are definitely out at this hike – if they are curled up, they are ready to strike. Sometimes, rattlesnakes won't rattle – so you may not know you are approaching one until it's too late.
Most importantly, use the AllTrails app! This is such a fun trail, but it is very easy to lose your way or get confused as to where the start of the trail is.
IS ALLTRAILS NECESSARY TO HIKE?
AllTrails is the #1 hiking app for those who seek to explore the outdoor trails in their area.
You can use the free version of AllTrails to navigate the trails but AllTrails is best with AllTrails+. Only with AllTrails+ can you get access to offline, downloadable maps so your maps will work well even when you're out of cell signal. Sign up for the free trial and test it out for a week – they will often times run sales for 50% OFF one year, too!
SHOW YOUR LOVE OF HIKING AND THE GREAT OUTDOORS
Grab one or a pack of several of these fun glossy 3×3 decals for your vehicle/laptop/iPad or water canteen – available with FREE shipping!
LOOKING FOR MORE HIKES TO DO WITH THE FAMILY?