Do some Apache Tears Mining in Superior, Arizona on this beautiful family-friendly trail – here are some tips to help you uncover some beautiful obsidian!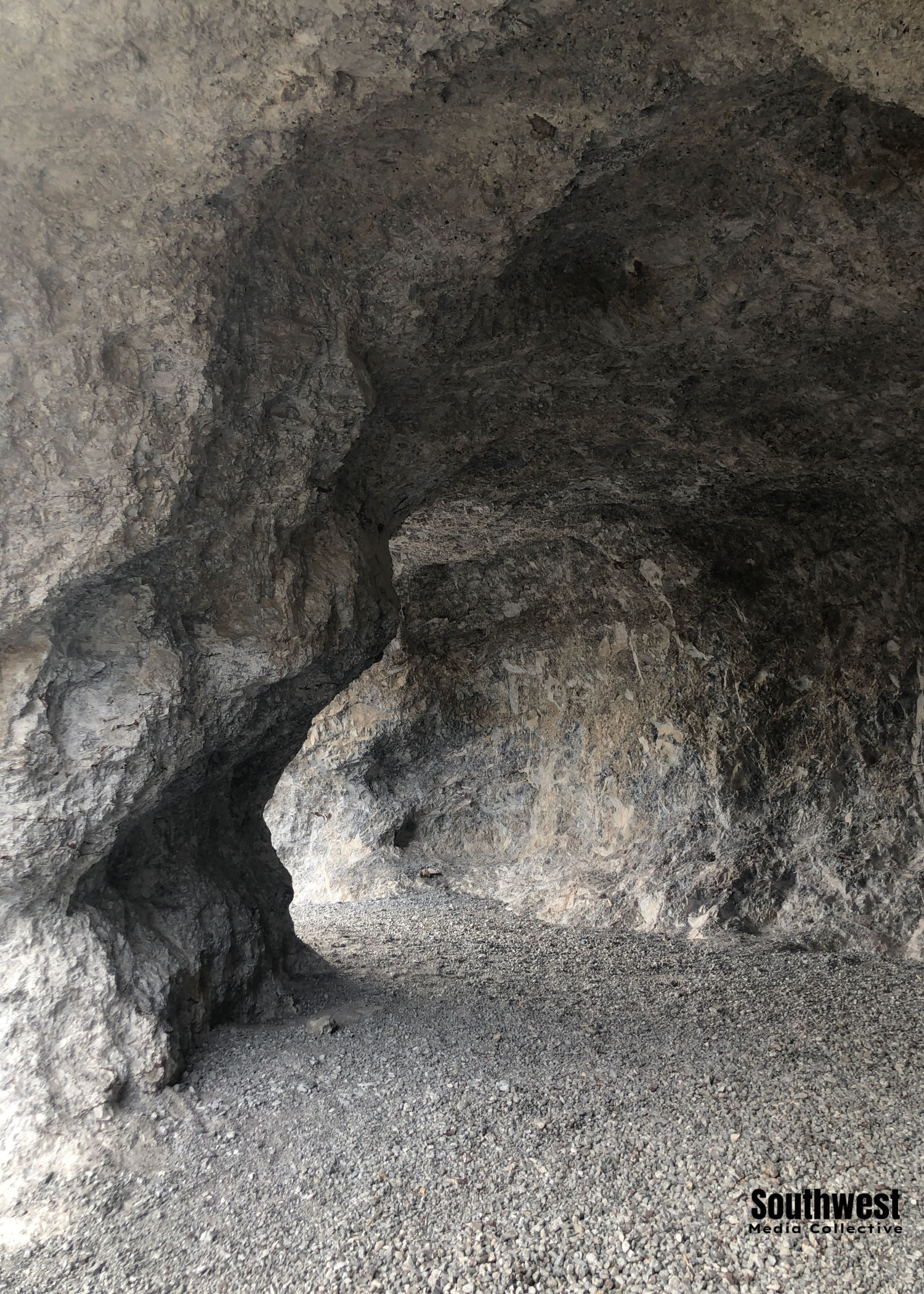 Over the last 5-6 years, my kids and I have hiked all over the state of Arizona and New Mexico discovering and uncovering some of the most beautiful of trails.
While Flatiron, Superstition Mountain is my personal favorite (and def a challenge!), one of the most engaging and fun hikes we have done is out in Superior, Arizona where we "mined" for Apache Tears.
If you are from Arizona or familiar with hiking, you may have been out to this amazing and beautiful gem in the desert. If not, you are in for a real treat.
It's a great opportunity to tackle a science lesson (obsidian) with history (Apache Tears legend, Arizona history) while teaching your kids how to read a map, identify plants, and basic desert survival. Definitely an experience!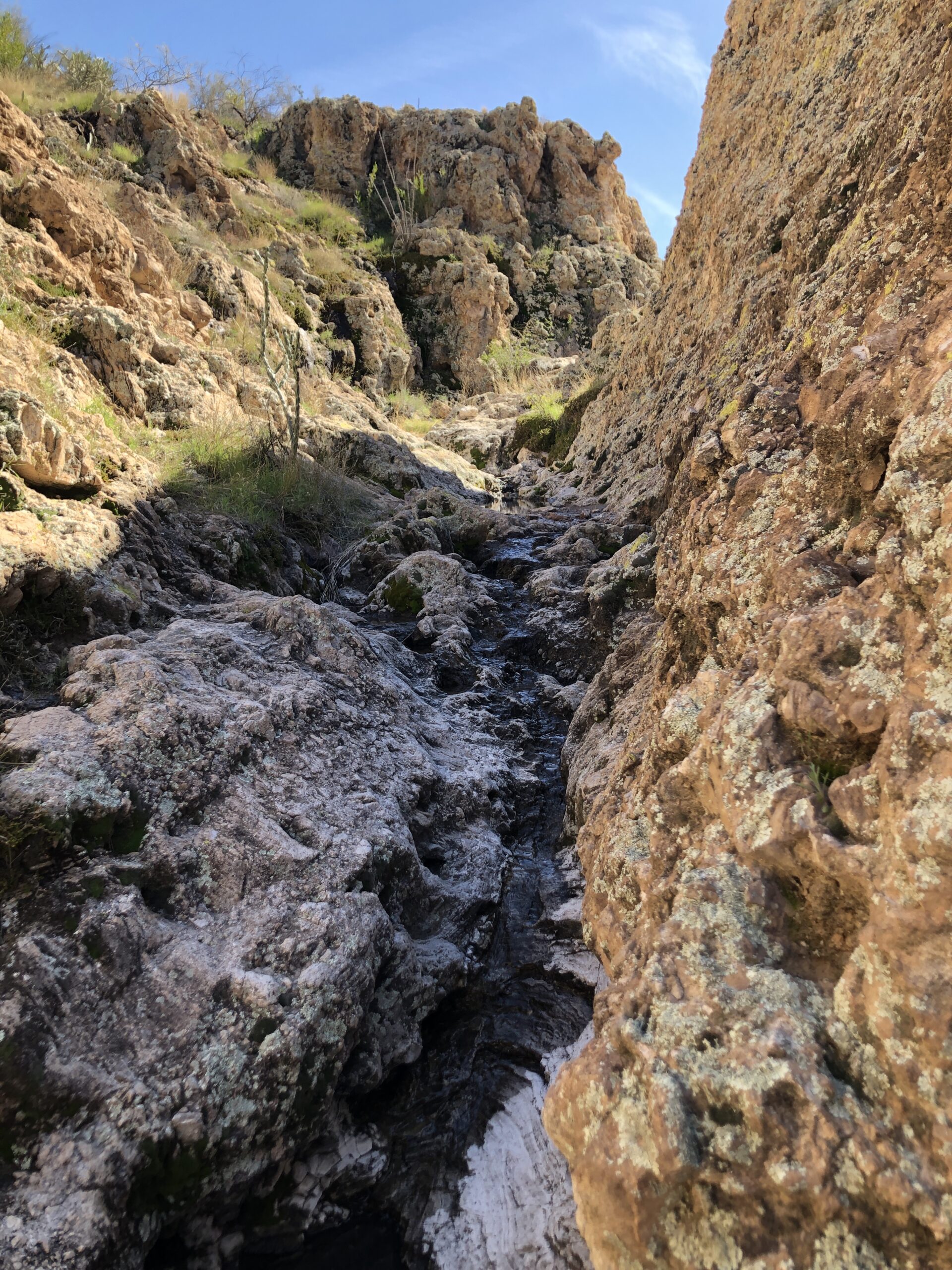 Apache Tears Mine via Perlite Road
If you have the AllTrails app, this trail is rated as "easy" with a length of 1.9 miles. That can be debated – obviously, because there are some tips that I'll share and some facts that aren't stated on the app that will help you plan this trip with your family.
Where is this trail located? Head East on US60 towards Superior. You will want to drive approximately 1/2-3/4 mile past the turn off for the Boyce Thompson Arboretum, and hang a right on a gravel road. The turn off won't be well signed, and you may even doubt yourself … for a bit, you'll wonder if you are in the right place.
Sidenote: If you find yourself doing this, you're on the right track. 😆
Once you turn off on that gravel road, you'll go about 1/4 mile straight – then you will take a right on another gravel road – this new road is very narrow, a single lane. It's also very rutted – so having a truck or a 4WD will definitely be helpful. Travel down this road for 1/2 mile – I don't like to go too far because the rutted road worsens with distance.
You'll see lots of desert shrubbery and perhaps a few campers out there – you'll probably even wonder if you are in the right spot – if you do, then you're in the right place. Park your vehicle off to the side of the road.
Don't worry – it's a safe area and your vehicle will be there when you return.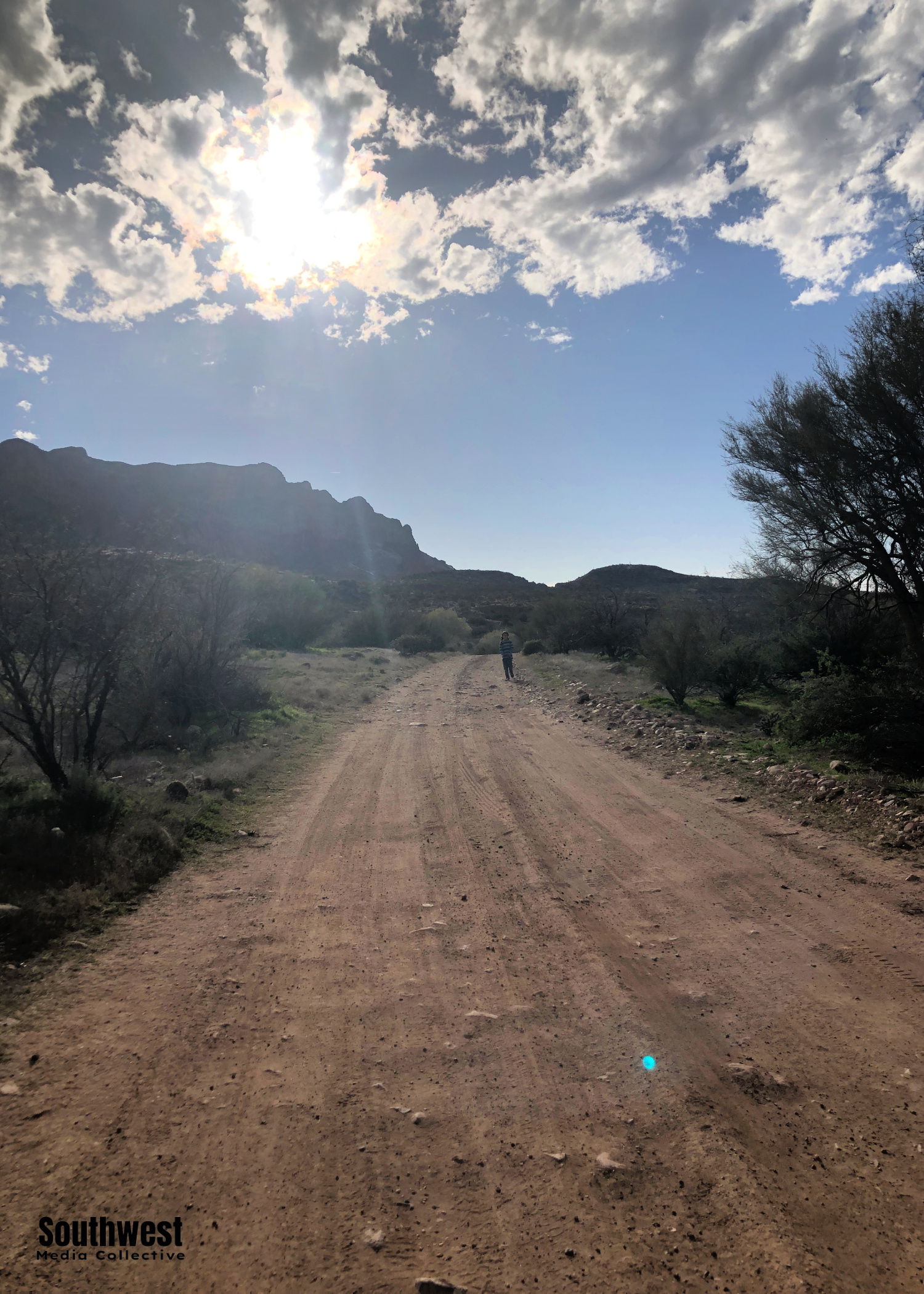 Don your hiking gear, water, and lace your shoes – pull out AllTrails and hit "start" on the trail. You'll walk down the remainder of this gutted road for 1/4 – 1/2 mile, then you'll see a stream with trees.
You'll cross the stream (there are logs to walk across if it's a wet crossing, depending on the time of the year you go). Once you cross, you'll see some cement blocks from a type of historical remains – and it is there that you will walk up to get on the "road" – this road is called "Perilite Road".
Boulders and Gate at the top of Perilite Road – this is where you'll travel to head to the mine.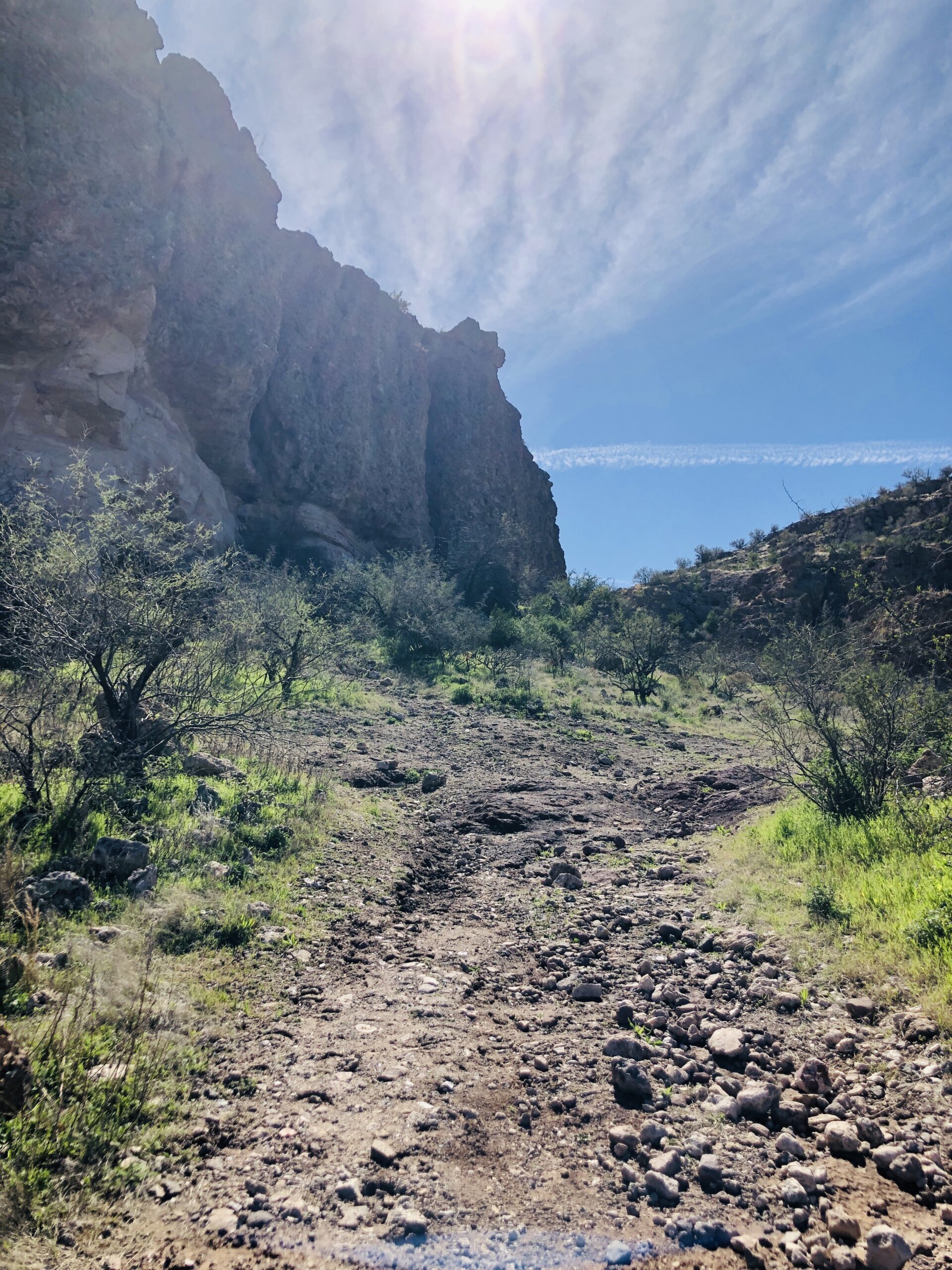 (Above: alternatively – instead of walking up to the road, you can walk the gravel path towards the cliff/mountain, where you will find some caves. If you follow that cliff/mountain at the base around to the west, you can navigate between the canyon where there are beautiful water springs).
This deviation follows the lower elevation of the road (above) you, but in the summer, it's probably best to stick to the road because rattlesnakes like to hang out in the canyon!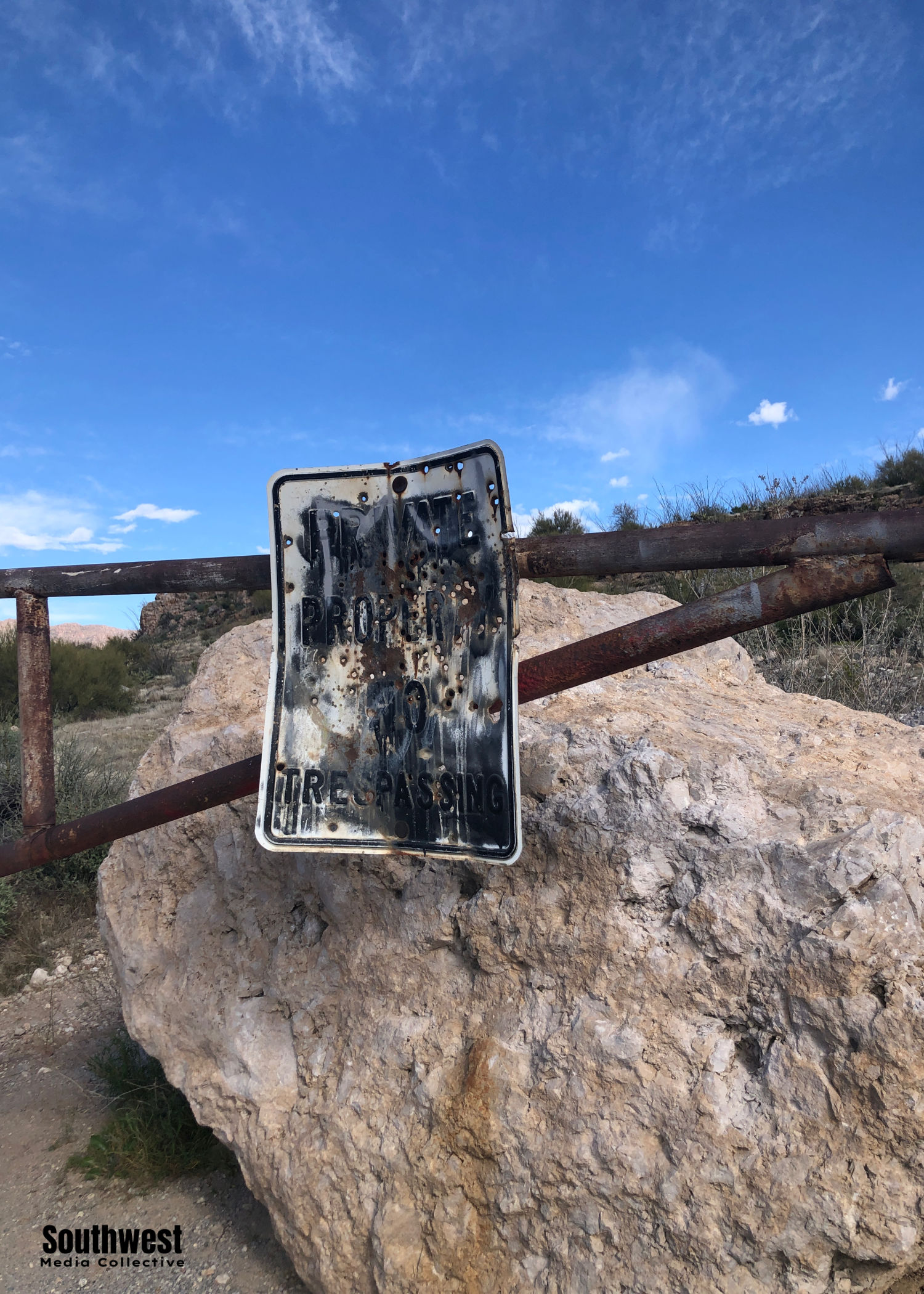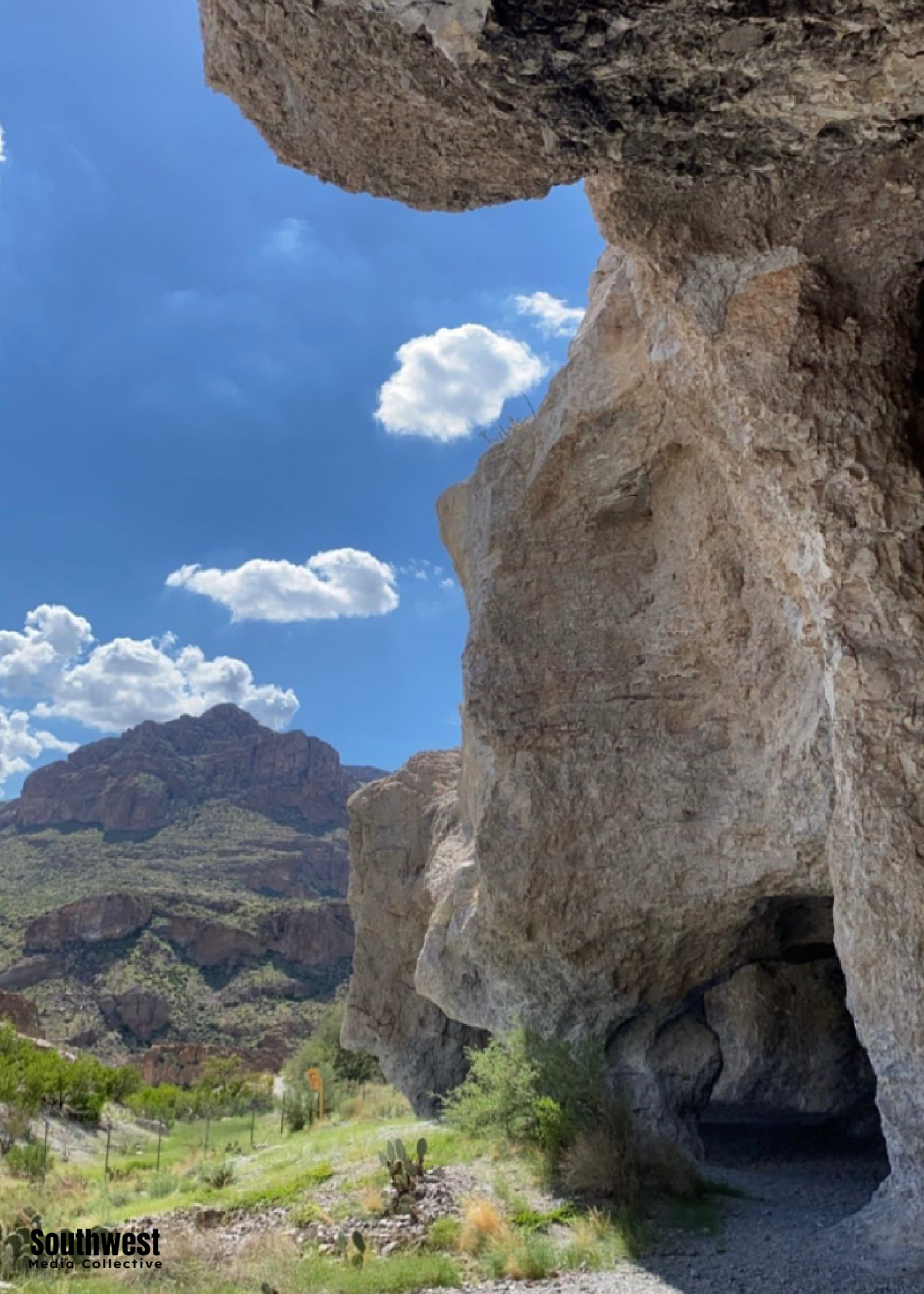 Once you arrive at the top of the road, you'll see a closed off gate, big boulders and a sign that has been spray painted "private property, no trespassing". The mine is accessible behind that gate – use your AllTrails to follow that path, after the gate, head to the right, go around the mountain and down the back.
You will come across a chain link fence that has been cut and it is there that you enter to the mining area with caves where you can mine your own obsidian.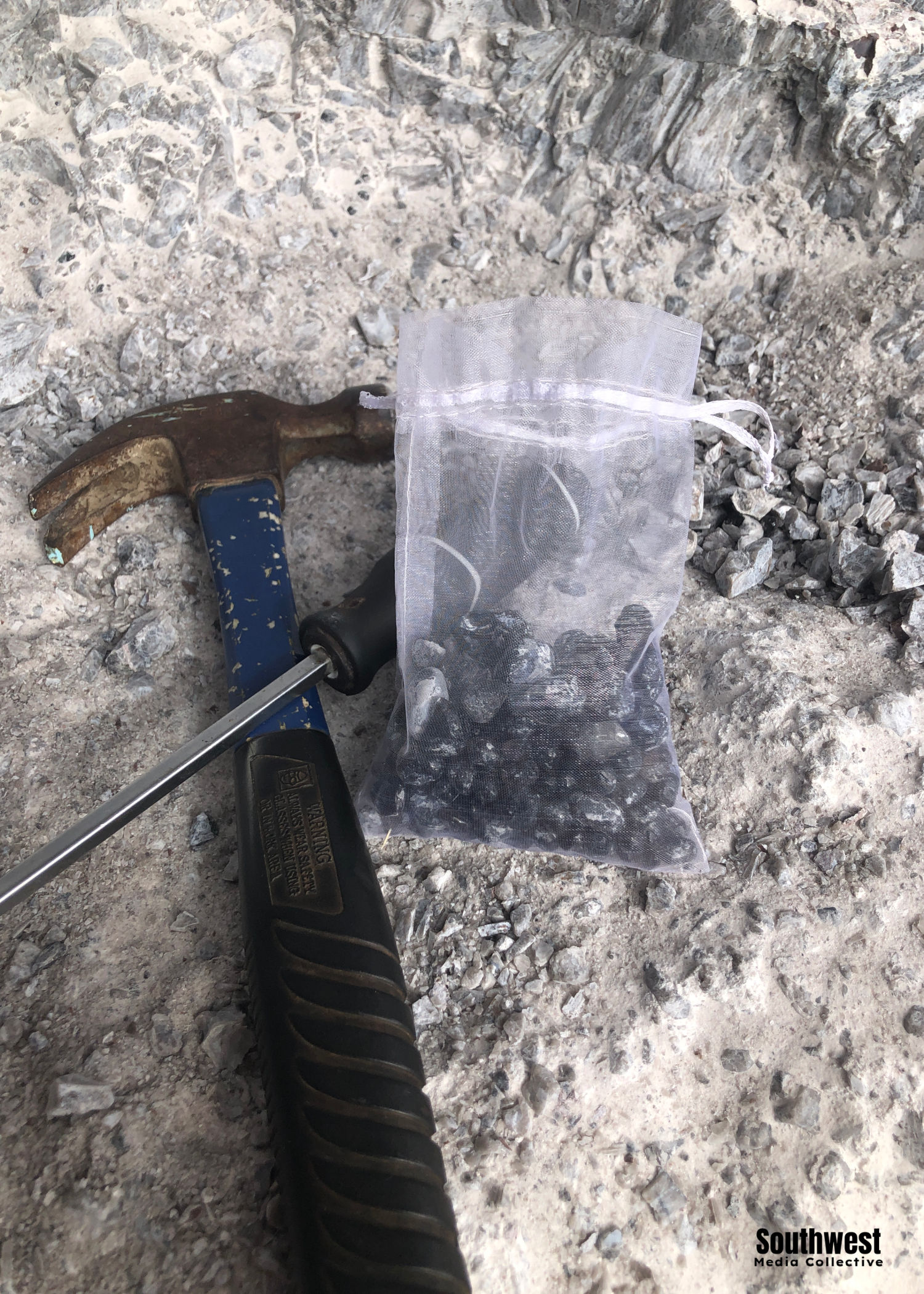 It's a great hike for kids!
If you choose not to enter behind the boulders/sign and avoid the mine completely at the top of the hill, you can travel straight to go down to Arnett Canyon where you will find the most beautiful stream/wash, and perhaps even run into some horse back riders.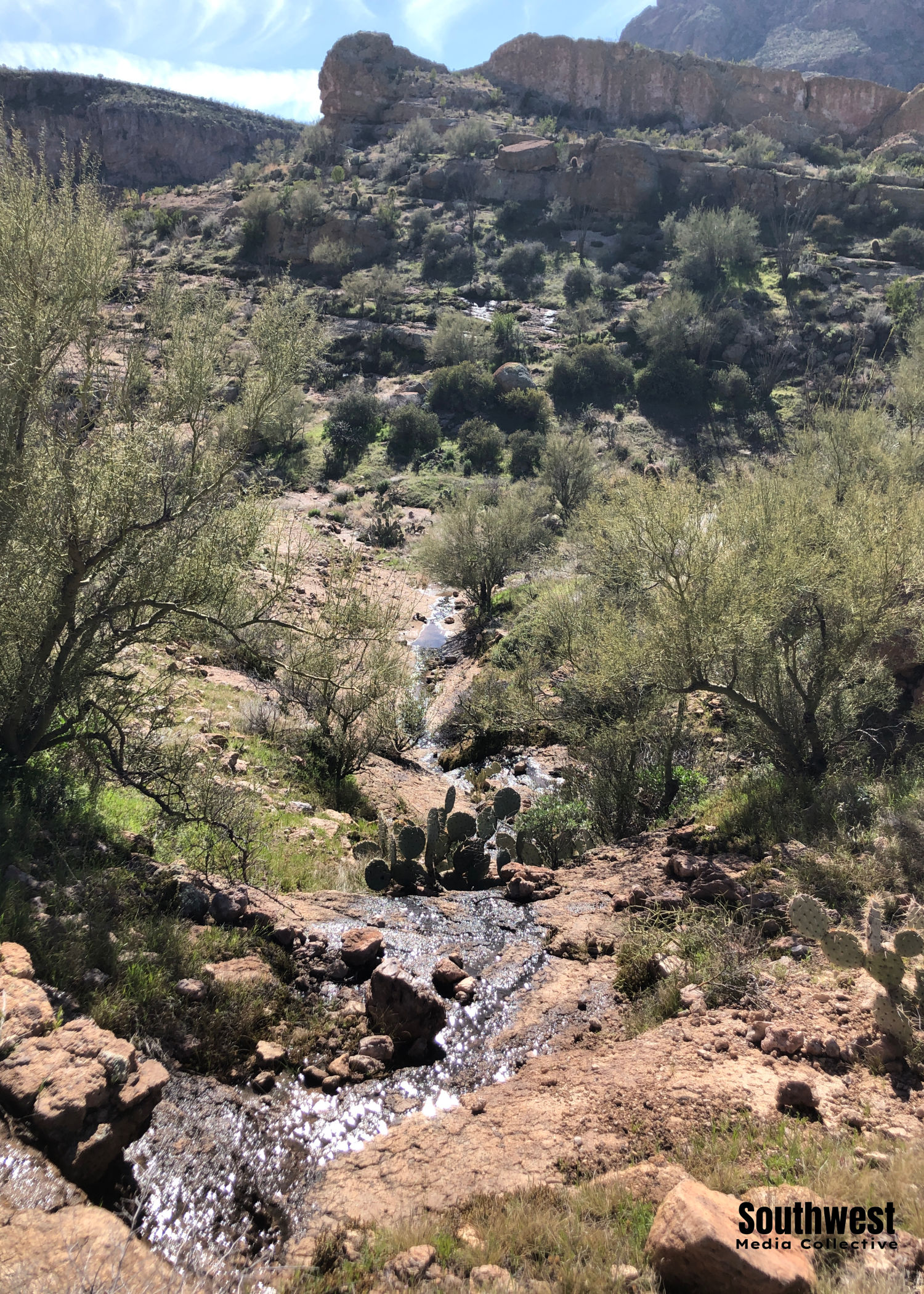 Tips for a successful experience
Be prepared – AllTrails shows that the hike is just under 2 miles. That will ultimately depend on where you park! I don't like to travel too far down the rutted road. I prefer to park and walk down that rutted road to the trail head which can easily add 1/2 mile each way.
Take water – if you are going solo or with your children, take more than you need, especially if you are hiking in the heat of the day.
Snacks are appropriate – it can get to be a length day/afternoon, depending on the ages of your children. A trip out to the mine from East Mesa will take my kids and I an easy 2.5 hours – snacks are essential for keeping everyone happy.
Fill up with fuel in Gold Canyon or, even better, Apache Junction before heading to Superior – there aren't any gas stations after Gold Canyon all the way to Superior.
Take a hammer and a chisel, and a small bag to mine for obsidian – you'll see the obsidian in the rock. Use your hammer and chisel. Sometimes you can even find Apache Tears (obsidian) on the ground without having to mine it yourself.
Pack it out, pack it in – please don't leave trash on the trail. Take your trash with you and dump it at the gas station or even better, back at home.
Look and listen – summer is snake season and they are definitely out at this hike – if they are curled up, they are ready to strike. Sometimes, rattlesnakes won't rattle – so you may not know you are approaching one until it's too late.
There is great cell service out at this trail despite it being in such a beautiful canyon/mountain – nevertheless, bring a battery pack just in case you run low on batty power.
Most importantly, use the AllTrails app! This is such a fun trail, but it is very easy to lose your way or get confused as to where the start of the trail is.
IS ALLTRAILS NECESSARY TO HIKE?
AllTrails is the #1 hiking app for those who seek to explore the outdoor trails in their area.
You can use the free version of AllTrails to navigate the trails but AllTrails is best with AllTrails+. Only with AllTrails+ can you get access to offline, downloadable maps so your maps will work well even when you're out of cell signal. Sign up for the free trial and test it out for a week – they will often times run sales for 50% OFF one year, too!
SHOW YOUR LOVE OF HIKING AND THE GREAT OUTDOORS
Grab one or a pack of several of these fun glossy 3×3 decals for your vehicle/laptop/iPad or water canteen – available with FREE shipping!
LOOKING FOR MORE HIKES TO DO WITH THE FAMILY?