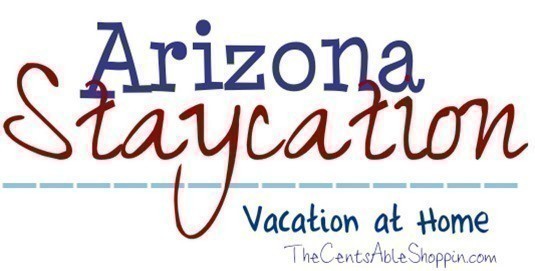 Many of us are looking for a fun and inexpensive way to spend our summer – if you can't afford to leave town, you might be able to afford staying IN town – on a Staycation at any of these family friendly resorts.
We rounded up our top 6 favorites Phoenix Staycation ideas – are there more? Probably – but most of us are on a budget, so we widdled it down to those that are more affordable for families who might be watching their pocketbook.
Arizona Grand Resort.  You can pickup some great deals through LivingSocial – such as this offer for a 2-night stay for 2 adults & 2 children in deluxe sweet for just $129…. or weekend for $149. The offer, once purchased, is valid through 9/2.
Hyatt Regency Gainey Suites Hotel.  As low as $89 for a Suite, with Breakfast Including Weekends – through 9/7. There are some blackout days you will want to note.
JW Marriott Phoenix Resort & Spa.  Packages start at just $169 – with $50 in Resort credit daily; FREE Golf (restrictions apply) and 3 FREE Kids Meals 12 and under with paying adult. You must use promo code ZJ5 and you will score FREE Internet, FREE Self Parking and a FREE Resort Fee.  This place is super – they have a lazy river & kids pools.
Radisson Resort & Casino, Fort McDowell.  Pickup Accommodations in a guest room, $.99 Kids Breakfast, DJs & Drive in Movies on Saturdays, Water Attractions and more – starting at $89 per night.
Squaw Peak Hilton.  Summer Flashback extends through 9/8  — you can pick up a suite for as low as $109 per night and score Dive-in movies, Tennis Courts, Decade-Themed Activities through the summer and enjoy Hole in the Wall River Ranch Water Park. Use code SUNSP when making reservations.
Wigwam, Arizona.  Has Family Nights from $129 per night, including one free in-room family movie, 2 ice cream cups, no resort fee*, and a welcome amenity for the kids.   AND new this year you can get Fastpass Access to your Favorite Disney Channel and Disney XD Stars for $20 more.   Black out dates do apply.
If you are booking a Staycation here are a few things you will want to keep in mind:
Resort Fees.  This will apply at almost every place – it can vary from $25 on up – some of these have some perks (it covers intenrnet, parking and fitness center) – so if your location does not have the resort fee make sure you ask about extra charges for those items like internet and parking.
Follow the resorts on Facebook. You'll get a great deal on those lastminute offers they may put out to their Facebook readers to help alleviate those rooms they need to unload for slower periods.
On Taking Kids. Make sure your resort has enough to keep the kiddos busy… do they have a kids area? Lazy river? What are their hours? How about your teens? Make sure that each person in your family will have ample to keep them entertained.