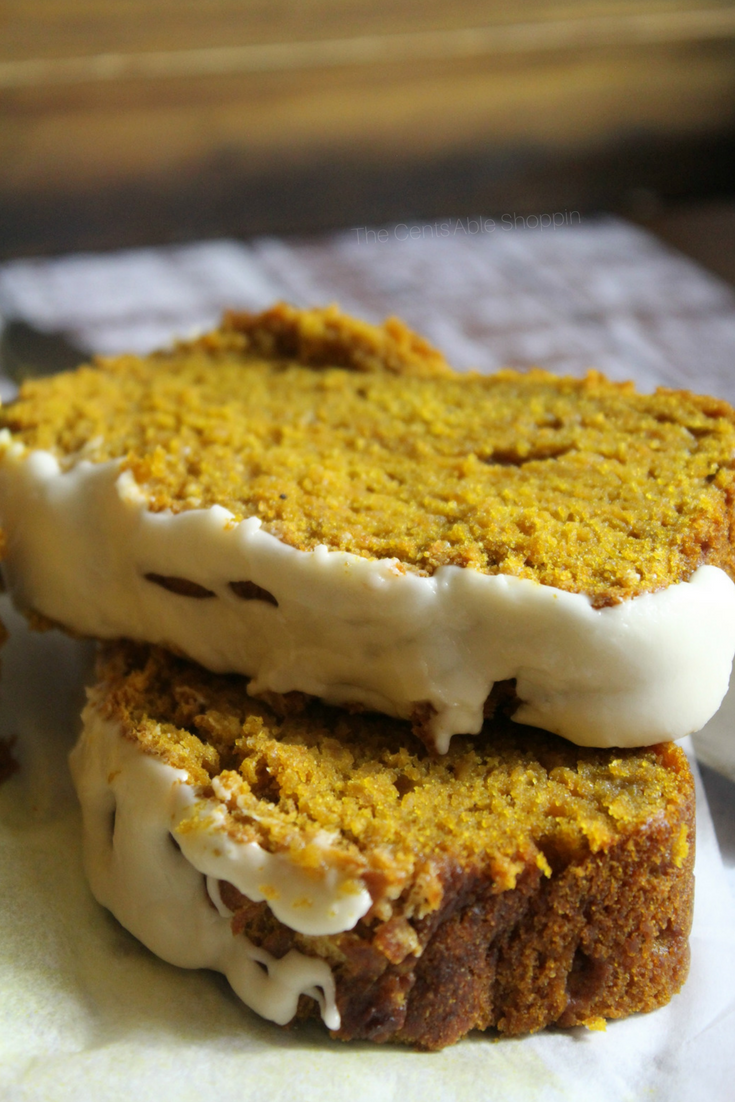 We are just a few days short of December and for the last two months, we have been everything pumpkin – pumpkin muffins, pumpkin cheesecake, pumpkin soap…. pumpkin isn't just for eating you know …
I can't think of a better way to spend the cool, crisp, fall weather than with two of the best flavors molded together – pumpkin, and gingerbread.
Agree? Put on your cozy socks, grab your fluffy blanket, sit down on your soft and comfy sofa and turn on your favorite Hallmark movie and get ready to relax with a piece of this spiced pumpkin gingerbread. It's the perfect blend of pumpkin and savory gingerbread spices. Topped with a thin layer of maple icing, you won't be able to have just one slice ..
You will go back for seconds…
And thirds…
It's a little sweet, but not overly done – it would make a wonderful gift for a neighbor this holiday season — instead of one loaf, bake several in a mini muffin tin. Then, wrap it up and tie with a beautiful bow or ribbon and hand carry it to your neighbors just after it's frosted.
Yum!
I think you will agree that this makes a delicious addition to your holiday menu!
Fall Spice Pumpkin Gingerbread
A moist and delicious pumpkin gingerbread, rich in fall spices and topped with a delectable maple-vanilla icing. This bread is a wonderful reason to cozy up by the fire and celebrate the season!
Ingredients
Bread:

1/2 C. coconut oil
1/2 C. brown sugar
1 C. pumpkin puree
2 eggs, room temp
2 Tbsp blackstrap molasses
1/2 tsp sea salt
2 tsp ground ginger
1 tsp ground cinnamon
1/2 tsp allspice
2 tsp baking powder

Glaze:

3 Tbsp maple syrup
1 Tbsp milk
1 tsp vanilla extract
1 1/2 C. powdered sugar
Instructions
Preheat your oven to 350 degrees F. Grease your loaf pan -- mine is 9 x 5 x 3. Sprinkle a little flour in the bottom of the pan and give it a nice shake to give the bottom of pan an even coating.
In your mixer, combine the coconut oil, sugar, pumpkin, eggs, and molasses, Stir to combine.
Add the dry ingredients - flour, sea salt, spices and baking powder and stir just until combined. Do not over mix.
Pour the batter into the greased and floured loaf pan and level the top. Bake for 45 minutes or until a toothpick inserted in the center comes out clean.
Allow the bread to cool for 30 minutes, then run a knife around the inside of the pan, and turn out to remove.
Allow the loaf to cool completely before icing.
To make the icing: add the powdered sugar, maple syrup, milk and extract to your mixer and whip until combined - the icing should not be too thin, but should be thinner than a thick paste. Feel free to add more maple syrup or milk to taste (as needed).
Spread the icing out on the loaf evenly and allow to set before you wrap or cut.
https://www.thecentsableshoppin.com/spiced-pumpkin-bread/
Adapted from allrecipes