Deliciously rich, decadent Sea Salted Caramel Smoked Cheesecake, made on your smoker instead of in a regular household oven – it turns out fabulous!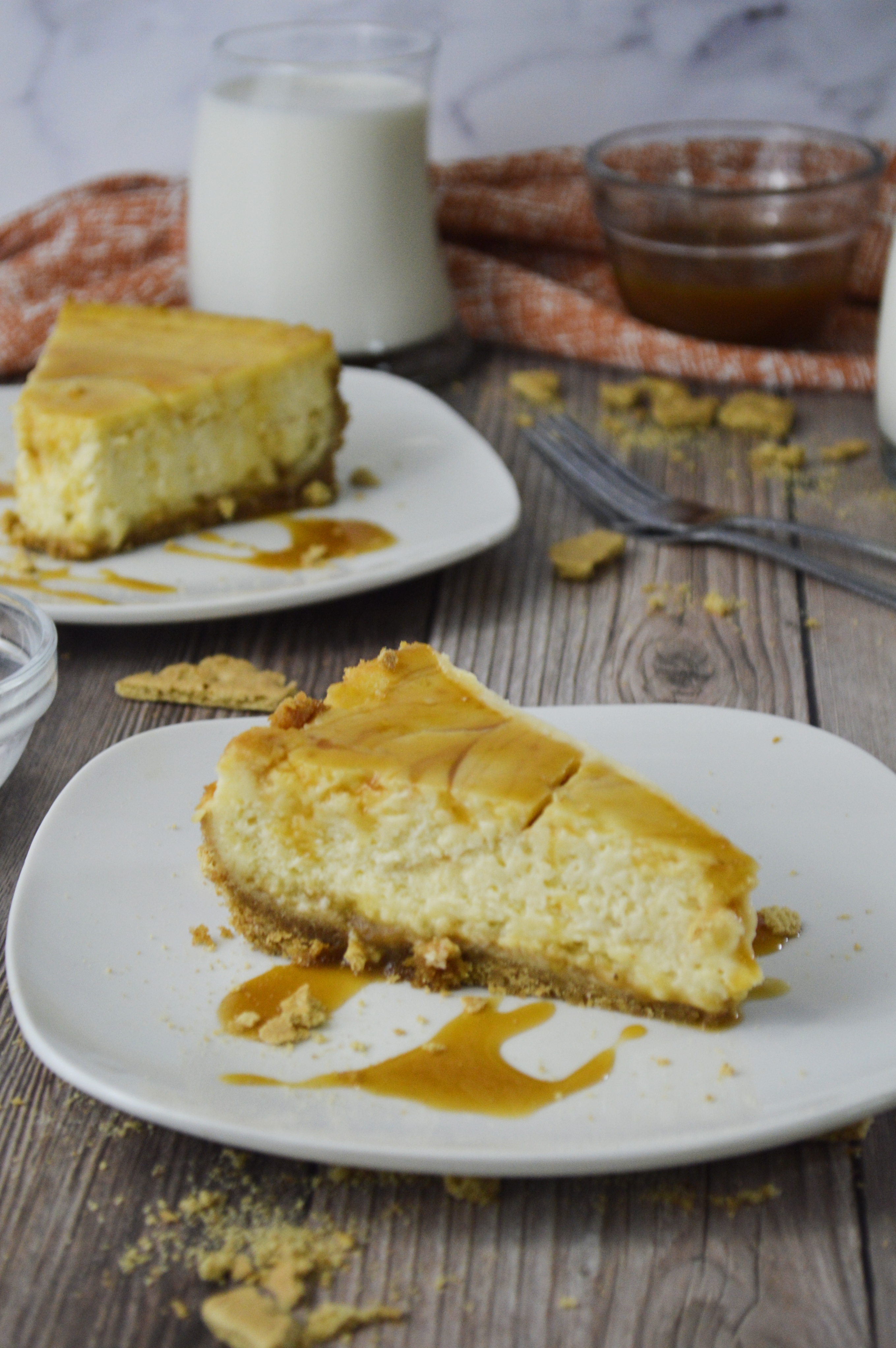 Have you ever considered making cheesecake on the grill? If not, it's time to give it some thought. Some people may say something to the effect of "why in the world would you put cheesecake in a smoker?"
Let me just comment with … why not?
Here in Phoenix, the hot summer heat starts rolling into town by end March. Since we're now in May, temps are here to stay – upper 90's and even triple digits are a daily occurrence. Folks who live here go to great lengths to keep the house cool as possible during the day, which includes avoiding the use of the oven.
Sure, you can make cheesecake via your Instant Pot, we've done quite a bit:
Doing cheesecake on the smoker is a whole 'nother level of coolness – not to mention it keeps the house in check during the summer heat!
Sea Salted Caramel Smoked Cheesecake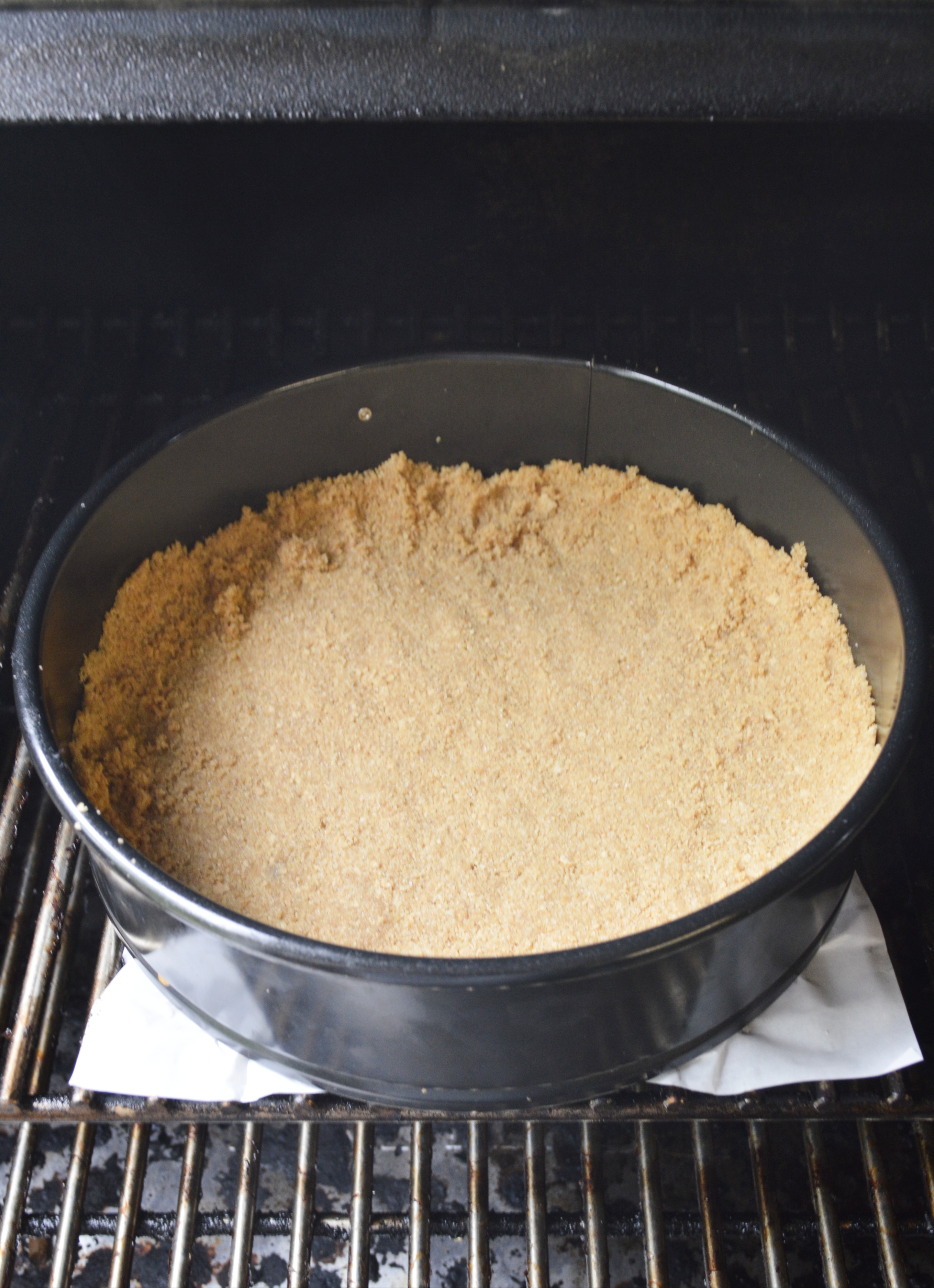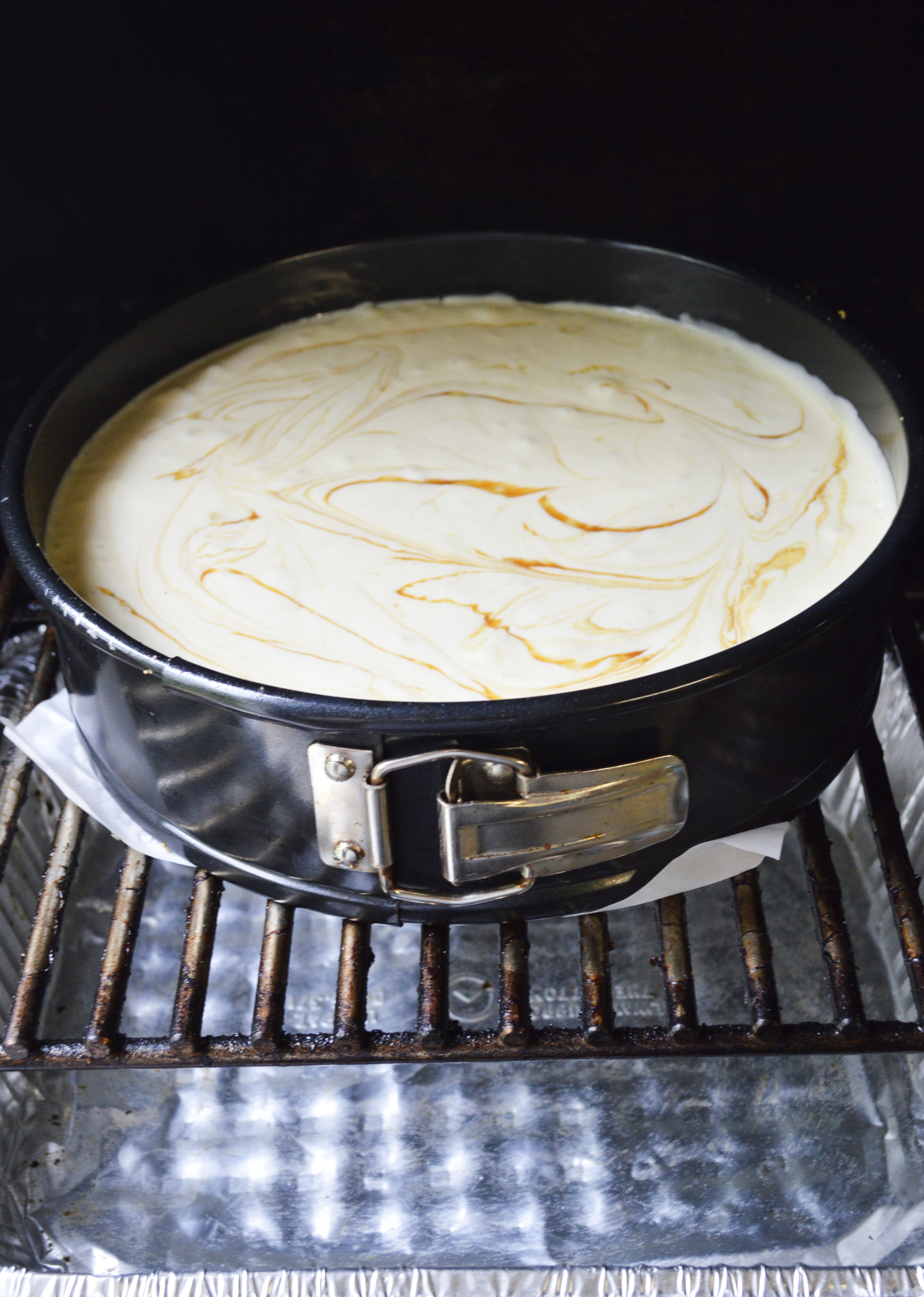 This sea salt caramel smoked cheesecake starts with the traditional graham cracker crust, placed in an easy to use bundt pan.
After giving it some time to 'cook' in the smoker, you'll pour the batter over the crust. Swirl in your caramel, and place the cheesecake back in the smoker. Place a shallow pan of water under the cheesecake, and smoke the cheesecake for 90 minutes at 275 degrees F.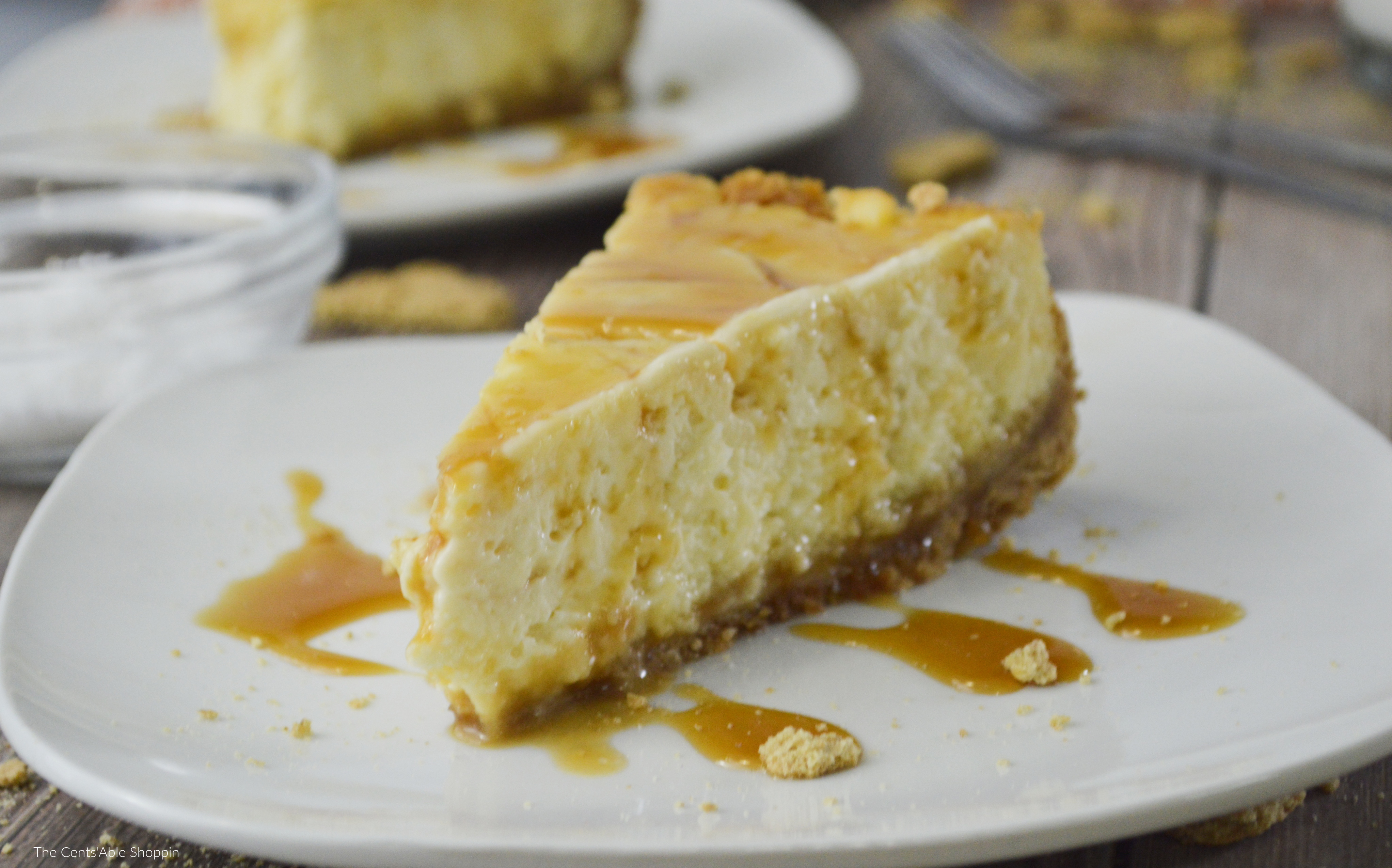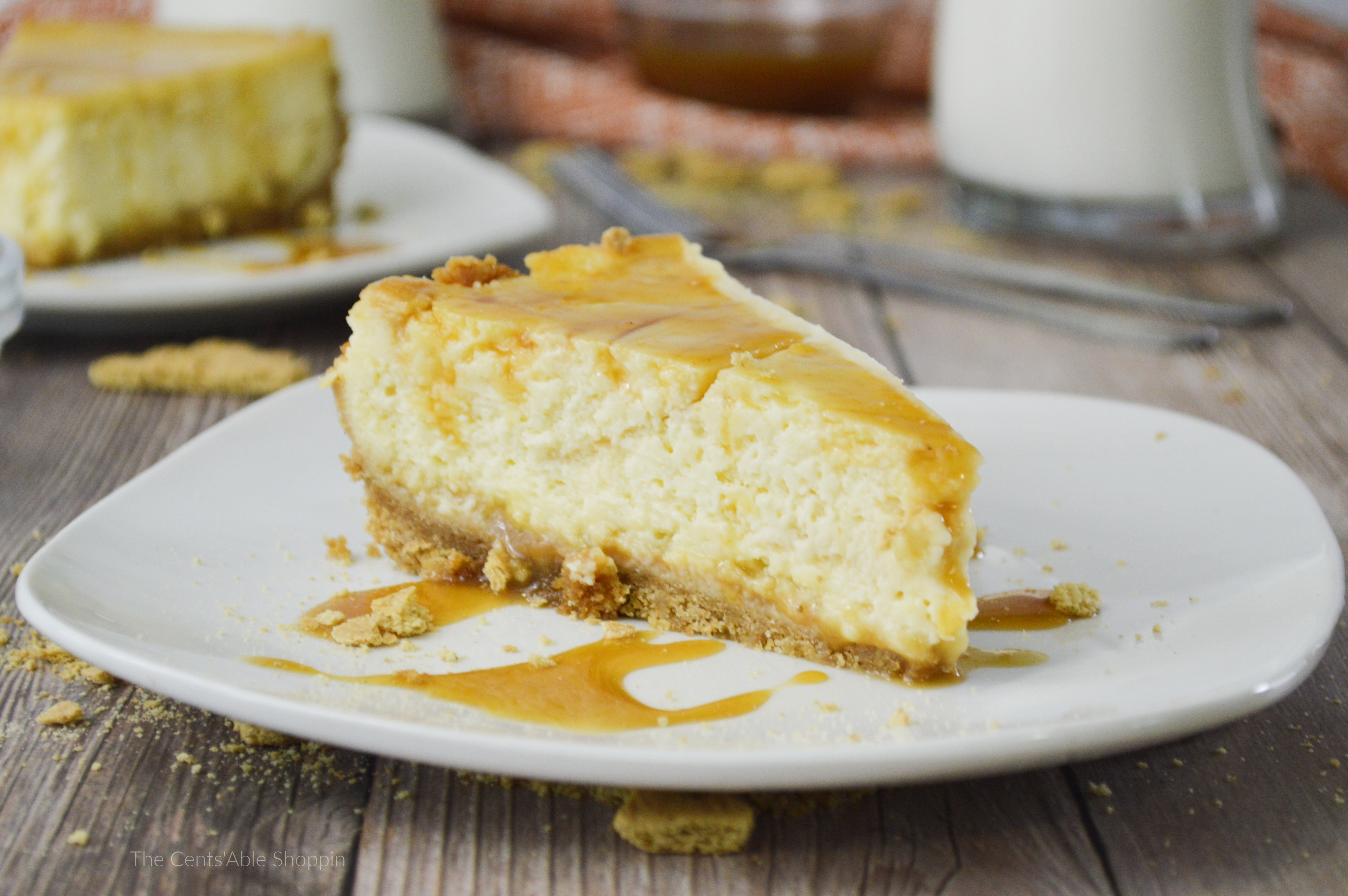 The cheesecake will jiggle a bit in the middle after 90 minutes. Carefully remove from the smoker and allow the cheesecake to come to room temperature before refrigerating.
Remove and run a butter knife along edges of cheesecake to help prevent cracking as the cheesecake sets. Remove from the springform pan and slice the cheesecake to serve. Go wild – drizzle that cheesecake with even more caramel as you platter it for friends and family.
Have you ever attempted to make cheesecake on a smoker?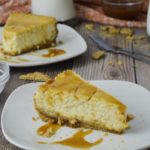 Print Recipe
Sea Salted Caramel Smoked Cheesecake
Ingredients
1.5

C

graham cracker crumbs

6

Tbsp

butter

melted

1

C

pure cane sugar

2

Tbsp

pure cane sugar

24

oz

cream cheese

softened

1

C

sour cream

1/2

Tbsp

vanilla extract

1

Tbsp

sea salt

divided

2

Tbsp

flour

3

eggs

10

oz

caramel dessert topping

divided
Instructions
For the Crust:
Preheat your smoker to 275 degrees.

In a medium bowl combine the graham cracker crumbs, melted butter, and 2 tbsp sugar and mix until well incorporated.

Line a springform pan with parchment paper.

Pour graham cracker crumb mixture into pan and press down and around edges of pan.

Place the crust in the smoker and let smoke as you prepare the filling. (about 15-20 minutes)
For the Filling:
In a large mixing bowl beat room temperature cream cheese until light and fluffy.

Add in 1 cup of sugar and continue to beat.

Add in the sour cream,vanilla, sea salt, and flour and beat a little longer until mixture is smooth and ingredients are well combined.

Add in eggs one at a time and beat a little longer being sure not to over mix.

Carefully remove the crust from the smoker and pour batter into the pan.

Drop 6-8 tablespoons of the caramel dessert topping onto batter and use a butter knife to swirl into the mixture. 

Place the pan into the smoker with a heat proof pan or aluminum pan of water underneath.

Close the lid and let the cheesecake smoke at 275 degrees for an hour and a half.

Once the cheesecake is firm but slightly giggles in the center, remove.

Pour more caramel topping on top of cheesecake to cover the top of the cheesecake and sprinkle a little sea salt on top.

Place the cheesecake back in the smoker for another 30 minutes.

Remove and run a butter knife along edges of cheesecake to help prevent cracking as the cheesecake sets.

Let come to room temperature on the counter before placing it in the refrigerator.

Chill at least 6 hours or over night before slicing and serving. 

Serve with more caramel sauce if desired. 
Check out these other recipes you can make on your smoker:
Bacon Wrapped Smoked Meatballs
Beef Jerky Using a Pellet Grill