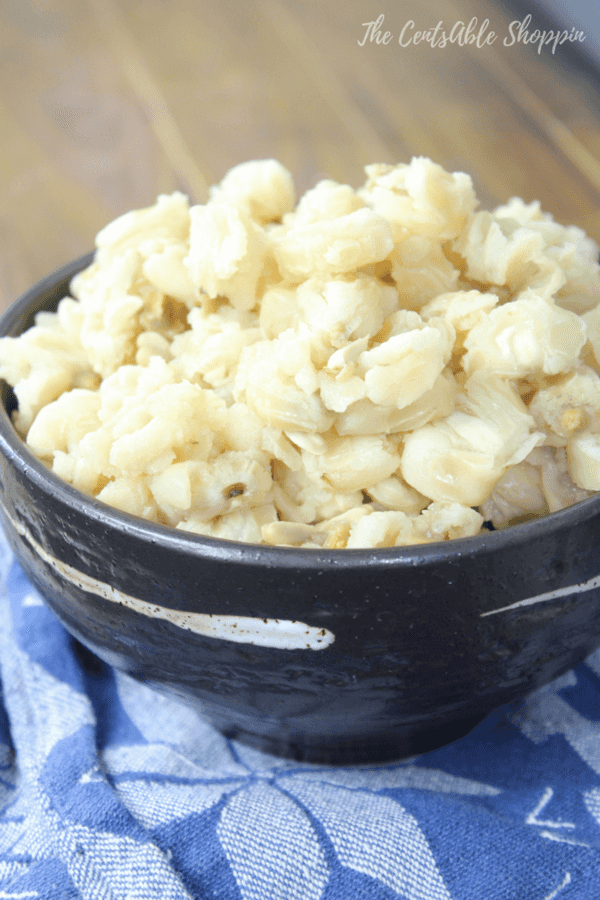 Every few weeks, we make posole in our house, and it's a much loved favorite by everyone here – kids included.
One thing that I have been wanting to do for some time now is to prepare my own corn for posole to try to get away from the canned hominy that's pretty popular in store. Posole is probably one of my favorite soups to make and eat – it tastes even more amazing the next day as the flavors blend for additional time.
Traditional posole is made on the stove top, over a period of a few hours – with pork or chicken (usually pork though).. unless you don't consume much pork in which case chicken is your go-to.
Prepared corn is used for much more than posole though – you can actually use it for other soups, grind it to make corn tortillas, masa (for tamales) and more. Today it's quite difficult to find anyone that takes the time to prepare their own corn, since it's time consuming most people opt for the canned hominy in store.
The canned hominy is definitely an easier route to making posole or anything with hominy for that matter – including this hominy soup we previously made here. Especially if you haven't given much thought to dinner and you don't have time to soak and prepare corn.
Soaking your own corn and making your own hominy yields fresher tasting posole – the hominy has more nutritive value – not to mention the best part: you can find and use organic field corn. Right now, corn in the U.S. is one of the most heavily sprayed crops in terms of pesticide. If you are trying to get away from that pesticide laden corn.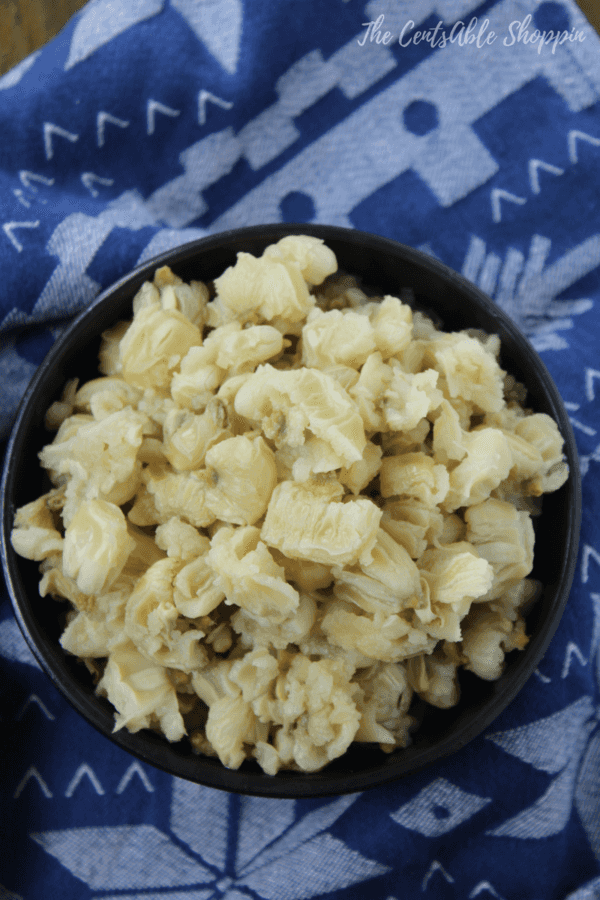 There are so many reasons for soaking and making your own corn to prepared corn:
You ultimately control the flavor of your food – freshly prepared corn yields some of the best posole
To avoid contaminated corn
To get more nutritive value – organic corn, soaked and prepared at home is so much better for your digestive system
You can find organic field corn through Azure Standard – which is a buying club that anyone in the nation can be a part of. You can get 5 lb bags or larger, depending on your needs – white or yellow corn, and pick ups are quite abundant depending on your area.
Nixtamal is a traditional way of making corn masa or, hominy by boiling field corn in a lime solution, and then allowing it to soak for a period of time.
The process of nixtamalization removes the germ and and outer hull, making the corn easier to digest. By soaking the corn, you are reducing the phytic acid content, and allowing the body to better absorb the minerals. The process of going from dry corn to posole is not hard – it's just time consuming, but is completely possible even for those who are super tight on time.
The process is taken in steps – field corn (yellow or white) is rinsed, then boiled for a short period, follow by a long soak in a lime/cal solution overnight (nixtamalization). From there, you can boil on the stovetop or .. cook in the pressure cooker.
The pressure cooker yields softer corn, and is much faster – but if you heat it too high, then the corn will become overly soft – which isn't a bad thing, it just depends on how firm you like your corn in your posole.
Nixtamalization starts with corn in it's dry state (field corn – not sweet corn) that has been rinsed and soaked overnight. To do this, requires a few steps:
2 quarts organic dry field corn (we get ours at Azure Standard)
4 quarts water
Preparing nixtamal:
Rinse your corn and drain in a colander/strainer
I find my dutch oven to be the easiest – mix the water, and lime over high heat until it is dissolved.
Then add your field corn and bring to a boil for 15 minutes – remove the pot from the heat and cover. You want to allow that pot with solution to soak that corn overnight.
When you get up in the morning, pour the corn through your colander and rinse off, and pull off the hulls (brown tips) – especially if you are making posole.
Pour all of that corn in another bowl and fill with cold water – rinse off, and repeat 3-4 times to ensure you remove all traces of Lime/Cal.
Pour the corn through the colander one more time and then rinse – and you have homemade nixtamal.
Once you have the nixtamal, you can make your posole – whether it be on the stove (2-3 hours) or, in the pressure cooker… which takes just a fraction of the time.

Making your hominy in the pressure cooker is far easier and yields a more tender corn ~ if you have an Instant Pot, then you can take your soaked corn to the next level in a fraction of the time that you would if you were to use the stovetop.
Once you have your soaked corn (recipe above), then use your Instant Pot to make hominy.
How to make Hominy from Nixtamal (Prepared Corn) in the Instant Pot
2017-02-10 11:53:06
Use your Instant Pot to make hominy for your favorite Mexican soup from prepared, organic corn that has been soaked in a Lime/Cal solution (Nixtamal).
Ingredients
1 1/2 C. nixtamal (prepared corn)
4 1/2 C. water
Instructions
Add the nixtamal (prepared corn - that has been soaked prior) to the Instant Pot.
Cover with 4 1/2 C. water.
Place the lid on the Instant Pot, and close the valve (seal).
Push manual (high) for 30 minutes.
At the completion of the 30 minutes, allow the pressure to release naturally.
Dump the nixtamal in a colander to strain out the water.
The prepared nixtamal is now ready to put in your hominy.
The CentsAble Shoppin https://www.thecentsableshoppin.com/