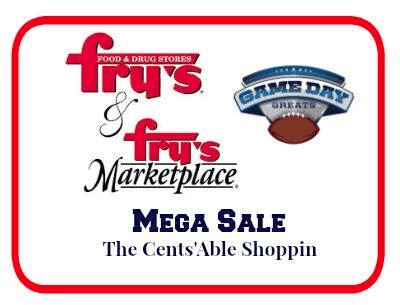 This week we have more than 1 Fry's ad – a regular weekly ad, bonus fuel points ad AND a Mega Sale ad. We have some great shopping!
If you are shopping at Fry's you can make a grocery list and see Mega Sale offers quite easily on your phone/mobile device with the Favado App.  I love using the app more than using the list on the computer because it's easier for me to see what I want to buy.
You will need to create a Favado Account from your favorite blog that features Favado deals (not all blogs are fortunate to have Favado deals so you'll need to stick with one that does!)
Once you establish an account, you can head to the cascading tiles in the right corner of the app. Click that, and then drop down to select the Mega Sale ad… reference the picture above.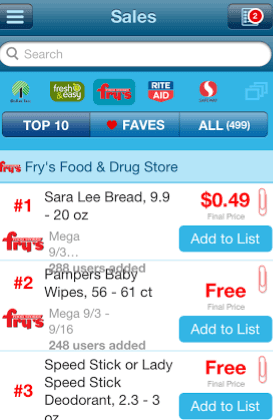 Once you're there, you can see all the Fry's Deals – Favado actually "assigns" them a ranking depending on how many of you add to your list. If you reference above you can see that 248 of you ranked Pampers, but MORE of you thought that Sara Lee was a better deal – 288 of you have added that to your list so it's this week's "top" deal.
You can set up your Favado app to show final prices AFTER coupons, OR price before the Mega sale –  sI prefer the final price, just because I love to see what is cheap or FREE.  To do that, click your Account Settings (top left), and drop down to the settings area to show the price AFTER coupons. 
Don't forget you can also sync your shopping list from the computer to your phone –read how in my last post.