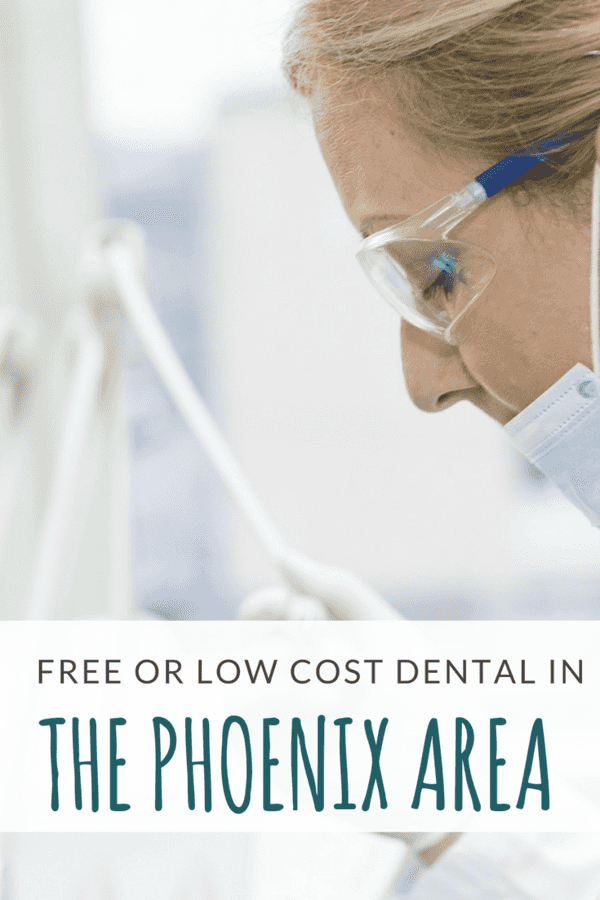 Dental is quite costly – even for those of us who have insurance. Fortunately there are resource out there in the Phoenix area designed to assist those of you who may not otherwise be able to visit regularly due to cost.
Thrive to Five
Thrive to Five offers Complimentary Fluoride Varnish Treatments and Oral Health Screenings for children from birth to age five. You can see more HERE on their site… they are in the Kyrene area of the East Valley.
Carrington College in Mesa (formerly Apollo College)
Carrington College offers free dental appointments to select people – the appointments are taken by instructors, and the dental work done by students in a supervised environment.
Carrington College's dental clinic is offering free appointments to adults who have gum disease, need deep-root cleaning or haven't been to a dentist for three to five years.
The appointments are done by Full-Time Dental students, and range from 2-3 hours in length. Make sure you set aside your afternoon (or, morning) depending on the appointment time.
Cancellations, if required, must be done at least 72 hours in advance, to avoid the dental student from receiving a "0" on the appointment.
No cost is incurred – you are required to not have been to a dentist for at least 3 to 5 years.
You can find them at 1300 S. Country Club Drive, Mesa. (480) 717-3510.
AT Still University
If you are in the East Valley – AT Still University (located north of Baseline between Power & Recker Road just south of US60) operates a Dental Clinic Monday through Friday 8 a.m. to 5 p.m. for a low cost – you can see more about their clinic (both Advanced Care and Orthodontic) by reading HERE – Patients as young as age 7 are eligible to receive services.
Fortis Dental College
Fortis College Dental Hygiene Clinic is relatively new, and located at 18th St. and Van Buren close to Chase Stadium in Phoenix. They offer reduced cost dental service for those who may not be able to afford dental care due to lack of insurance or those who are on a restricted income. All services are performed by students in the Program, under direct supervision of a registered Dental Hygienist and a Licensed Dentist.
The Clinic performs common services such as X-Rays, Cleanings, Fluoride Treatments, Teeth Whitening, Oral Cancer Screenings, and more. Payment is required prior to services, and only cash or credit cards are accepted. Adults are $35.00; and Children must be ages 5 and above with parental presence during the visit. Should you wish to take advantage of their services, you can reach them at 602-254-3099.
Rio Salado College
Rio offers various dental programs- you can see more by heading to their site.
Midwestern University Dental Institute
Midwestern does Cleanings, X-Rays, Fillings, Crowns, Extractions, etc. about 30-50% less than going to a regular dentist – it's a great choice if you are without insurance, or if you have reached your limit on your insurance for the year. See HERE for more regarding their services… they are located in the West Valley.
Mesa Community College
MCC (Mesa Community College) has a dental hygiene program, that runs through A.T. Still University in East Mesa. They operate from late August to Mid-May – you will need to make an appointment by calling them at 480-248-8195, and you can read more HERE.
Phoenix College
Phoenix College is Central Phx – they do dental work students who are observed by faculty instructors. They generally do appointments in the Spring and Fall – Monday to Thursday 7:30 a.m. to 6 p.m. Appointments can be made early in the semester, and you can reach them at 602-285-7323 or read HERE to see what services are provided.