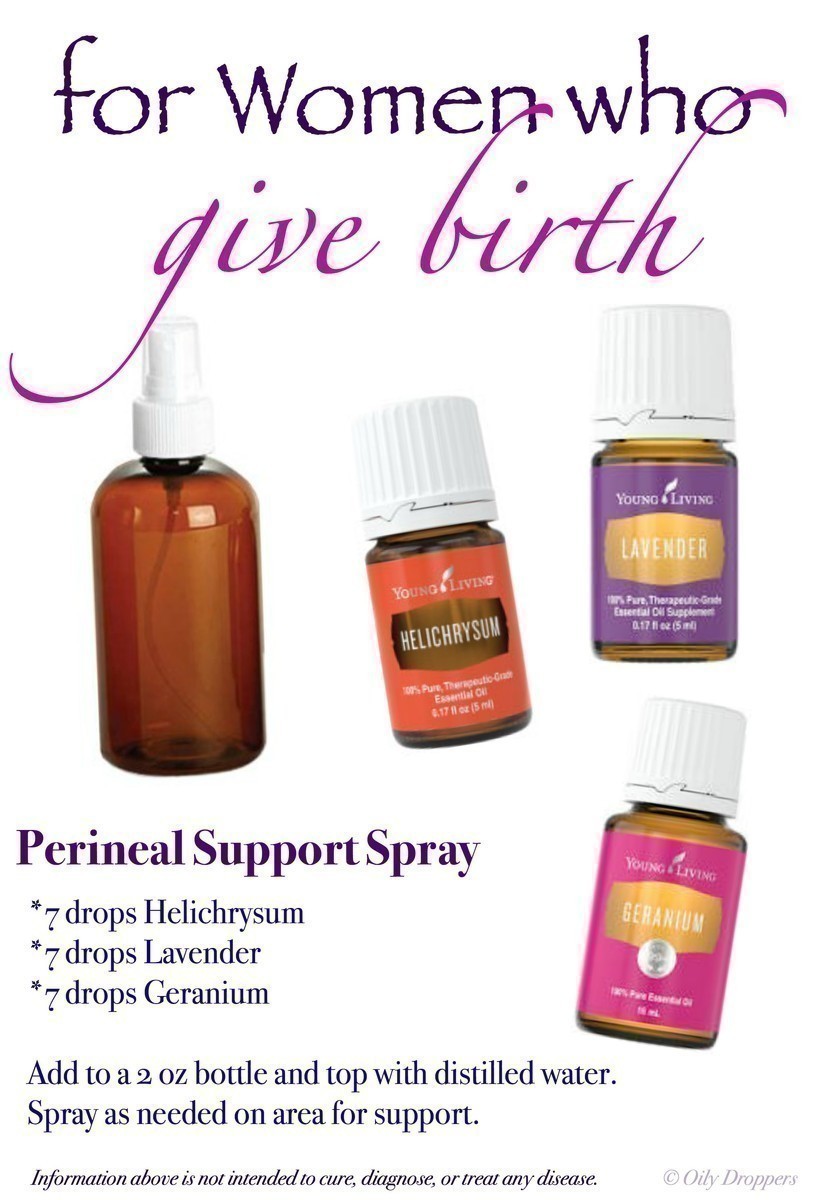 If you are getting ready to have a baby soon, this will definitely be something to pack in your hospital bag or birthing kit. We're just a few weeks away from baby 5 and I have been working on identifying those things that will be going in my birthing kit for the baby's arrival – this is one.
A few weeks ago we wrote about using Essential Oils to support a healthy pregnancy. Yesterday we also mentioned some Essential Oils that support a successful labor & delivery, and this might be a great way to support your Perineal area after delivery.
About the Oils:
Helichrysum: Great to use to support the perineal area during and after labor as it supports healthy skin. Apply directly with a carrier (fractionated coconut oil) or add to this support spray.
Lavender: Is a great oil to support healthy skin during and after pregnancy as well as mood too.
Geranium: A soothing oil that is also great for skin support after pregnancy, as it helps to promote healthy skin as skin stretches to help with delivery.
Combined together, these 3 oils provide a wonderful support after giving birth. Have Frankincense? You could also use that too if you wish!
Peri Support Spray
To make this Peri Support Spray, take a 2 oz Amber or Blue Glass Spray Bottle and mix 10 drops of each oil (Geranium, Lavender and Helichrysum) and top with distilled water.
Instructions: Apply on the area for support as often as needed after delivery.
Since this is such a concentrated solution of very powerful oils, I would recommend using these glass spray bottles (you can capture them on Amazon) and packing one in your hospital bag. It might be a great idea to make a few extra to place in bathrooms around your home, and also keep in your purse too.
Are Essential Oils Safe for Pregnancy?
Sourcing a plant is one of the most important aspects of producing high quality essential oils.. and there is also so much to know when it comes to using Essential Oils during your pregnancy. Ultimately, the choice is yours – but it's also your responsibility to make responsible decisions and use your oils properly too.
Essential Oils are powerful. They are a LOT of potency packed into a little bottle – and it's amazing how something so small can literally do so much.
They are a true, natural solution that is whole and pure – not synthetic and toxic.
Right now in almost every industry, the word natural is thrown around very loosely – you can see why in our last post here.
When we were researching Essential Oils, there were over a dozen companies that popped up – we went with Young Living because not only have they been around for over 20 years, they own their OWN fields. They are in charge of their own operations from the planting to the harvesting, and far greater – their transparency was beyond any other company, as anyone can visit their farms – at any time. Their Seed to Seal Commitment was their promise of authenticity and purity.
Nobody else does quite what they do – and that's why we feel comfortable in recommending them. Combined with their passion for educating their members, they truly are a company that goes far beyond others.