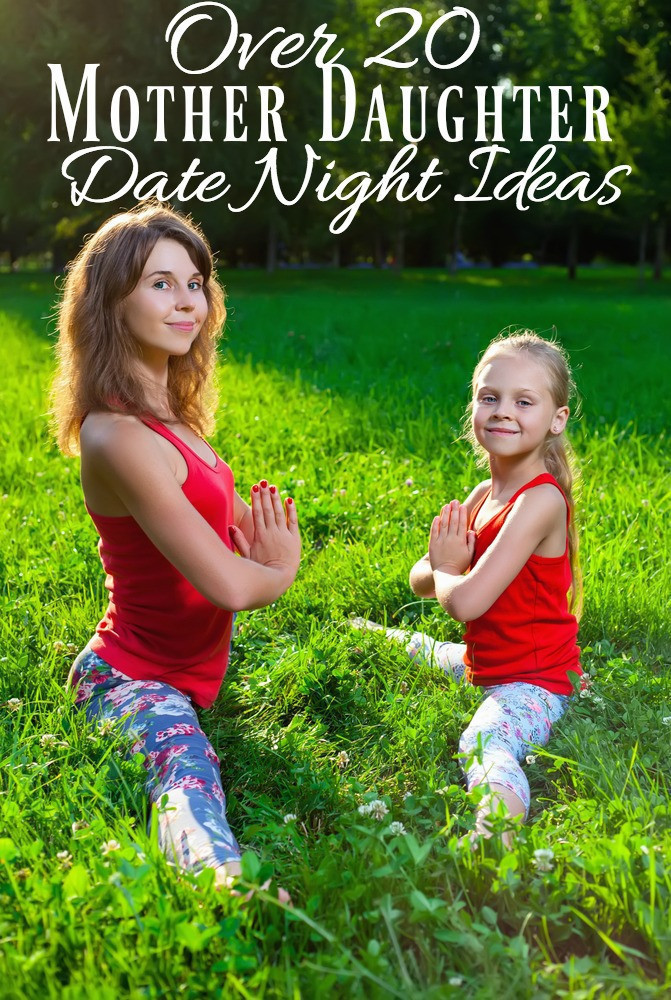 Do you have girls? I have 3 girls … pretty far apart, one is 11 and the other one is almost 5… the smallest is almost 2. With 2 boys in-between, sometimes my 11 year old feels like she's left out…
So it's important for both Dad and I to do things with her on her own to make her feel really special.
Eventually she'll be in high school, and then she'll have a family of her own and I'm hoping she carries on that tradition with her girls (if she has one!) Having girls is a pretty special thing. I love my boys, but my girls are pretty amazing too.
Thankfully there are many things we do every few weeks ~and it really doesn't take much~ a date night can be as inexpensive or as expensive as you make it. Don't have much money? It really doesn't require you to spend any – just being creative and making an effort is what is most important.

Check out some of these fun date night ideas we put together for you to do with your daughter ~
Mother Daughter Date Night Ideas
Share a Slush at Sonic. Visit Sonic during happy hour – grab a Slush and share some time there, or take it to your favorite place.
Horseback Riding. Certainly not a low cost way, but it is a FUN way – if you are in the Phoenix area, you can check Groupon frequently for deals on Ft. McDowell Adventures and score a 2 hour ride for between $23 – $26 per person. It's a great way to spend a Saturday morning, it's fairly close to town (only 15 minutes north of Mesa), and you can grab lunch on the way home together. I wouldn't recommend this in the summer though…
Just try to avoid going until it cools down. Now is TOO hot to ride horses — I know from experience. :)
Over 20 Mother Daughter Date Night Ideas
Go Mini Put Put Golfing. Golfland is one of our favorite places to go.
Road Race. Phoenix is always full of fun Road Races – challenge yourself by signing up for a 3K or 5K with your daughter & run together.
Take her to Build a Bear.. of course, try to find a coupon to sweeten the deal. Help her build a new bear she can take home.
Take her for Pizza. Find a pizza place that you can go to for a slice of pizza & share a soda. MOD Pizza is a pretty fabulous place to make your own.
Bake Cookies. Have her help you whip up a batch, let him pour in the chocolate chips & help you drop the mon the cookie sheet.
Dinner Date. Take her to her favorite place… whether that be Chick-Fil-A, or for a huge burger and fries. DRESS UP :)
Park Play Date. Take her to the local park & play with her – ride down the slides, and show her how you handle the monkey bars.
Girls Movie Night. My daughter LOVES going to the movies – in fact, I think her favorite part is when Mom lets her put the special seasoning on her popcorn.
Visit a Coffee Shop. You can ask for a kid's chocolate milk – topped with whip cream, at $1.50 it won't break the bank.
Book store. Take her to the bookstore, grab an iced coffee (or chocolate milk) & let her pick out a book.
Camp in the backyard. This can be done with ANY of your kids – my daughter would go crazy for this idea…. Set up your tent, and drag your sleeping bag out to spend a night under the stars.
Have a picnic. Indoors or outdoors… at the park, or our favorite place is at the Williams Airfield – we sit outside the flight line and watch the planes take off while we eat ham and cheese sandwiches.
Mommy Daughter Bowling. Put in the bumpers if your daughter is really small & let her have a go!
Out for a donut. Sneak out early in the morning while the rest of the family is asleep & take her for a donut & milk.
Feed the ducks at the Park. We usually do this at Freestone Park in Gilbert – just remember not to feed the ducks bread! :)
Dollar Spot Date. How many people DON'T love the Dollar Spot at Target??!! Give her a few bucks to pick out some fun things and then enjoy lunch in the Food Cafe.
Swim. Take her to the community pool or spend some time at the Kiwanis Rec Center in the Wave Pool.
Fly a Kite. Pick up an inexpensive Kite at Walmart & take it out to the park on a windy day. Bring a sack lunch and sit and gulp a soda while you have fun putting the kids up in the air.
Petting Zoo. Depending on where you live you can take your daughter to the petting zoo, or the local farm to pet the animals.
Redecorate her bedroom. Visit a local thrift store & capture inexpensive items to help her redo her room.
Puzzles. Head to Walmart to pick out a new puzzle & help her put it together.
Roller Skating. FUN for a really unique date idea – take her to the local rink. If you have a POGO Pass you can visit Skateland for FREE. Even better!
Craft something together. Take her to JoAnn or Michael's for a simple Craft Kit – you can do together at home some night when the boys are gone.
Head to the Mall. No need to really buy much, but you could pop into the Sees Candy store, or even Claire's, and share a cup of pretzel bites from the pretzel shop while you walk around and do window shopping.
Do you have any more you can add to our list?