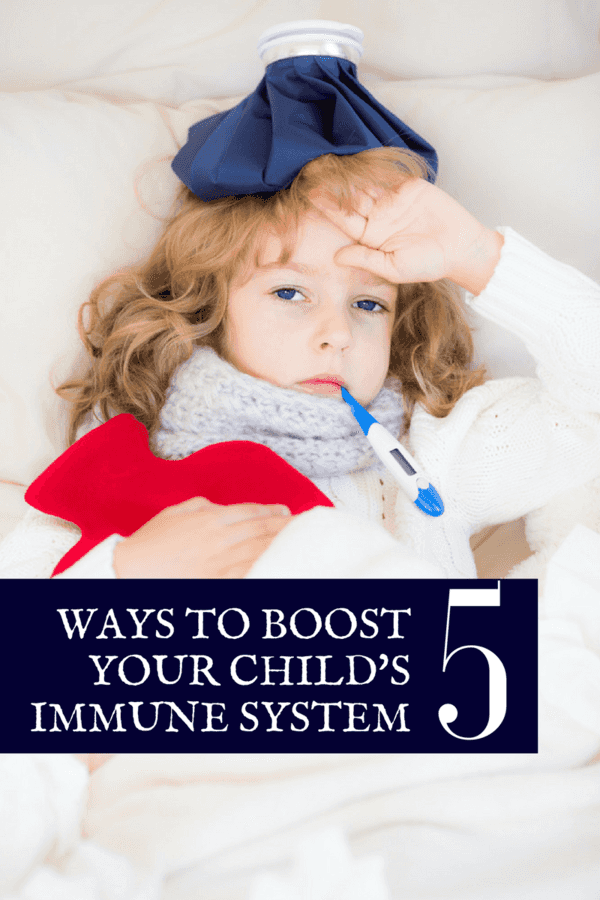 The school year may have just started for most kids, but it won't be long before the stomach bug and flu make their rounds. While many people may assume that these things are normal for kids who are in daycare or, in regular elementary/high school programs, they aren't.
Not all children are getting sick.. not all have runny noses and not all will catch that stomach bug.
Your child's immune system is not based on genetics alone – there are ways that you, as a parent, can boost their immune system to help them surpass this school year without constantly being sick.
Feel like you have to accept things as they are and continue on the same path? You don't – there are many things you can do to boost your child's immune system and help keep them above the wellness line.
So how do you boost their immune system to keep your kids healthy?
#1: Focus on strong diet
When the school year starts, their sugar intake usually go through the roof. Looking at my own kids who went back several weeks ago, they are always coming home with school papers for donut day with grandparents, donut day with parents, skittles as rewards in school .. if your children are always being bombarded with less than whole foods, their immune system IS going to suffer.
Everything from sugar to additives compound over time – exacerbating inflammation, and therefore allowing a greater chance for bacteria and viruses to fester and wipe out an immune system.
Children are not able to handle an overabundance of sugar and additives – thus the reason you see many runny noses, colds and coughs sprouting at the start of the school year. To keep them well, and their immune system strong, cut back or cut out processed foods, limit their intake of sugar and sugary drinks, and instead focus on eggs, legumes, and whole fruits – raw dairy is also amazing for boosting immunity too.
#2: Keep Stresses Low
The start of the school year involves stresses that didn't exist over the summer – over scheduling of activities getting up early, homework and deadlines, and more.
Children's bodies are much similar to ours as adults in that stress can wreck havoc on their immune system – their cortisol rises (which in turn suppresses their immune system).
#3: Boost their Gut
Did you know that 80% of your immune system is in your gut?
When your immune system is off balance you can see everything from allergies to poor skin health (especially in kids) – eczema, and dermatitis, too.
It's important to keep your colon healthy – not just eating fruits and vegetables, reducing your sugar intake and avoiding processed food, you need to keep food moving. When food sits in your colon, the more bacteria forms – and the more bad bacteria forms, you run the risk of diarrhea, or constipation. It's important to stay hydrated and drink 8 – 10 glasses of water each day, in addition to taking probiotics (or, drinking raw milk kefir).
Probiotics are helpful bacteria that naturally occur in our guts and protect our digestive tract. They help us get rid of toxins from our body. They also help us digest food that we eat. One of the best functions of probiotics is that they help protect us from weakened immunity.
Starting your kids on a probiotic supplement is helpful – aim for something that has between 5 – 20 billion CFU's per day. Or, opt for Kefir — raw milk Kefir has more strains of probiotics and thus is even better than taking a supplement. You can make your own raw milk kefir (it's fairly easy – we do this daily for the entire family).
See also: How Good Gut Health can Improve Immunity, The Difference Between Raw & Pasteurized Kefir, Health Benefits and How to Make at Home and Easy 2-Ingredient Super Strawberry Smoothie
#4: Kids Need Sleep
Kids need at least 10 – 14 hours of sleep each day to keep their immune system strong. And while some of them might be getting those hours, making sure they are getting a really good quality sleep is important.
Turn off the devices, and pull the plug to allow them to focus on getting the Zzs they need. If they have trouble getting to sleep, lean towards Essential Oils for support.
See also: Bedtime Diffuser Recipes for Kids
#5: Supplements and Essential Oils can work Beautifully
Supplements can help boost your child's immune system – some of the most important supplements to keep in mind are fish oil, vitamin C, vitamin d, zinc, and rosehips.
Likewise, Essential Oils can be a great way to boost immunity too – unlike prescription medicine that can largely affect your gut flora, essential oils don't disturb your gut bacteria and can support your immunity.
It's important to know the difference between cheaper fragrance oils that are synthetically produced and pure, unadulterated essential oils – as you don't want to use fragrance oils for boosting your child's wellness.
You don't have to spend a fortune on essential oils to help support healthy kids – there are a few basic oils that will do a wonderful job.