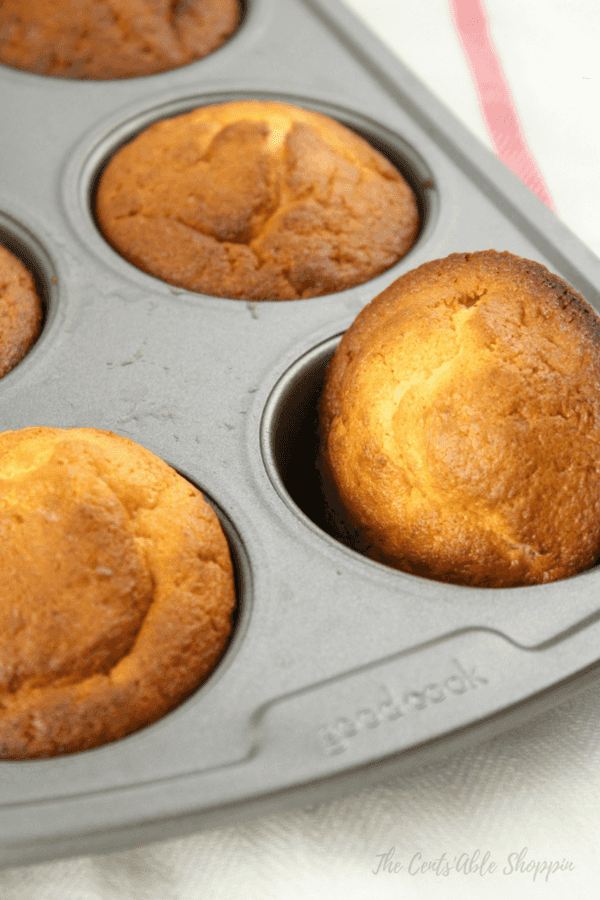 One of the best reasons to take a trip to the hispanic market is so that you can stand in front of the huge case of fresh rolls and sweet breads.
It's hard not to smell the combination of vanilla, sugar and cinnamon as you stare at over a dozen different types of sweet breads – some orange and lemon, some vanilla and cinnamon, some flaky and some crumbly. Some are muffins and some are thick, molasses type cookies.
One of the favorites for my smaller kids are these muffins, above – they aren't anything too special, but they have just the right amount of sweetness, they don't make a sugary mess, and they fit easily in little hands.
Mantecadas are like a spongy pastry from Spain – similar to a muffin but normally a bit flatter. You can make Mantecadas in a muffin tin with muffin cups for ease, or you can pour the batter into a baking dish and bake as one and cut later.
If you are at the hispanic market, they normally bake Mantecadas in muffin cups and have them available in the bakery window with the regular sweet bread.
While they are a Spanish sweet bread, you may find them in packs of 2 in Mexican markets in the area near the checkout, it's quite similar to pound cake.
The ingredients in Mantecadas are quite easy – sugar, eggs, butter, flour … a little vanilla and in some cases, sour cream – it might not be the most traditional of ingredients but it's what I love to include to make them super moist and oh so delicious!
A type of spongy pastry from Spain similar to a muffin, but flatter. .. Mantecadas are soft and delicious, best eaten at breakfast with a hot drink.
Ingredients
2 eggs
1/2 C. butter, melted
3/4 C. sugar
1 C. sour cream
1 C. flour
1 tsp baking powder
1 tsp instant yeast
1 tsp vanilla extract
Instructions
In your mixer, cream the butter, sugar, sour cream, eggs and vanilla until light and fluffy.
Add the flour, baking powder and instant yeast and blend just until combined.
Allow the mixture to sit for 15-20 minutes undisturbed.In the meantime, preheat the oven to 350 degrees F.
Pour the batter evenly in 6-7 muffin cups and bake for 10-12 minutes until light brown.
Remove from the oven and allow to cool before enjoying.
https://www.thecentsableshoppin.com/mantecadas-muffins/
Have you ever had Mantecadas Muffins?
See more muffin recipes – including Maple Sweetened Banana Muffins, Sour Cream Blueberry Muffins, and Healthy Banana Chocolate Chip Muffins.