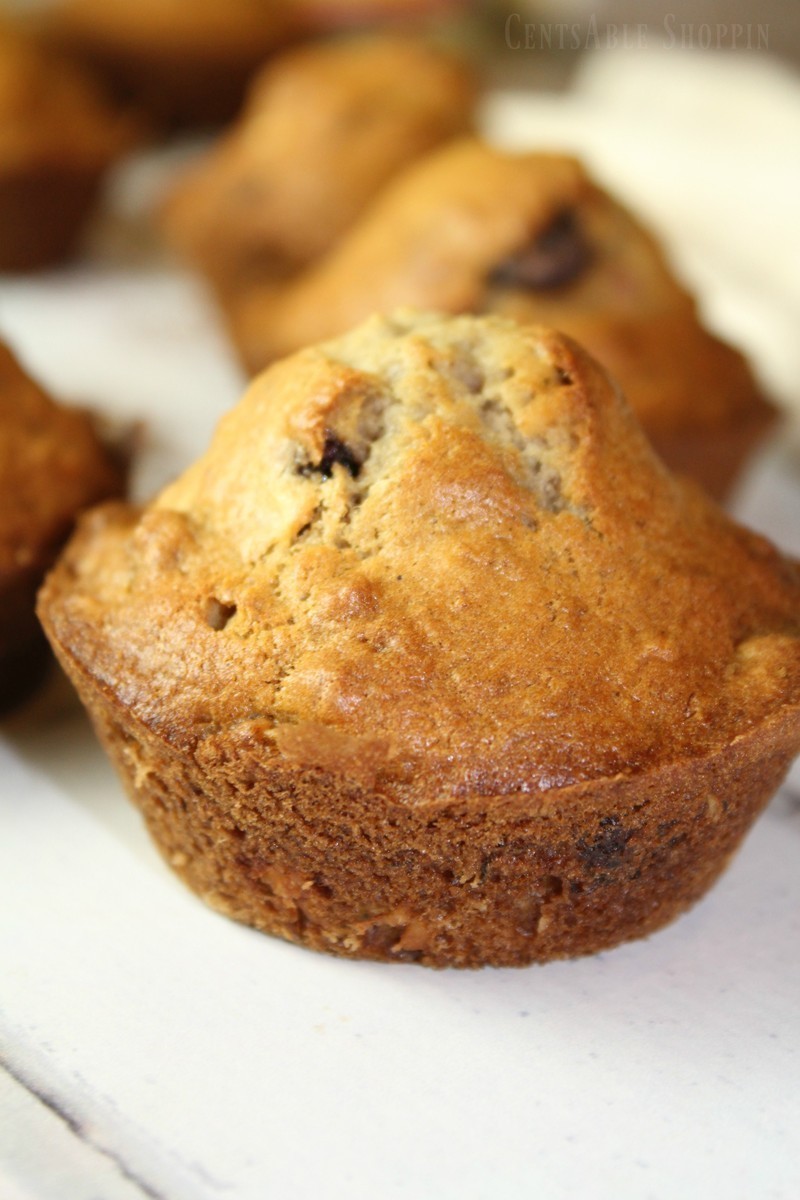 Muffins are pretty popular around our house – little hands love mini muffins, and the older kids love to have them in their lunchbox.
Alas, I never knew how much muffins could be a problem until this past few weeks at school. You see.. I take a lot of time and consideration into finding the perfect muffin recipes, incorporating different things in them, and swapping out some ingredients for others to make them exactly what I want.
And what they will like. Because making them is pointless if they aren't going to eat them -agree?
Let me start by saying that these muffins are pretty amazing. They are sweetened with maple syrup in lieu of sugar. We opted for homemade raw milk kefir in lieu of almond milk (though we could have used raw milk).
And we added 1/4 C. chia seeds in the batter before baking – the kids had no idea. There are also 3 bananas tucked up in the batch too. My kids love bananas – I have some really big monkeys here.
The muffins are pretty hearty and healthy – although we did throw in less than 1/4 C. of chocolate chips to give them some pizzaz for the kids.
They were so good, in fact, my kids saved their muffin for their 10 minute snack at school – but then came home with a note from their teachers that their snack had to be "healthy". My 4th grader was mad about the note, and at her age, knows enough to say to me .. "Mom. Why is he teacher saying that bagged chips are better than your muffins?"
Whereas my 1st grader was upset because the teacher told him to put it back, and gave him suggestions as to what his mom should be buying.
I was under the impression that the muffins were honestly as healthy as I could have made them – obviously the school's definition of healthy is a little off kilter.
Nonetheless, we are back on track with both teachers after having a one-on-one discussion… my kids are happy that they can continue to bring the muffins in their lunchbox, and my son told me we are never to run out of bananas because that means we can't have muffins.
And we can't let that happen ;)
Maple Sweetened Banana Muffins
2016-09-15 13:57:48
These maple sweetened banana muffins are made with white whole wheat flour, chia seeds, bananas and raw milk kefir, sweetened with maple syrup and baked to perfection.
Ingredients
1/2 C. honey or, maple syrup
2 eggs, room temperature
2 - 3 ripe bananas
1/4 C. raw milk kefir (or, opt for using regular milk)
1/3 C. melted coconut oil
1 tsp vanilla extract
1 tsp cinnamon
1 tsp baking soda
1/3 C. old fashioned oats
1 3/4 C. white whole wheat flour
Instructions
Prepare your muffin pan - this recipe will make 11 regular size muffins, OR, 1 dozen mini muffins + 6 regular size muffins.
Preheat the oven to 425 degrees F.
In your KitchenAid, combine the coconut oil and maple syrup with the eggs, kefir, vanilla, and cinnamon.
Add the flour, oats and baking soda and mix just until combined.
Now is the time to add any mix-ins - gently fold into the batter.
Divide the batter into the muffin cups evenly.
Place the pan in the oven at 425 for 5 minutes (this higher heat for 5 minutes will help them establish a dome shape).
After 5 minutes, turn the oven to 350 and bake for the remaining time - mini muffin pan just 7 minutes, or 10 minutes for a regular muffin pan.
Remove from the oven and let cool for several minutes.
Notes
These muffins freeze beautifully ~ keep them in a freezer bag and pull out as needed.
Adapted from Cookie & Kate
The CentsAble Shoppin https://www.thecentsableshoppin.com/