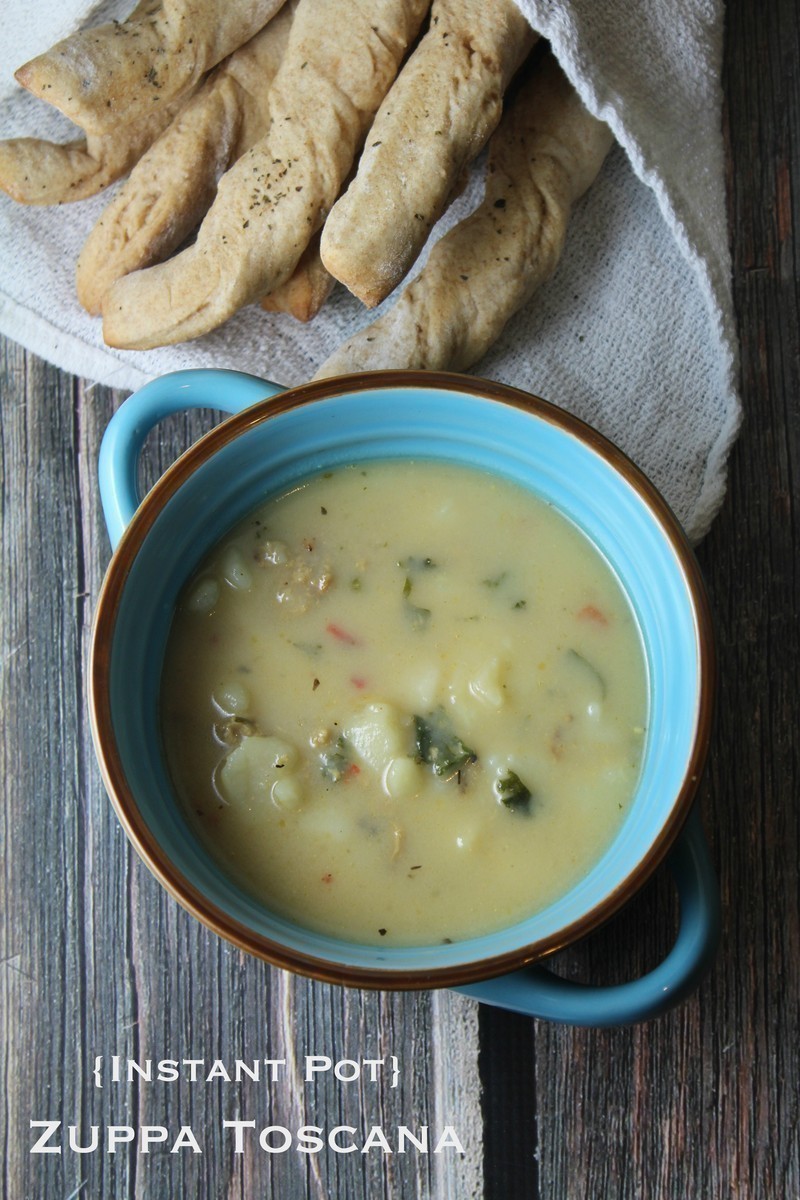 Who doesn't love the Olive Garden's Zuppa Toscana Soup? Everyone does ~ we haven't met anyone who doesn't.
When you have 6 in the family, going to Olive Garden just isn't in the budget. Thankfully ….we have an Instant Pot that can make it just as good at home for a fraction of the cost. And even better, you won't have to wait to get seated.
While the traditional Zuppa Toscana will never be something we can replicate exactly, we did a pretty good job with what we had. Last week's CSA share had tons of Red Potatoes, we also had Kale, and Onions… what better way to use them up than soup?
One thing we stay away from though is Pork – and while the original recipe requires Bacon and Italian Sausage, we haven't had pork in years ~ meatless versions of sausage usually have Soy (and we avoid Soy based items too!) so we replaced the Italian Sausage with a little Field Roast Vegan Sausage and it was amazing.
It's not something we make a regular purchase of, but we made a HUGE 12 cup pot of this soup and so David spared $5 to pick up Field Roast Sausage on the way home from work (it's carried by Whole Foods & Sprouts). Field Roast isn't Organic, but it is GMO free… if they did go organic their sausage would be more in cost (but we'd be willing to pay for it – considering how infrequently we use it). We don't have any intolerance to gluten but if you do, their sausage is not gluten free.
The Soup fed 8 of us and there is enough for 3-4 of us to eat it tomorrow – so well worth the expense. We only used 3 of the 4 links that came in the pack, so we have one tucked away for another recipe later.
You'll also need 2 Cups of Heavy Cream – but I'll be honest & say we used Raw Milk and it worked great .. I'm sure heavy cream tastes a smidge better but it's not something we normally buy.
Instant Pot Zuppa Toscana Soup
2016-04-20 03:16:52
Serves 8
A less expensive alternative to the traditional Zuppa Toscana that you would find at Olive Garden - made in 20 minutes or less in your Instant Pot.
Ingredients
4 Cloves Garlic, minced
1 small Onion, sliced
1 Tbsp Olive Oil
9-10 Organic Potatoes, Red or Gold Skin, peeled and diced
3 Tbsp Organic Better than Bouillon Chicken Base
1 Tbsp Red Pepper Flakes
1 lb Italian Sausage or, use Field Roast Sausage Links
12 C. Water (Divided)
2 C. Heavy Whipping Cream (we used Raw Milk)
3 C. Organic Kale, chopped
Optional: 1/2 lb Bacon, chopped
Instructions
In the Instant Pot, add the Garlic, Onion, and Olive Oil and saute 2-3 minutes (if you are using bacon add that at this time too).
Turn off the Instant Pot.
Drain some of the fat and put the Instant Pot insert back into the pot.
Add the Organic Potatoes, Chicken Bouillon and 8 C. Water.
Put the lid on and lock, set Manual, High for 9 minutes.
After the IP beeps, do a quick release.
Add the other 4 C. Water and the Kale, and turn on Saute for 5-6 minutes until the Kale tenderizes.
Turn off the Instant Pot and add the Heavy Cream, mix well. Salt & pepper to taste.
Notes
If you are using Field Roast Sausage, we used 3 of 4 links, and we took out of the casing and sauteed in a bit of Olive Oil with the Garlic and Onions.
Adapted from Copy me That
The CentsAble Shoppin https://www.thecentsableshoppin.com/
Checkout more recent Instant Pot Recipes… see 10 Reasons why we invested in an Instant Pot, and find the BEST Instant Pot Accessories to have for Instant Pot Owners!