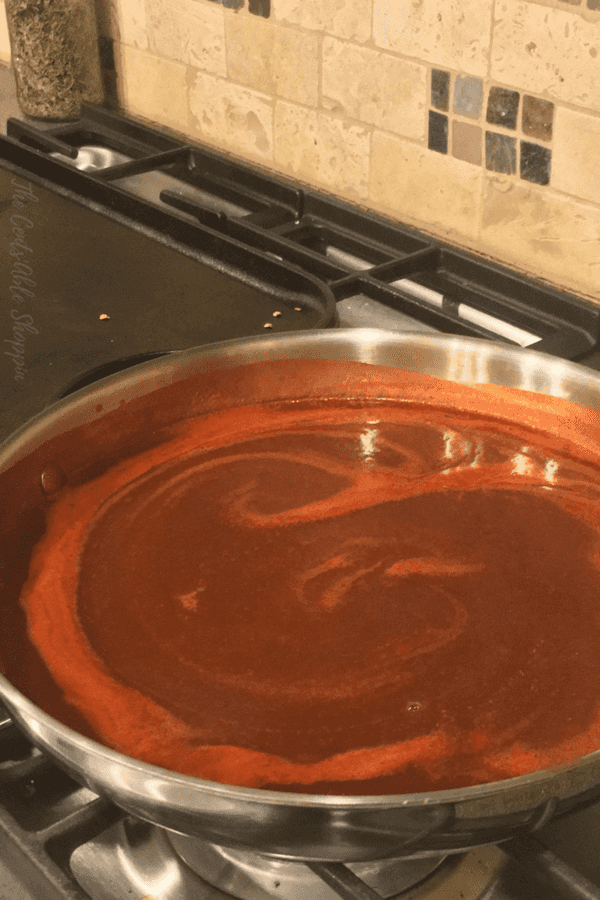 If there is one thing I love about the Instant Pot, it's the ability to make some of the most time consuming food in half the time. There are plenty of things you can whip up in the pot that are easy peasy… like, for example, beans, and pasta, and soft boiled eggs – the list could go on.
Related post: Over 20 Healthy & Delicious Instant Pot Recipes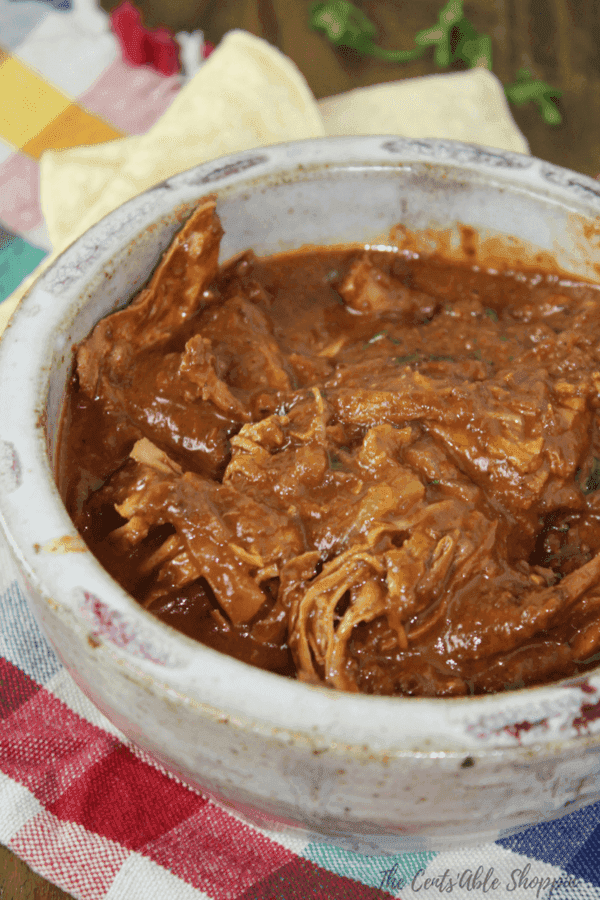 But some of my favorite things to make in the pot are those things that would have taken ages to simmer on the stove – like mole – which is absolutely incredible.
Having red chile sauce on hand at home is essential – for those days that you make dinner in a hurry with track practice scheduled… or days when you have family or friends show up unexpectedly to stay for a week. Because that has happened. Many times. (And always leaves me to say.. why me?!)
You need that sauce to save the day.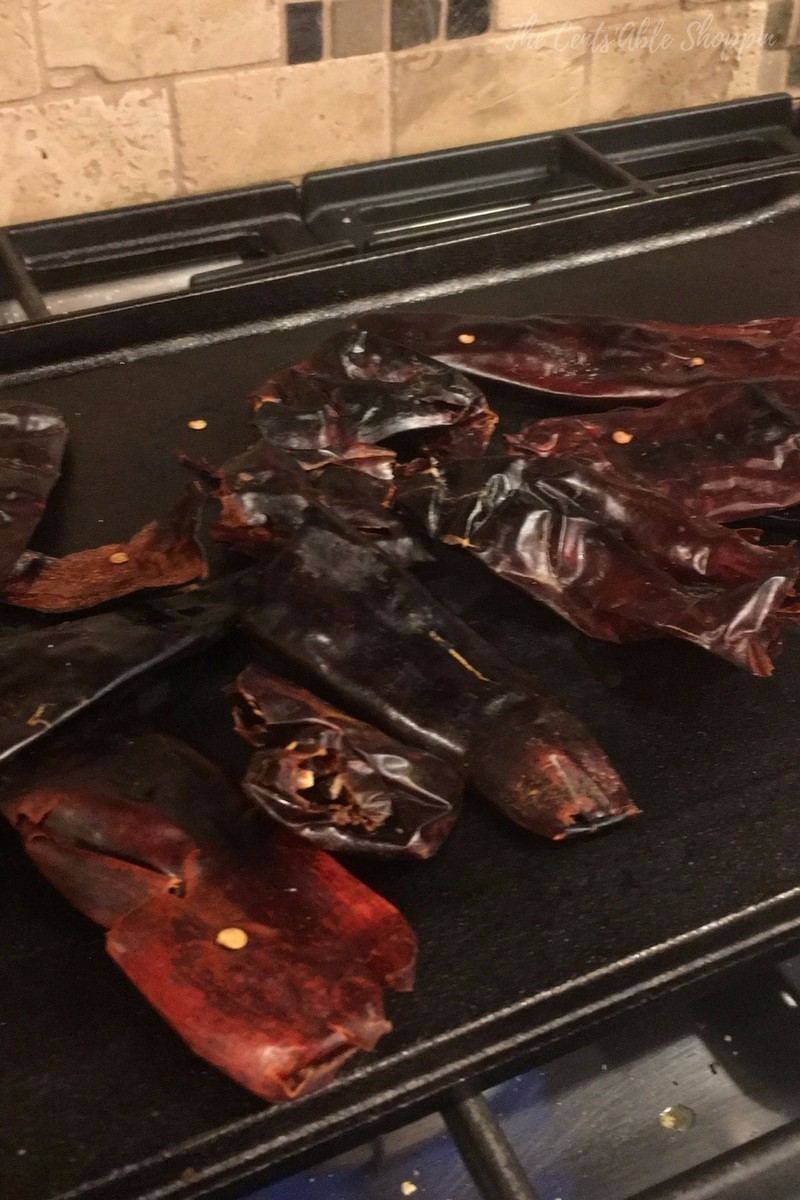 That red sauce can be poured over tamales, used to make enchiladas, served over burritos or even mixed into sour cream to make a perfect topping for baked potatoes. The possibilities are endless.
Oh so many chiles…
Choosing a specific chile to use for your meals might just be harder than cooking with the chiles themselves. Head to the store, and you'll find New Mexico chiles, California chiles, chile negro, guajillo chiles, ancho chiles, and even chiles de arbol. Head to your local Latin market and you'll find a sea of chiles ~ when I send my husband to pick up a bag or two for me, he usually ends up swiping (what feels like) a dozen of each.
I might be exaggerating about a dozen, but he does grab several of each, even if I tell him exactly which chiles to buy.. he'll still come home with all of them and then some more. He knows I'll use them all.

This sauce is incredible to keep in the fridge for up to a week – you can freeze it for longer, but if you do, try to reheat it to redistribute the flavor. Stir it into chicken, pork, pour over your tamales, or add a little to your scrambled eggs – it'll infuse everything with some pretty generous flavor.
And please, wear gloves…. chiles can be hot, and touching your face (and eyes) after handling them is not too fun – I know this from experience. Every time I use chiles to cook, I always say I'm going to be fine.. but then one thing leads to another and I scratch that itch on my nose and feel the pain of fire for hours and hours afterwards.
It's not a fun thing!
Red Chile Sauce (Chile Colorado)
Ingredients
6 dried guajillo chiles
6 dried New Mexico chiles
4 C. water, separated
1/2 chopped white onion
5 cloves garlic, peeled
1 tsp dried oregano
1 tsp ground cumin
2 Tbsp maseca (corn flour)
1 Tbsp kosher salt, or to taste
1 1/2 tsp sugar, or more to taste
Instructions
Remove the stem from the chile and discard - shake out what you can of the seeds (you will not get them all).
Heat a cast iron griddle on medium and toast the dry chiles for 20-30 seconds - be careful not to burn them. Flip them to toast the other side.
Add the chiles, onion, garlic, cumin, oregano and water to the Instant Pot.
Place the lid on the Instant Pot and seal the valve. Set the pot for 10 minutes on high (manual) pressure.
Once done, release the pressure, and dump the contents into your blender - be careful as heat will expand the liquid.
Add the additional cup of water at this time and puree until smooth.
Add 1 Tbsp olive oil to a skillet on the stovetop and bring to low/medium heat - push the red chile through a sieve (mesh strainer) into the skillet, toss away the remaining seeds/skin left in the strainer.
In the same blender, combine 2 Tbsp maseca with 1/2 - 3/4 C. water and puree until smooth. Pour that mixture into the skillet and whisk to combine - bring to a simmer until the chile mixture on the stove has thickened. You may need to add more water or maseca if desired.
Add the salt and sugar at this time and adjust amount as needed.
Once finished, pour into jars or use immediately to make enchiladas.
https://www.thecentsableshoppin.com/instant-pot-red-chile-colorado/