This Chile de Arbol salsa is every bit spicy! It combines simple ingredients in a fuss-free recipe that is perfect on chips, tacos, or even burritos!

There is nothing better than a really good, spicy salsa. Something that you can dump on your tacos, burritos, chips… or if you are my kids, then on your eggs in the morning.
While I can't seem to most past the most mild salsa, my kids can somehow drink the hottest of all the salsas. They start at the very youngest of ages. A tiny bit on the finger is all it took when they were just over a year old, for them all to go hotter, and hotter as the years went on.
Sometimes I feel like I definitely have my hot sensors in the right place until I stuff my mouth full of Hatch Chile Chicken . Then (and only then) reality hits. I realize I'm not as tough as I think (before running to the fridge to drown my sorrows in a half gallon of milk…)
It's all fun and games until your mouth is on fire. 🔥🔥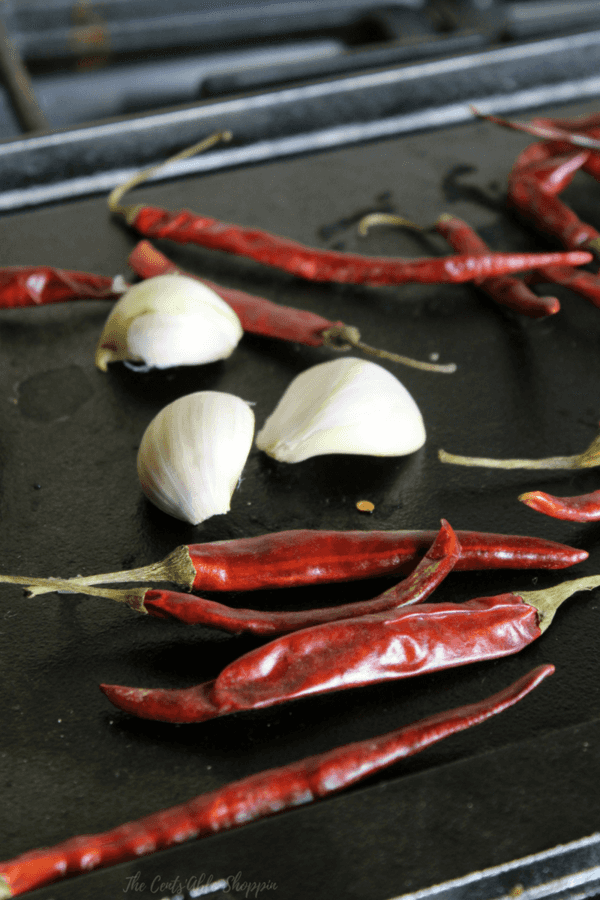 Being out of salsa now is almost as bad as running out of milk. Especially when your kids dump it on everything.
Toasted Chile de Arbol Salsa
This toasted chile de arbol salsa is incredibly easy to make and super super spicy. It requires only two ingredients plus a pinch of salt, and can be made in less than 5 minutes.

Perfect for those of you who hate being in the kitchen!
I think the hardest part might just be washing the blender! But hey, if you have kids, then give them the opportunity to lend a hand in the kitchen. It's great experience for them and a wonderful way to bond with them – they wash, you dry! 😉
Toasted Chile de Arbol & Garlic Salsa
A spicy salsa made in less than 5 minutes with just two simple ingredients.
Ingredients
30-40 chile de arbol
3 cloves garlic, unpeeled
1/2 tsp salt
3/4 - 1 C. water
Instructions
On a cast iron griddle, lay the garlic, and roast on each side until light brown. Remove from the heat.
Place the chile de arbol on the griddle and lightly toast, about 1 - 1 1/2 minutes between both sides - they should be fragrant. Careful because they can burn easily.
Remove the chile de arbol, and pluck the stems off before adding to the blender. Peel the garlic and place that in the blender too, then add 3-4 C. water.
Blend until combined - if needed, add that additional 1/4 C. water
Season with 1/2 tsp salt or more to taste.
https://www.thecentsableshoppin.com/toasted-chile-de-arbol-salsa/
If you love this recipe you may love any of these other Mexican recipes.