Throw some variety in your meals with 20 awesome egg salad recipes! Simple ingredients come together quickly to transform your meals in a hurry!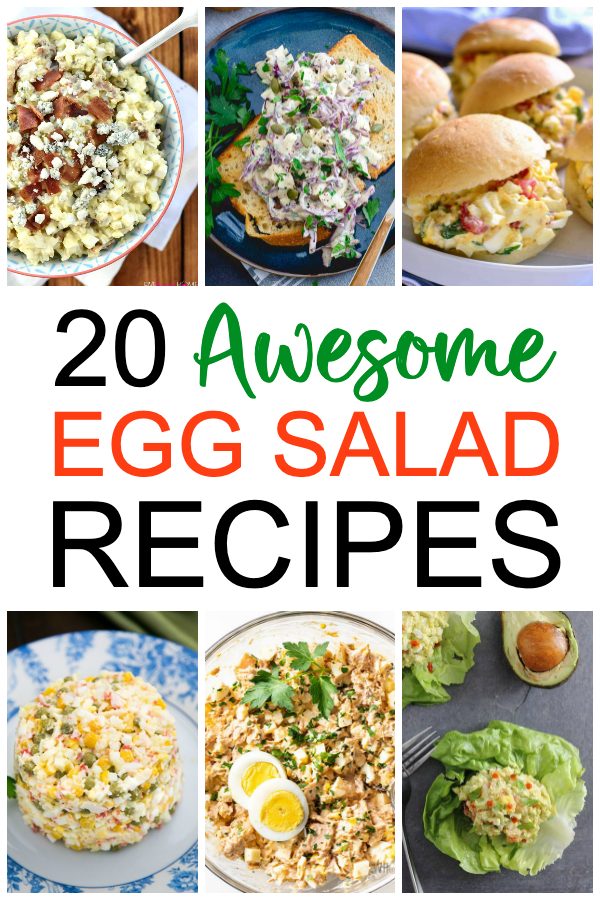 In this time of trial and tribulation, it can be super helpful to have some really good, simple (yet dependable) recipes to feed hungry bellies. Whether it be your kids, spouse or family members, simplicity is key.
Because when you go to the store and you can't find anything on the shelf… panic sets in.
What ever will I make for dinner?! Breakfast? Lunch?
Grab yourself a dozen or two eggs and you've got a simple meal of egg salad. Go a step further and whip up your own homemade mayonnaise with just a few simple (pantry) ingredients, too. Badda bing, badda boom – you don't even need to look for mayonnaise on store shelves!
20 Awesome Egg Salad Recipes
Turn egg salad into a variety of meal ideas with these 20 awesome egg salad recipes. Whether it be in a salad or as a side dish, or even dressed up as a main course, egg salad has never proved so table worthy!
Creamy Dijon Egg Salad by Running To The Kitchen
Ultimate Farmhouse Egg Salad by Southern Discourse
Curried Egg Salad with Mango Chutney by Simply Recipes
Bacon & Blue Cheese Egg Salad by Five Heart Home
Bacon-Dill Egg Salad with Pimentos by Melissa's Southern Kitchen
Greek Yogurt Egg Salad by Savory Nothings
Crab And Egg Salad by Natasha's Kitchen
Bacon Cheddar Egg Salad by Home Made Interest
Tuna Egg Salad by Wholesome Yum
Deviled Egg Cauliflower Salad by Bobbi's Kozy Kitchen
Cobb Egg Salad by Lemon Tree Dwelling
Tarragon Egg Salad by Simply Recipes
Jalapeno Popper Egg Salad by Keto Cooking Christian
Vegan Egg Salad by Emilie Eats
Tuna and Egg Salad with Fennel from Grab A Plate
Cracked Out Egg Salad by Plain Chicken
Creamy Sriracha Avocado Egg Salad by Running To The Kitchen
Egg White and Avocado Salad by Eat Yourself Skinny
Deviled Egg Macaroni Pasta Salad by Trial and Eater
Egg Salad With Dill by Mom Foodie
What's your favorite way to enjoy egg salad?
If you loved this round up of featured egg salad recipes, you might want to try these, below:
Homemade Mayonnaise (4 simple ingredients)
Love homemade mayo? Mayonnaise is one of the most essential ingredients – not just as a condiment but also in other foods. Take for example this Broccoli Salad with Almonds, or this Mexican Street Corn.