Make this easy Instant Pot Potato Salad – a quick and easy recipe for the most delicious potato salad that'll be a hit at the dinner table!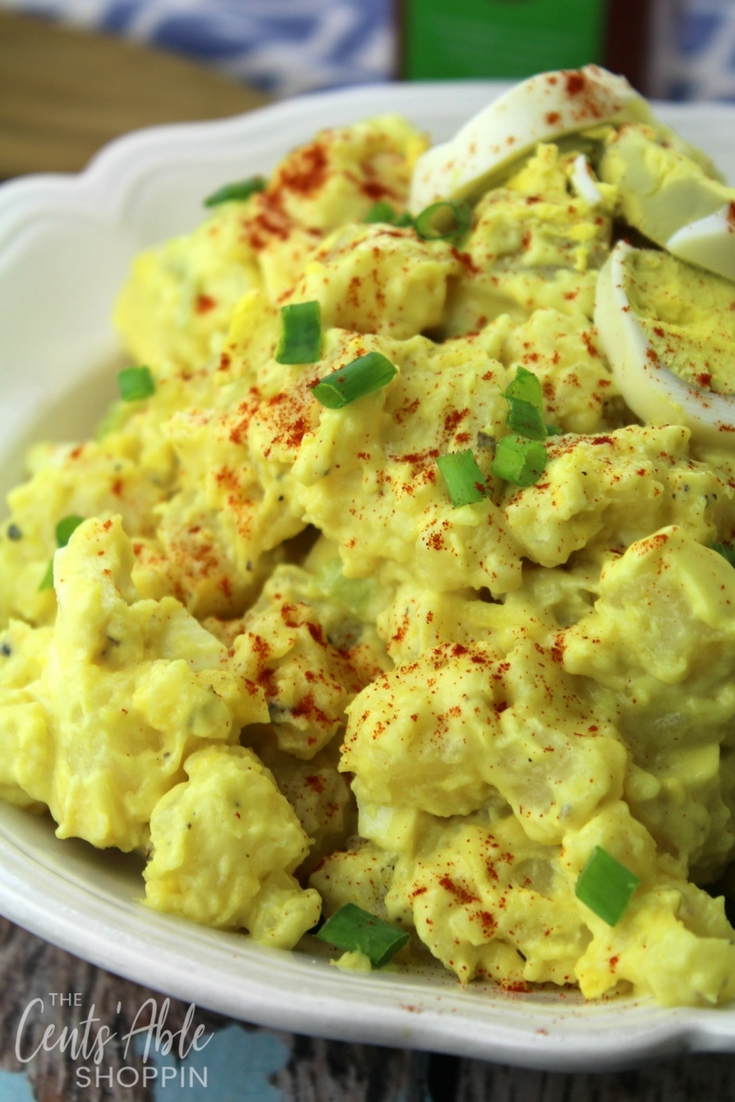 There's nothing like a good bowl of old-fashioned potato salad. A good potato salad recipe is a must for every household, and something that comes to mind when summer parties roll around.
Even better is when you can make it in the Instant Pot – it takes minutes. Literally – just minutes. Before the Instant Pot, I used to cut my russets in half and boil them in water; the process was rather lengthy, and it was hard to get potatoes that were just firm enough (but not overly done and mushy).
Potato salad is one of those dishes that can be made a zillion different ways – there really isn't a right or wrong recipe, just whatever you find most pleasing for your family. The best thing is that everyone has different tastebuds!
You can make potato salad with Idaho potatoes, russets, even reds; some people prefer a no-egg potato salad, while others might love theirs with mustard. I love to try new things and this potato salad was the result of a few different twists of my original potato salad recipe.
A little mustard for flavor, apple cider vinegar to balance the flavors, a few eggs (save one for garnish), and a sprinkle of paprika – for color.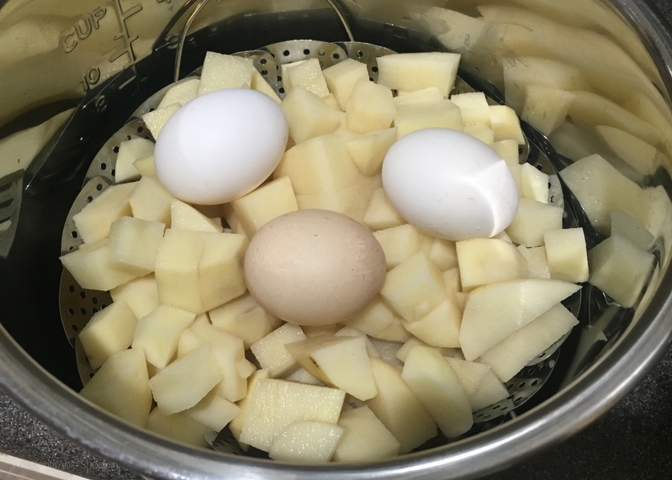 Instant Pot Potato Salad
To make this delicious Potato Salad, pour a cup of water into the Instant Pot. Then, peel and cube some russets and add to your steamer basket. Nestle three eggs in the top of your potatoes and throw the lid on the Instant Pot.
While the potatoes & eggs are cooking, combine the mayo, mustard, apple cider vinegar and sweet pickle/zucchini relish. Set them aside. Once the potatoes and eggs are done, allow them a few minutes to cool. Then combine them with the mayo/mustard mixture.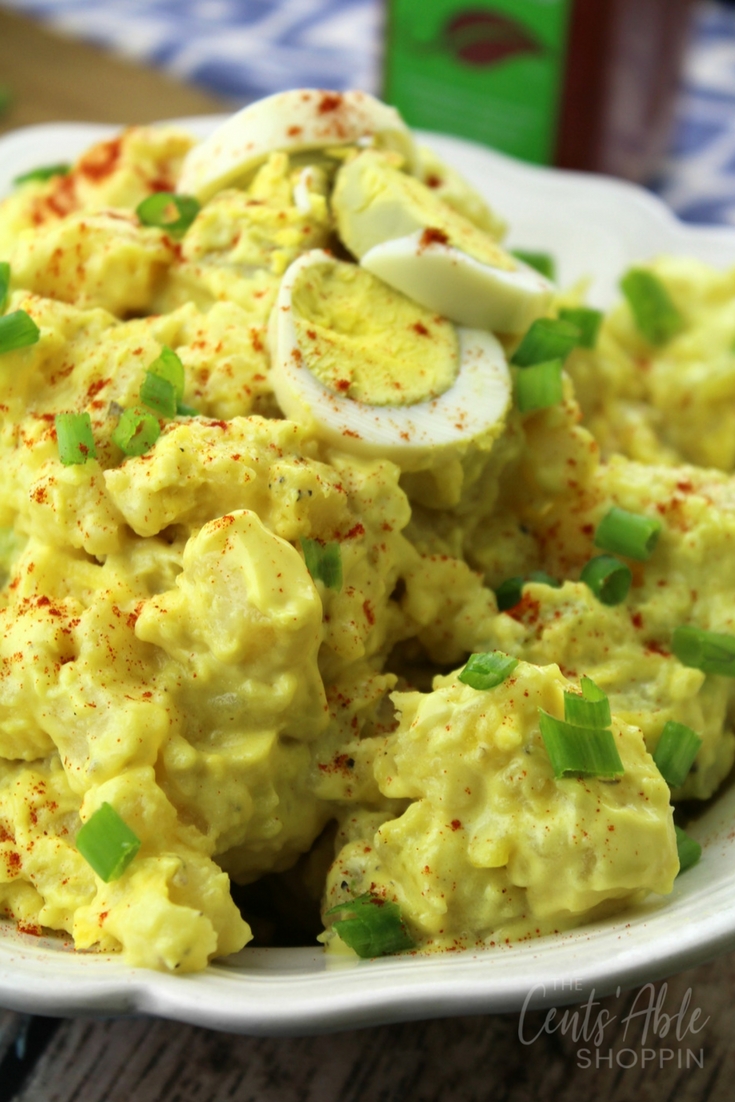 We chopped 2 of the eggs and stirred them into the potato salad along with the celery and onion. Then, we added salt and pepper to taste before covering tightly with saran wrap.
Top with a sliced hard-boiled egg and a light dusting of paprika. Add some green onions (optional) for a pop of color!
While potato salad can definitely be enjoyed immediately, it is best served after being refrigerated for a few hours. I hope you enjoy this potato salad as much as we do!
This easy Instant Pot Potato Salad is creamy and flavorful with a blend of mayonnaise, sweet pickle relish, celery and mustard.
Ingredients
3 lbs medium russet potatoes
3 eggs (2 for in the salad and one for garnish)
1 C. mayo
2 tsp apple cider vinegar
1/4 C. yellow mustard
1/4 C. sweet pickle relish or zucchini relish
2 stalks celery, finely chopped
1/2 sweet onion, chopped
salt & pepper, to taste
paprika, for garnish
chopped green onions, for garnish
Instructions
Wash & dry your russet potatoes; peel and cube, then set aside.
Pour 1 C. water in your Instant Pot and set your steamer basket within. On the liner, place your cubed potatoes, then gently nestle your 3 eggs right in the top.
Place the lid on your Instant Pot and cook on high pressure for 7 minutes. Once the pot beeps, release the pressure, and carefully lift out the trivet.
While the potatoes are cooking, in a clean, glass bowl combine the mayo, apple cider vinegar, yellow mustard, and sweet pickle relish. Mix well to combine.
Once the potatoes have cooled, add them to the mayo/mustard mixture; stir to coat. Chop two of the three hard boiled eggs, and stir into the salad along with the celery.
Season with salt and pepper, and cover tightly with saran wrap and refrigerate at least 2-3 hours.
Before serving, top with the remaining hard boiled egg (sliced) and sprinkle lightly with paprika & chopped green onions.
https://www.thecentsableshoppin.com/instant-pot-potato-salad/

If you love this potato salad, you might want to try this Mexican Instant Pot Potato Salad for a switch on the original!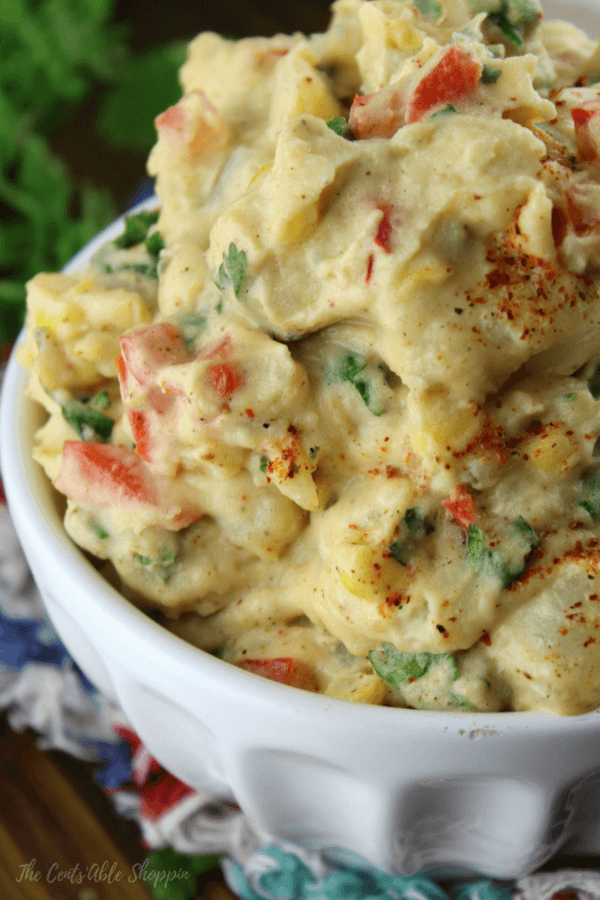 Mexican Instant Pot Potato Salad