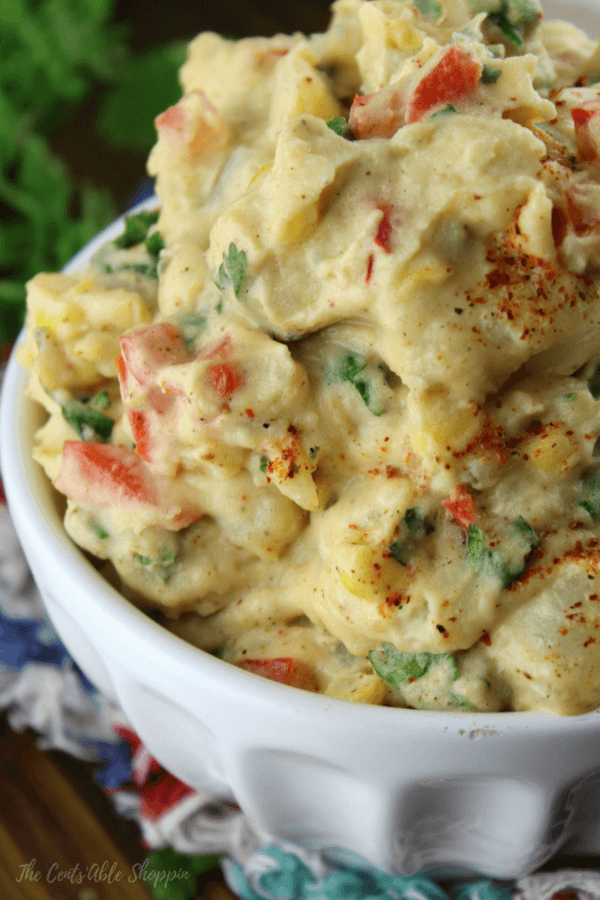 Who doesn't love a really good plate of potato salad? It's essentially one of the most popular items when the summer rolls around – think grilling, barbecues, friends and family, and dishes to pass… it's so much fun to get together with family and friends.
Potato Salad certainly always has a place at the table.
While most of us are used to the regular 'ol potato salad made with baby reds or yukon golds mixed with mayo and sliced hard boiled eggs… this Potato Salad is just a tiny bit different.
Combine an ear of sweet corn with green onions, a chipotle pepper with sauce, mayo and potatoes cooked up quickly in the Instant Pot, and season with cumin, chile powder, salt and freshly ground black pepper.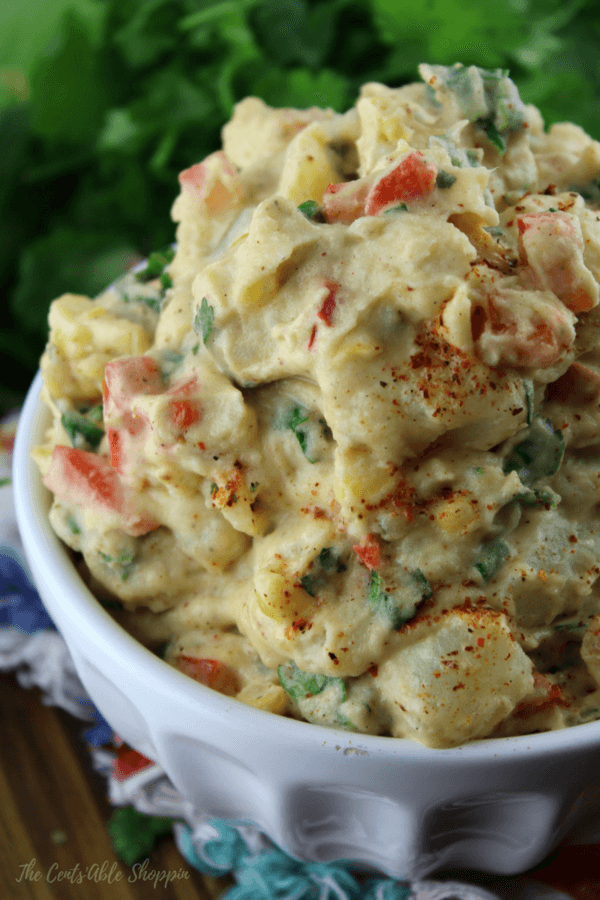 Whip up this potato salad even faster if you have an Instant Pot – instead of boiling the potatoes on the stove, quickly peel and cut, and place in a steamer basket in your Instant Pot with 1 C. of water.
Depending on the size of the potatoes, allow 8-10 minutes for them to cook – then dump into a strainer and allow them to cool down (ice helps with this!)
Then stir in the rest of the ingredients and refrigerate until you are ready to eat!
Do you have an Instant Pot? See more Instant Pot recipes including Chocolate Tamales, Mexican Chicken, and many more.
A delicious combination of Mexican spices, mayonnaise and fresh veggies coat potatoes for a twist on traditional potato salad.
Ingredients
3 lbs small red potatoes, peeled and quartered
1/2 C. chopped red bell pepper
1/2 C. chopped green onion
1/2 C. cooked sweet corn
2 tsp chili powder
1 tsp cumin
1/2 tsp salt
1/4 tsp black pepper
1 Tbsp cilantro, chopped
1 chipotle chile + 1 Tbsp of sauce
2/3 C. mayonnaise
Instructions
Place your peeled and quartered potatoes in your Instant Pot steamer basket and pour 1 C. of water in the pot. Place the lid on the pot, and close the valve. Cook for 8-10 minutes on high pressure. When finished, let cool and set aside.
Dice the chipotle pepper and combine with the adobo sauce, mayonnaise, black pepper, salt, cumin, and chili powder.
Combine the mayonnaise mixture with the cilantro, corn, green onion, and bell pepper just until coated.
Refrigerate until ready to serve.
Notes
Don't have an Instant Pot? Boil the potatoes over medium heat 15-25 minutes or until soft. Drain and proceed with recipe.
https://www.thecentsableshoppin.com/mexican-potato-salad-instant-pot/
Looking for ways to use up that can of chipotle chiles in Adobo that is leftover? Here are some ideas:
Roasted Garlic and Chipotle Mayo