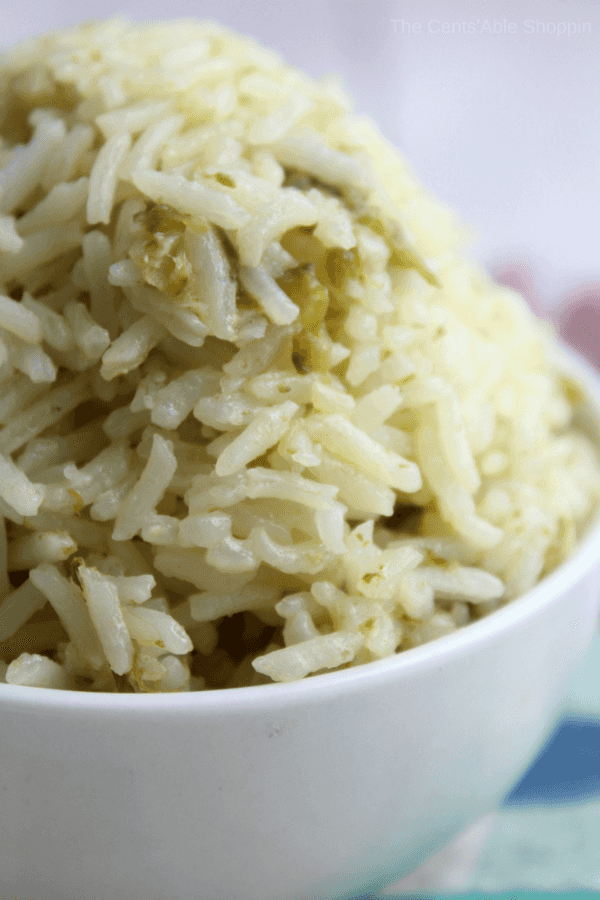 Tis' the season for Hatch chiles! Every September, the Hatch Chile Festival runs strong in the little village of Hatch, New Mexico.
People from far and wide come to participate in the festivities, from live music to ristra making, and green chiles galore. It's an incredible event – definitely hot, and incredibly busy, but fun nonetheless. You can smell roasted green chiles from miles away and perhaps even come home with a bag or two as well.
You can also roast your own Anaheim chiles at home – in your oven or on the grill, and freeze them to use all year long in recipes like this Hatch Green Chile rice that we made in our Instant Pot. Making rice in the Instant Pot is so stinkin' easy – walk away, and let the pot do all of the work. Return to the pot when it's done to find the rice perfectly cooked and fluffy.
Want more fierce flavor? If so, add more or less green chiles to your liking – but just remember that while you can always go hotter, once you make it too hot, you can't reduce the heat – you can only hope you have enough milk in your fridge to make that heat seem less fierce.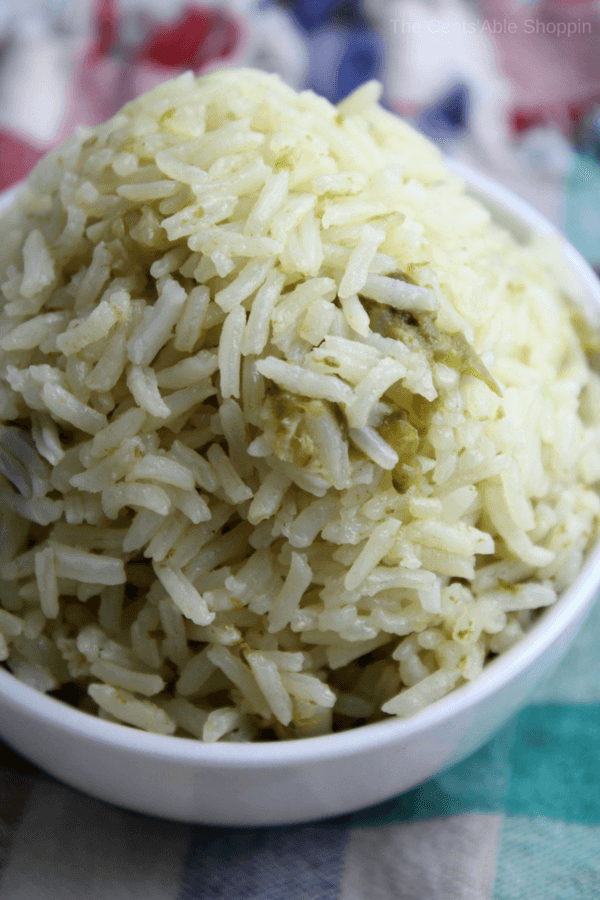 While we always pick up the mild Hatch green chiles, the last trip we made out to New Mexico made us realize that chiles can be very random in their heat level. The festival usually classifies them as mild, hot and hotter – but even the mild are sometimes incredibly hot, even for those who can typically tolerate the heat.
I'll never forget looking at my husband when he walked by a table out there at the festival – the gal at the table said "mild, hot or hotter?" He said … I can handle the heat but let me do mild first.
His face. .. whoa – I thought he was going to fall over. This man can handle some heat, but these chiles were far from being mild – and I won't forget that look in his face of pure terror … we left shortly after and that heartburn hit him all of the way home. It was not a pleasant experience!
I never heard the end of it, for hours and hours he went on about how hot those chiles were, and how he drank hot sauce out of his mother's womb but these chiles….. he was scared to touch them again. Obviously we have grounded ourselves again since that experience (I say that with sarcasm!) but it was that experience that made me realize that despite the posted heat level, chiles can have a mind of their own.
When it comes to roasting and freezing, I play it safe and usually freeze 2 to a bag as I find that using two yields the best (and most tolerable) flavor without going overboard.
Some things to remember about making rice in the Instant Pot:
You can use white or brown rice, but brown rice will take longer to cook and uses less liquid.
You can pre-soak the rice, which won't save you time, but does reduce the phytic acid content making it easier to digest (and for minerals to be absorbed).
Always try to use organic rice, if at all possible.
Double the recipe as needed with no added time – it'll yield the same results (light, fluffy rice!)

Don't have an Instant Pot? Pick one up and bookmark Over 100 deliciously yummy Instant Pot recipes you can try out – including one of our favorites, Sloppy Joes!
Instant Pot Hatch Green Chile Rice
2017-08-25 17:26:44
Serves 4
Kick traditional white rice up a notch with the addition of green chiles and minced garlic in a flavorful chicken broth.
Ingredients
1 C. organic white rice, rinsed
1 1/2 C. chicken broth
1/2 tsp salt, or more to taste
3 cloves garlic, finely minced
2 green chiles, [roasted|http://www.rebootedmom.com/2017/08/19/how-to-roast-green-chiles/] with stem and seeds removed, and finely diced
1 Tbsp coconut oil
Optional: sour cream, for serving
Instructions
In a clean Instant Pot, combine the coconut oil with the garlic and green chiles and saute for 1-2 minutes. Turn off the saute feature.
Pour the broth and rice in the Instant Pot, and give it a stir to distribute the rice evenly. Put the lid on the Instant Pot and set the timer for manual (high pressure) for 8 minutes.
At the completion of the 8 minutes, release the pressure, and stir the salt into the rice, adding more or less to taste.
Serve immediately, with a dollop of sour cream (as needed).
Notes
If soaking your rice: combine 1 C. dry rice with 1 1/2 C. water + 1 Tbsp apple cider vinegar. Allow to sit for 5-6 hours. Drain and keep the liquid - measure that remaining liquid, and take a mental note of what is left. Use the water on plants or in your compost, then replace that exact measurement with chicken broth, and add the soaked rice and chicken broth into your Instant Pot and cook on manual (high pressure) for 3-4 minutes.
The CentsAble Shoppin https://www.thecentsableshoppin.com/
Looking for more Hatch Chile recipes? Try this yummy Green Chile Country Gravy.