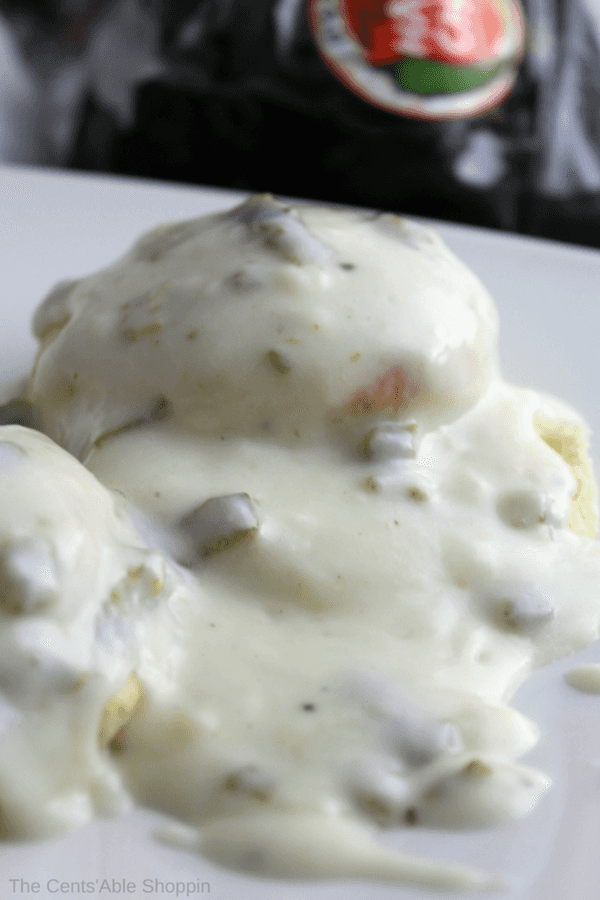 What could be better than a big Thanksgiving turkey smothered in beautiful gravy?
Hello green chile country gravy.
This smoky green chile country gravy is the perfect way to dress up some fresh, country biscuits for breakfast or if you like having breakfast for dinner. Roasting the chiles might be the hardest part of making this gravy – but you have options.
You can, of course, buy them already roasted from your local market or you can opt to pick up chiles from your CSA and throw on the grill to roast at home. If you roast them at home, use the grill, then pack and freeze them in bags of 2 – that way you can pull a bag out when needed for recipes like this.
So perfect!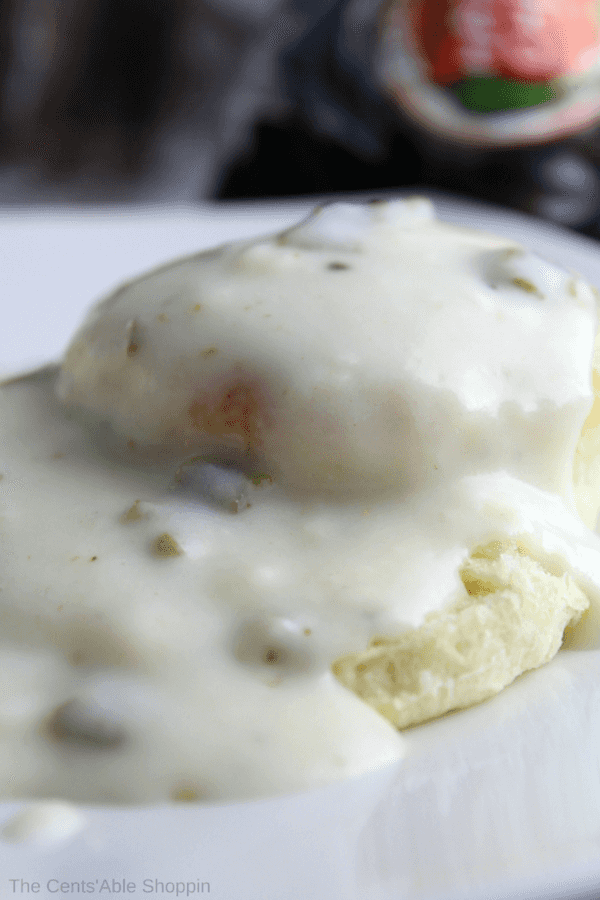 This simple gravy starts with the basic fat (or butter), flour, milk, and salt along with a few fresh chiles that fleckle the creamy gravy adding just the right texture and heat. If you are making this gravy for breakfast with biscuits, fry up your bacon or sausage on medium heat and then remove all but two or three tablespoons of fat from the skillet.
Or, skip the frying of the meat and simply use butter to thicken your gravy – though bacon or sausage fat will give it just a bit more flavor.

Pour the gravy on top of your favorite buttery biscuit recipe and enjoy – this gray makes 2 cups – so double the recipe if you have many hungry bodies to feed.
Hatch Chile Country Gravy
A thick and spicy country gravy speckled with green chiles that's delicious served on flaky country biscuits!
Ingredients
2-3 Tbsp fat (sausage or bacon drippings) or use butter
2 Tbsp flour
2 C. whole milk
2 Anaheim green chiles, roasted, peeled and stemmed and finely diced
1/2 tsp salt
Instructions
Roast your green chiles stem and peel and finely dice.
Fry up your bacon or sausage in a medium skillet and reserve 2-3 Tbsp of the fat. Or if you prefer using butter, melt the butter in the skillet over medium.
Add 2 Tbsp of flour to the pan and use a fork to combine with the butter or fat. The roux should develop a thick paste that's golden brown.
Slowly add the milk to the pan and whisk to combine and work out any lumps. Simmer on low/medium until the mixture thickens, then add the diced chile.
Continue to stir constantly until the gravy is thick and velvety, generously season with salt. Don't let it thicken too much - if it does, add a little more milk to loosen the texture.
Pour over your warm biscuits and enjoy!
https://www.thecentsableshoppin.com/green-chile-country-gravy/