These Instant Pot Frijoles Borrachos (Drunken Beans) are easy, zesty, full of flavor and the perfect accompaniment to your next Mexican meal!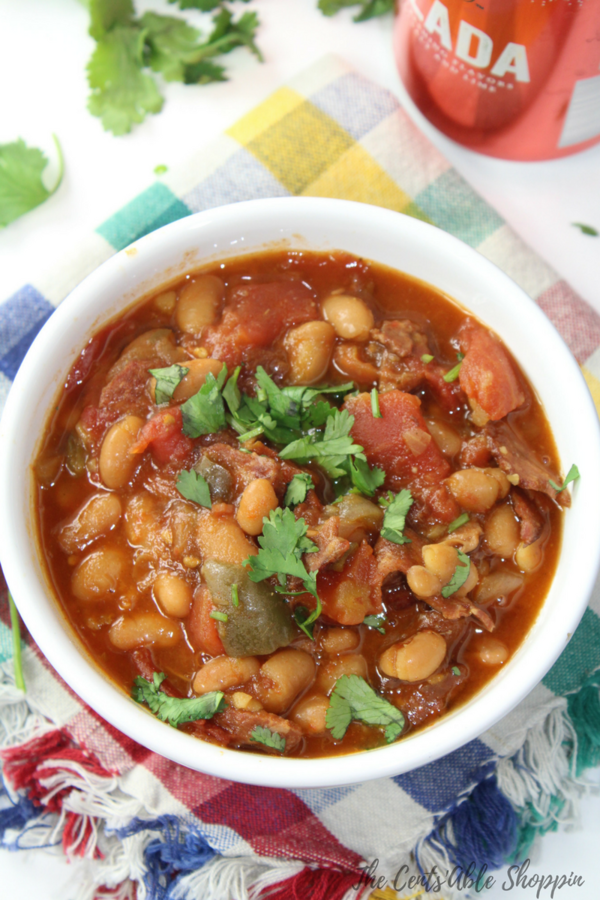 Who Doesn't Love Beans?
Pinto Beans are popular around here. They are effortless and a wonderful way to throw together something for a potluck, or a last minute side for dinner.The Instant Pot is one of the best appliances you can have in your kitchen – aside from a KitchenAid mixer. It's a wonderful way to eat healthier and save money.
The best part about an Instant Pot is the ability to make your food in a fraction of the time. You name it — everything from Soup to Tamales, Yogurt & more. Being able to walk away and not have to monitor anything on the stove is pretty huge – especially if you have children.
We have over 100 Instant Pot Recipes you can try – question is, what haven't we done?!
Instant Pot Frijoles Borrachos (Drunken Beans)
We have cooked pinto beans in the crock pot, even boiled them on the stove. At meals, we have served them next to Hatch Green Chile Cornbread, and we've even used Pinto Beans for this Pinto Bean Soup. Instant Pot Frijoles Borrachos (drunken beans) are a combo of beer, bacon and beans that is typically simmered on the stovetop for hours.
Except that instead of spending hours, we are cutting the time by using our Instant Pot. Besides, who has hours to wait for something to cook?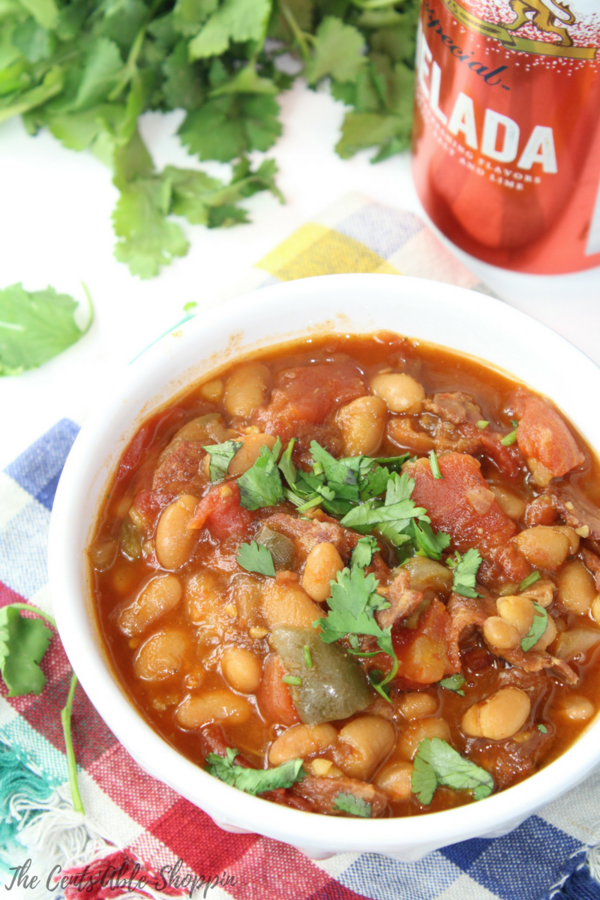 Not me.
They are absolutely delicious. There isn't really any right or wrong way to make them, although they are traditionally made with tomatoes, oregano, and a dark beer. However, if you can't find a dark beer, any beer will do.
Pinto or Peruano Beans?
This recipe is easy peasy. However, before you get started, you will want to decide if you want to use pinto or Peruano beans.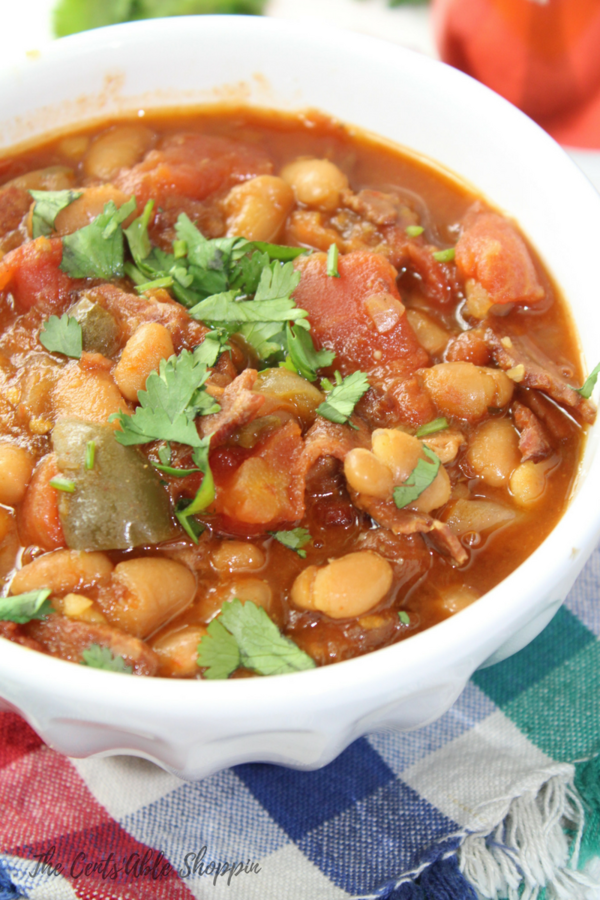 Pinto beans are darker and a little tougher, but Peruano beans are lighter in color and produce a much softer result. You can find both types at your latin supermarket, although Peruano beans tend to be a little more in price.
Always remember to add your salt after the beans have been cooked (never before), as adding them before will make for some tough beans.
Soak, Dump, Rinse and Cook
Soaking your beans isn't required. However, if you prefer to soak your beans beforehand, then do so for 12 hours. Then, dump the liquid and rinse the beans before cooking. You'll want to add a little less water to the pot (just to cover) and reduce the cooking time in the Instant Pot to 25 minutes instead of 45.
Soaking reduces their phytic acid content, which makes them easy to digest. That's important for you if find yourself getting bloated when you eat a dish/plate of beans.

Serve them Up!
These Instant Pot Frijoles Borrachos (Drunken Beans) will be the hit of your next dinner meal. Not only are they easy, they are zesty and full of flavor. Next to a good ol' pot roast or my favorite taquitos recipe.. they are delicious!
I certainly hope your family enjoys them as much as ours does!
Instant Pot Frijoles Borracho (Drunken Beans)
2017-02-08 21:35:18
Serves 6
Peruano or Pinto beans cooked in a zesty and delicious mixture of spices, beer and vodka in under an hour in the Instant Pot.
Ingredients
1 Tbsp extra virgin olive oil
2 jalapeno peppers, seeded and chopped
1/2 lb bacon, uncooked and diced
4 cloves garlic
1 medium onion, quartered
2 bay leaves
1 tsp cumin
1/2 tsp paprika
1/2 tsp onion powder
1 1/2 C. dry pinto or Peruano beans
1 C. water
3 C. dark beer
1/2 C. vodka
1 can stewed tomatoes
1 tsp salt (or more to taste)
Optional: chopped cilantro
Instructions
In your instant pot, combine the oil, jalapeños, onion, bacon, and garlic and saute for 3-4 minutes until soft.
Turn the saute function OFF.
Add the bay leaves, cumin, paprika, onion powder, Peruano/pinto beans, water, beer, vodka, and tomatoes - I like to squeeze the stewed tomatoes with my hands to break them into smaller uneven pieces.
Put the lid on the Instant Pot, close the valve (seal), and push manual (high) for 45 minutes.
The pot will take a while to come to pressure, then will count down from 45 minutes.
Once the pot beeps, allow the pressure to release naturally - which may take 10-15 minutes.
Serve as is, topped with cilantro.
Notes
If you are gluten-free, you will want to ensure you use a gluten-free beer and review the ingredients to make sure they are gluten-free as well. You might want to take extra time to soak the beans to reduce the phytic acid content.
The CentsAble Shoppin https://www.thecentsableshoppin.com/