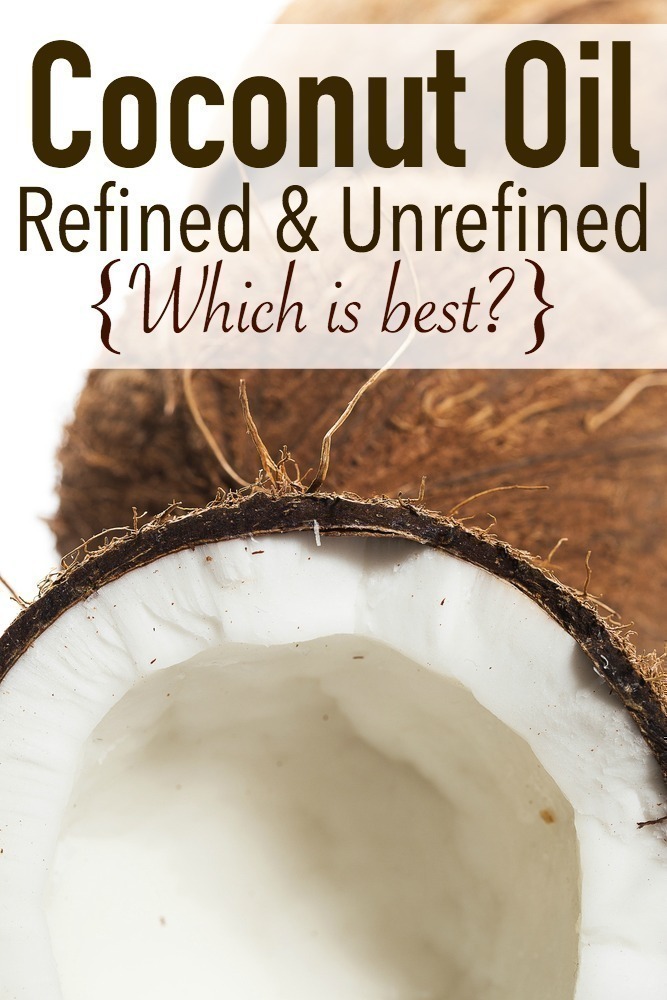 Do you love Coconut Oil? I sure do – I know many of us love the stuff.
It does everything here ~ it helps alleviate dry skin. It's our solution for natural toothpaste. It helps condition your hair – not to mention it's great for oral hygiene (Oil Pulling would not be "Oil Pulling" without Coconut Oil – right?)
It's healthy, natural and one of the most versatile ingredients. In fact, you read TEN Ways to use Coconut Oil on our last post.
Just last week we were at Costco and they had a super deal on Refined Coconut Oil by Nutiva – it was a huge 128 oz jug for just $19.99. My husband said "oh hey look — do you need any?" (I don't so we skipped it)… but then he quickly said "wait, it's refined. Is that good? Or bad? Do you know?"
I have bought both, and for different reasons. If I do a lot of baking I'll use refined, but if I am using it in beauty products I'll use unrefined. It just depends on what I'm using it for – but we have quite a bit here at the house and have no need to buy any for a LONG time!
Not all Coconut Oil is the same ~ there are two types: Refined and Unrefined (Virgin).
They each have subtle differences and it's important to know about them if you buy Coconut Oil regularly…
Unrefined (also referred to as Virgin):
Is Coconut Oil that is extracted from fresh coconut meat versus dried (refined). The fresh coconut undergoes wet milling or fresh drying to achieve this processes. If quick dried, the coconut meat and oil is expressed mechanically. If it is wet milled it is expressed from the fresh meat and boiled, or separated using enzymes or centrifuge. It's done quickly – therefore requires no additives, and it's not exposed to higher heat levels (as refined commonly is).
If you opt to purchase this variety you will want to make sure it's NOT deodorized or bleached, made without hexane and it's Organic (which in turn will ensure that it is Non-GMO Project Verified). If your Coconut Oil has a Non-GMO Project Seal but NOT the USDA Organic Seal then you will want to move on – it's better to pick up one that is USDA Organic as it meets both requirements (Organic AND Non-GMO).
Look for Certified USDA Organic (which in turn will be Non-GMO)
Lower smoke point (350 degrees F)
Made from fresh coconuts
Coconut scent/flavor
Refined:
Refined Coconut Oil comes from dried coconut meat – it's then bleached and deodorized. During the drying processes, contaminants arise, so it has to be purified using bleaching clays. Once the drying process is done, high heat is used to remove the flavor and odor of coconut, and then is combined with sodium hydroxide (for shelf life).
One thing you will want to look for is chemical solvents – some companies use them to help extract a greater amount from the coconut meat. Unlike unrefined Coconut Oil, refined has a higher smoke point (400 degrees F) so it's better used for cooking, baking and more. If you don't like to cook with the taste of coconut, then refined is more for you.
No Coconut scent/flavor
Made from dried coconuts
Higher smoke point (450 degrees F makes it ideal for cooking)
You'll want to ensure it's steam refined without harsh chemicals
Don't use Coconut Oil yet? If you don't, you can find many uses for it – here are some of the ways we use around our home: