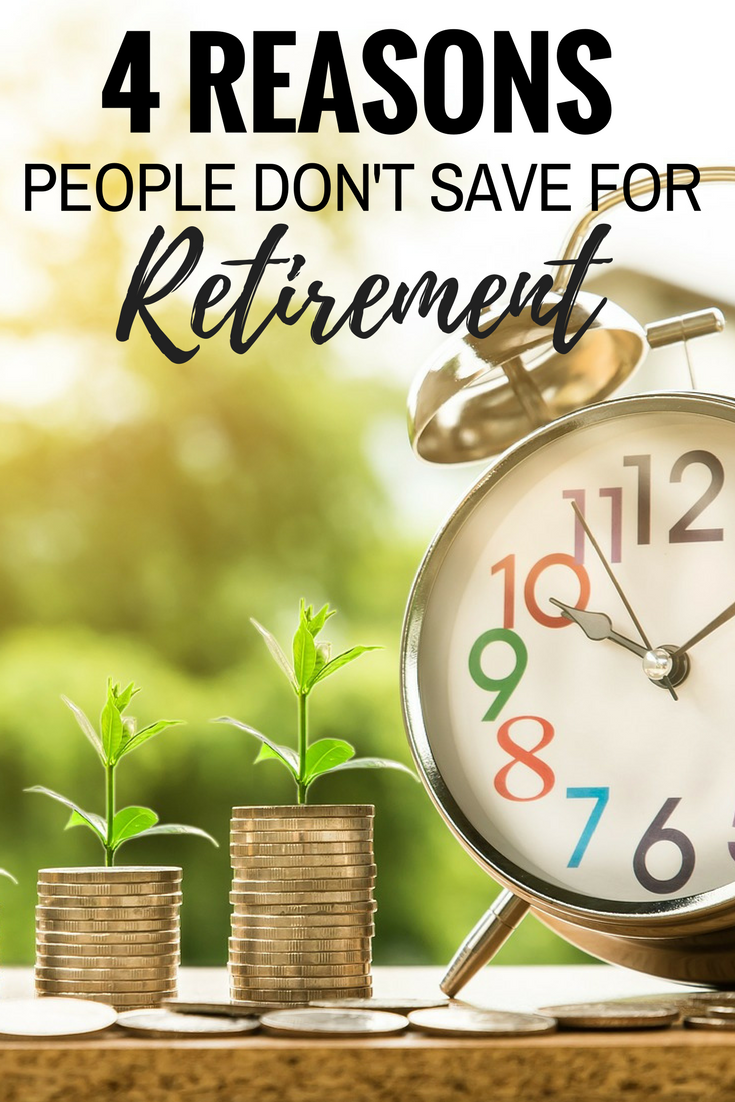 When it comes to retirement, what are some of the reasons people aren't saving? We all know that the most common reason is lack of money – but that's more of an excuse than a reality though. There are four other reasons that people just don't save for retirement.
People Live in the Moment
It's so very simple – because only TODAY matters to them. It's human nature to care only about what's going on at this point in time – forget about what's ahead, after all, it's not guaranteed.
Only half of Americans are enrolled in a workplace-sponsored retirement plan – of those enrolled, many only save a mere amount. Even with company initiated enrollment plans that are automatic, participation remains low.
When you are looking ahead at your future, you need not look just at today – but you should also look ahead at your future self too. We all know that at some point we will be growing old, but nobody wants to think about it… we want to forego that thinking in hopes that we will stay young forever – in fact, the concept of aging perhaps isn't real until it's too late.
Temptation is Too Difficult
Being in control of your money isn't the most easy – every day, we are faced with expenses… we are faced with the newer and better offers that might be out there. Dissatisfied with your vehicle? It's ok – because you can buy a new one, it's affordable if you lease or stretch out payments. Some of you might even justify the new purchase by the fact that they offered you a better deal (ie. low interest, more perks..)
Your current self is able to get what you want, when you want it – there really isn't any need to wait – even if you can't afford it, it's ok because you can finance.
Immediate Gratification
Immediate gratification is huge – at least for most Americans. Better grab what you can now, because tomorrow is not guaranteed. The economy might be worse next year… so buy it now.
The sale might not be here tomorrow… so why not buy?
The interest rates might be more after the election, so why wait?
The housing market might change over this next year…. so buy that house now…
That bonus perk for that new Honda is only available for a *limited time* — at least that's what the dealer says… so it's better to buy now – right?
Denying the temptation of buying today is entirely too difficult for most people – living in the moment is essential, and the notion that everything else can wait because, after all, we have plenty of time ahead of us……. (but do we?)
Too Much Trust in Everyone but Yourself
1 in 3 Americans has nothing saved for Retirement according to Time.com. Most probably trust that something will come up between now & when they decide to retire. Or, maybe they assume that Social Security will be enough for them.
Or maybe the whole thought of retirement seems so far off that they just aren't thinking about the future at all.
Our intentions always seem to be greater than our actions ~ until of course it's too late, and we reflect back upon what we could have done differently. We always envision what we should do – and not only does that limit our thinking it ends up costing more long term.
Gym Memberships are a great example of that ~ the New York Times this past January mentioned that many Americans sign up for gym memberships in January. On an average, new members pay $70 per month for their membership and end up going 4.3 times to the gym. Which is $17 per use. It would have been better had these people paid $10 per visit… but that's scary to most people.
After all, right now you are expecting yourself to go to the gym daily – so that $70 a month is worthwhile. But your future self would beg to differ.
In the end, the facts are pretty clear – more people should be saving for retirement. I don't want to underestimate the obstacles people face when it comes to saving for retirement – I'm one of those people who has just as many obstacles as the next. But unless you are ok with having limited social security benefits… don't mind working well into your 70's, or running out of money before you run out of time in your life, you will need to find a way to make it a priority.