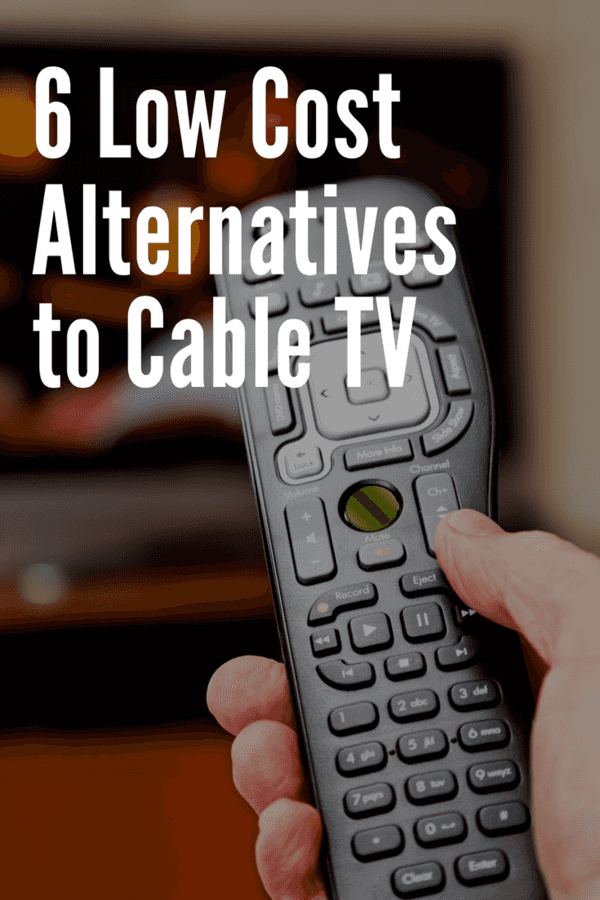 The monthly cost of cable in the U.S. averages at $123 per household – and with that, there really isn't any surprise that many people have opted to cut the cord in favor of better pried options.
It's super easy to save some serious cash by canceling your cable subscription and pocketing the difference. In some cases, that difference could help you build up a better emergency fund, help you save for your child's college fund or help you pay down your consumer debt.
Despite many lower-priced alternatives, over 80% of Americans still pay a cable bill for many channels that they may not need or even have time to watch. By cutting the cord, you will reduce the channels, but you'll likely see more of what you need or want versus having to deal with all the extras.
Basic Cord Cutting
To take advantage of low cost alternatives to cable, you'll want to have a fairly good Wi-Fi connection – that Wi-Fi connection will allow you to watch everything from TV shows to sports and all of your favorite movies.
Or, if you prefer watching your local stations, head over and pick up an HD antenna on Amazon for less than $50 – depending on where you are, you will likely be able to pick up a rather good signal that allows you to see your favorite local channels without having to pay your local cable company.
Streaming Content
There are well over a dozen streaming services between HBO, Amazon, Sling TV, Crackle and more – we've heard of FilmStruck, MUBI, the Dove Channel and even Mach TV – each of them all focus on specific genres of movies/shows. Cutting cable can save you quite a significant amount, you'll want to make sure you take a little of the money you save to invest in a reliable internet speed connection (at least 10 Mbps).
Or opt to buy a modem and recoup that savings over time. (You can rent a modem too but it's just cheaper in the long run to buy right out).
Here are SIX cable TV alternatives that will help you keep more money in your pocket:
Netflix: Netflix is relatively inexpensive – and I find them to have some of the best selection of movies & television shows. It's widely available on many (most) streaming devices – and is a great source of documentaries.Netflix ranges from $8 – $11.99 depending on your plan – you can also cancel anytime. The first month is FREE.
Hulu: Hulu allows you to score new episodes of popular shows on ABC, FOX, NBC, as well as stream to any of the devices including your XBOX 360, PlayStation 3 and 4, Wii & Wii U, Roku, TiVo, and things like your iPad, Apple TV or even your personal computer. It's amazing – and priced at $7.99 per month.
Crackle: On Crackle, watch Hollywood movies for free-uncut and unedited. From your favorite genres like Action, Horror, Sci-Fi, Crime and Comedy. Just press Play. Crackle is not only FREE, it supports all your favorite platforms.
Vudu: Vudu streams on your iPad, HD Television, PlayStation 3 and as well as the Roku and smartphones (Android and iOS through their app) – without ANY monthly contract and NO monthly subscriptions. Vudu has a relatively large selection of TV Shows and HD Movies as well. Some shows/movies are free, others require payment.
Amazon Instant Video: Movies both old and new, as well as shows. Amazon Prime runs $99 per year for most, with the exception of $49 per year for college students (first six months is FREE, too). With Amazon Prime you can get unlimited video streaming, early access to deals, ad-free Prime music access, and much more… You can stream Instant Video on the PlayStation 3, PlayStation 4, XBOX 360, XBOX One, the Wii, WiiU, even things like the iPad, ROKU, Fire TV and SmartTV's and Blu-ray players.
Sling TV: Created by DISH network, Sling TV is a live streaming service that gives you access to 25 channels in its basic package that include ESPN, TBS, TNT, AMC and more. You pay month to month, there is no contract, and you can cancel at any time without penalty.