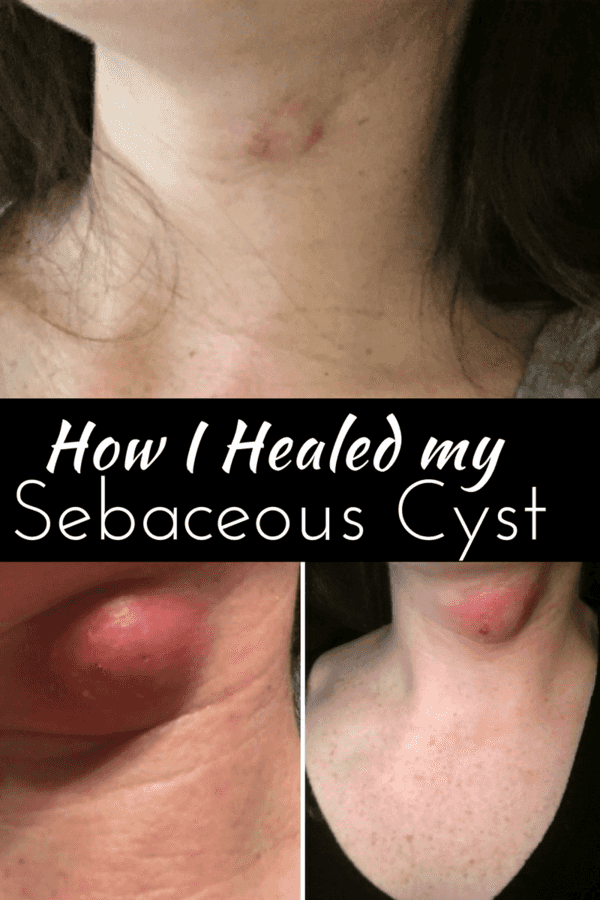 Over three years ago, we incorporated essential oils into our family's wellness. During that time, we have learned and gained so much valuable information to help us take care of our emotional health, immune system, to help us find better rest and to help us move away from toxic home and personal care products into items that are better for ourselves and kids.
Having the opportunity and freedom to help ourselves naturally is an incredible feeling.
I hesitate to share such a personal testimony, but in doing so, I hope it gives others a better idea of what is possible through alternative options.
For years, I have always had a tiny bump (cyst) on the front of my neck. It hasn't ever been sore, or given me issues, it wasn't anything serious that warranted extra attention.
The end of May, I was driving out of town to Southern California and I noticed that the bump on my neck was growing in size. The lump was hard, and just grew and grew and grew – the next day, we woke up and I realized that the lump had grown into a cyst, and eventually would probably need extra attention.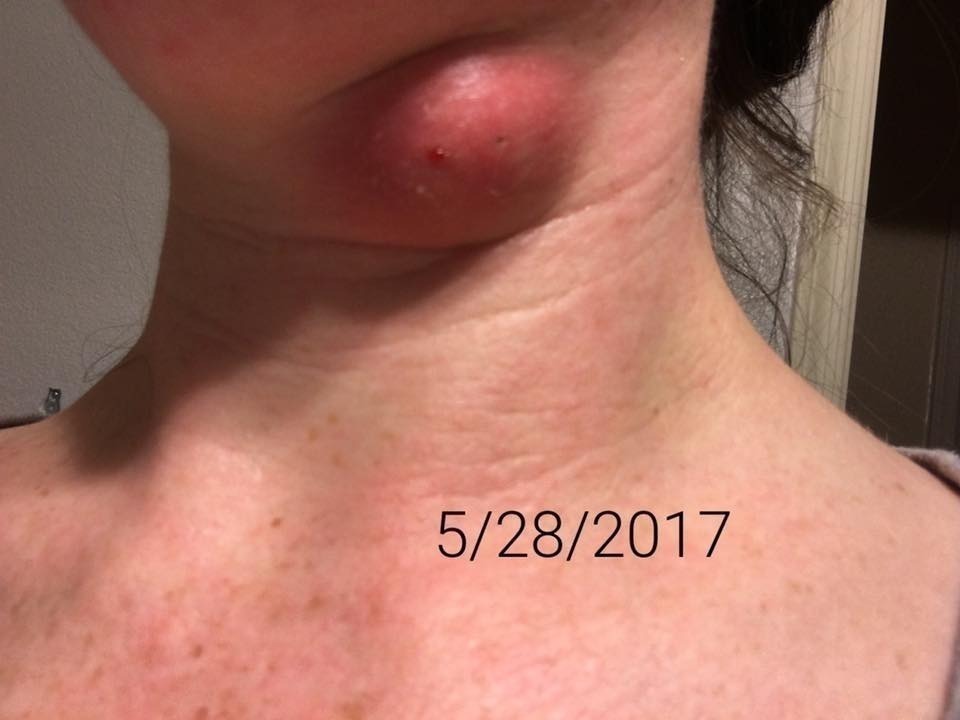 The lump was an unimaginable size and very sore – it hurt to sleep, shower, look down, and look sideways. It even hurt to turn around to tell my kids to get along every time I hopped on the freeway. Ya'll, the struggle is real.
I normally try to stay clear of running to the doctor for ailments. I was a pretty healthy mamma with a vibrantly healthy baby, so I had no intention of dropping in with this cyst. However, after a few days, it was considerably larger. I went in to the doc on a Sunday just so I could ask for a referral to a dermatologist. I wasn't in the doctors office for even just a few minutes, before I was back in our truck, putting my seatbelt on.
To make a long story short, he took one look at the infected cyst and told me that there wasn't anything he could do. But he could write a prescription. He also explained that there wasn't anything a dermatologist could do either, except write a prescription. Then, he explained that there wasn't any other option for this cyst except a prescription, taken over the course of the next 2-3 weeks.
My interpretation of his diagnosis was this: I don't know any more than you do about making this cyst go away, and I have a waiting room of patients, so let me just write you a prescription because that's easy.
Acting on behalf of my own health as my own primary care physician, I politely declined (which transpired into a laughable response from the doctor). I wasn't willing to take a prescription antibiotic – not only would it disturb the good gut health I have going on in my body, I was also nursing.
(Just because an antibiotic has deemed to be acceptable, doesn't necessarily mean it has been tested for safety on women who are pregnant or nursing.)
So I went home and thought about it – and over the next week, worked diligently to eliminate the issue, so I could get back to normal. I wanted nothing more than to be able to sleep properly because every time I put my head down, it would throb something fierce.
The first two days, I applied Manuka Honey twice each day in a thin layer on the neck. Of course, it's sticky so I put my hair up so as to avoid sticky, honey-filled hair. I left that Manuka Honey on for 30-40 minutes each time.
I followed up with mixing a small amount of colloidal silver with powdered bentonite clay, until it was wet enough to apply to skin. I molded that over the cyst and taped a large bandage over the top and went to bed. I did this for two days – the bentonite clay and colloidal silver reduced the size of the cyst and softened up the area to draw out the infection, and help me drain the fluid.
Over the next few days, I took several hot showers each day, allowing the heat to soften the neck area, and help me drain the cyst (it took considerable time to drain because it was so large).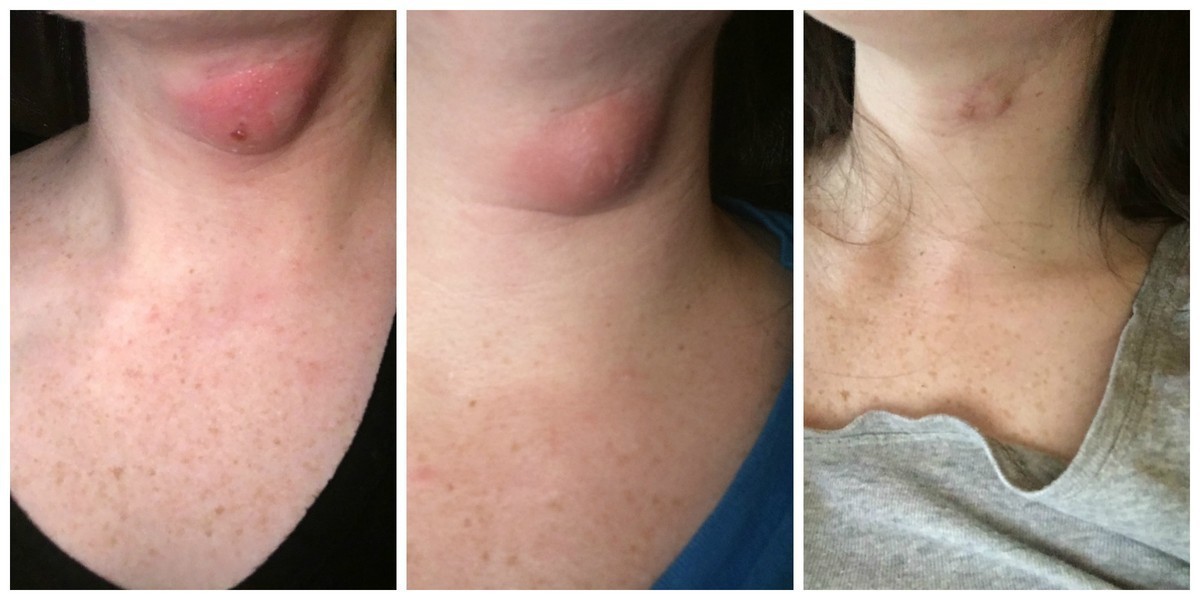 I followed up with a simple facial wash combination of raw honey, Castile soap and distilled water combined with Frankincense and Lavender essential oil. After allowing the area to drain, and washing it thoroughly,
Every time I walked into the bathroom for anything during this time, I applied a diluted mixture of colloidal silver with distilled water and Melrose essential oil.
Eventually, the cyst completely healed.
Less than two weeks from the day that the cyst appeared, it reduced completely in size. My skin in that area needs some help – it has a scar (obvious from the far right picture at top). Castor oil and Lavender Essential oil are both great for supporting skin.
It wasn't until a week after (so 3 weeks later) that the Primary Physician called to let me know that he finally agreed to give me a referral to a dermatologist (nice, right?). However, the dermatologist wouldn't be able to see me until the first week of August.
I politely declined.
You might be curious to know what transpired me to share this on a public platform.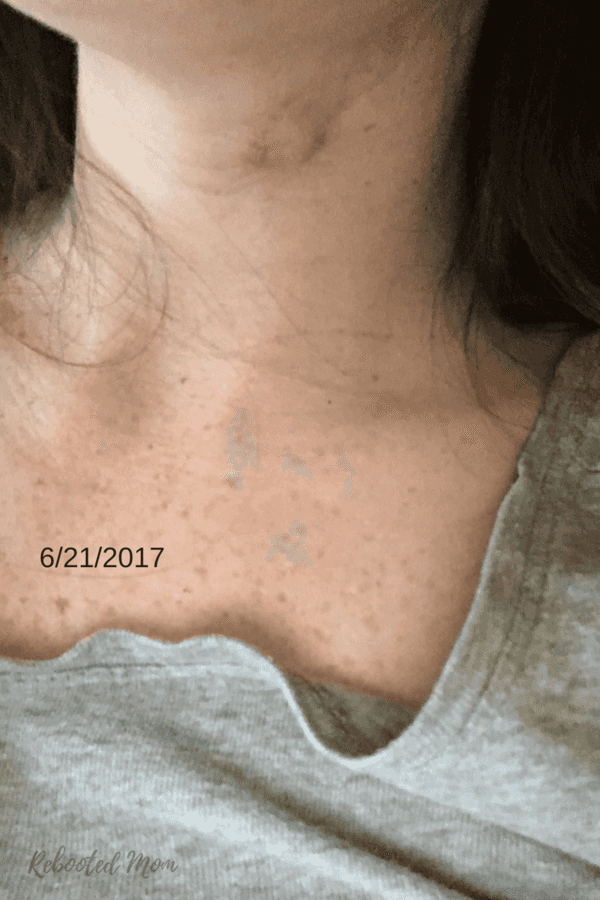 It definitely pays to seek out alternatives even when these options are not the societal norm.
And sometimes you really do know what's best for yourself despite the advice of a medical professional.
I'm not against traditional medicine – when the situation permits. I'm also not against those who are medical professionals – there are many wonderful doctors out there that are eager to help patients beyond simply just resorting to a prescription. In most instances, however, it's easier for them quickly move through a very busy waiting room by simply doing what comes most easy.
Alternatives are always available – and while they might not be a wise path to take for every medical issue, they are in many instances a better option. They do require more attention than simply accepting a prescription, they can sometimes be a better option for your health in the long term.
In the end, sometimes you are your own best health advocate.
Update as of Oct, 2020: The cyst has not yet returned.
Nature of this site: This is a personal blog, with changing content, that includes conversations and comments. Opinionated content: This blog contains opinions and doesn't reflect the opinions of any organization we are affiliated with.
Terms of use: Any information presented on this blog is accurate and true to the best of my knowledge – however, there may be omissions, errors and mistakes.

Harmless clause: It's important that I mention that information presented on this blog is for entertainment and informational purposes and shouldn't be seen as a type of advice – whether medical, legal, tax, emotion or other. If you rely on the information on this blog alone, you do so at your own risk.
Not a professional: I am not a medical or finance professional – this information presented should not be taken as medical advice. Always consult with a professional before taking any kind of action.

Reservation of rights: Lastly, I reserve the right to change how this personal blog is managed – I can change the focus or content of this blog at any time.