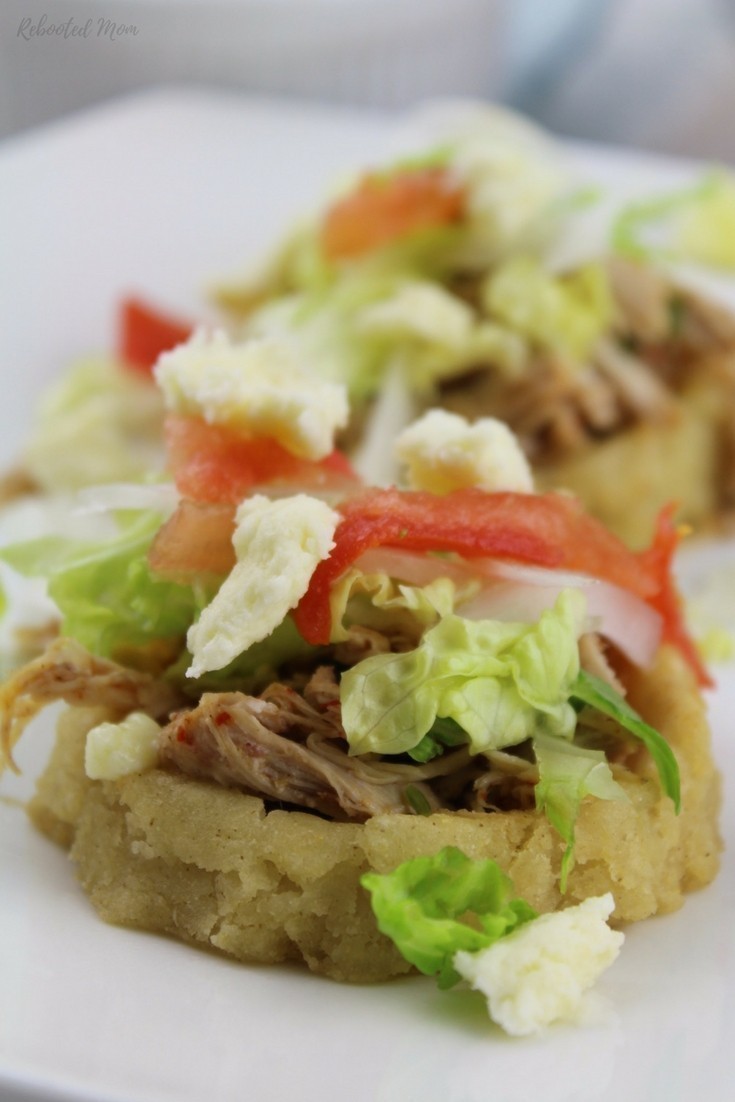 I absolutely love Mexican food…
I love everything about it – the spice, the freshness, the uniqueness… and sometimes even the heat. One of the things I love the most about it though is the fact that for the Mexican culture, it's about spending time with people.
We're a Mexican American family, where good food and time with family are a huge part of the culture.
Enjoying lots of food around the people you love… food that you can eat in most cases with your hands, and simple beverages that you can make that don't require a complicated list of ingredients but are incredibly delicious.
Like horchata, or hibiscus tea... yum – right?! I'm hungry ;)
Sopes are a type of corn cake with a well in the middle that you can top with beans, or pork… perhaps shredded chicken, top with fresh lettuce, tomatoes, queso fresco, and even cilantro. If you were to compare them to anything, they would probably resemble the tortilla boats you buy in store – except that those are highly processed and pale in comparison to the real thing.
Sopes are so easy to make – just pull out your tortilla press and griddle, roll up your sleeves and get started. If you need some visual help, here's a how-to:
Top your Sopes with anything you'd like… you can use beans, pork or chicken – we actually used this Chile Lime Chicken we made in our Instant Pot (yum!)
To make these sopes, you can pick up a tortilla press and griddle – if you aren't close to a Latin market, and aren't up for buying one on Amazon, your hands will work fine too.
Ready to make a good meal? Here you go!
A thick corn cake that you can top with your favorite meat or beans, and garnish with toppings.
Ingredients
3 C. corn flour
2 1/2 C. cold water
1 - 1 1/2 tsp salt
olive oil, for cooking
Instructions
Combine the flour, cold water and salt in a medium bowl and mix well until the dough resembles the consistency of Play-doh.
Divide into 15 equal circles and set aside.
Open up a zippered bag so that each side covers the top and bottom of your tortilla press. Place the ball of dough in the center of the press and push down slightly (not too much!)
Remove the flattened dough and place on a griddle - repeat with 3-4 more.
Cook the corn cakes on the griddle on medium heat until light brown on one side. Flip, cook a minute or so on the other - you don't want them to cook through, as you need to mold them but you do want them to be slightly brown on each side.
Remove from the heat, and allow to cool slightly; then take a spoon and pinch the edges to create boat. Set aside and repeat with all.
Once all are done, heat up 1-2" of oil in a skillet and cook each for 1-2 minutes on each side. Drain on a paper towel.
Add toppings and serve.
https://www.thecentsableshoppin.com/authentic-mexican-sopes/
If you like this recipe, be sure to check out these Mexican recipes for Chocolate Tamales, Enchiladas, Mole and many other Mexican favorites.