Easy, creamy and lightly sweetened Homemade Mexican Horchata, made with simple ingredients and free of refined sugar.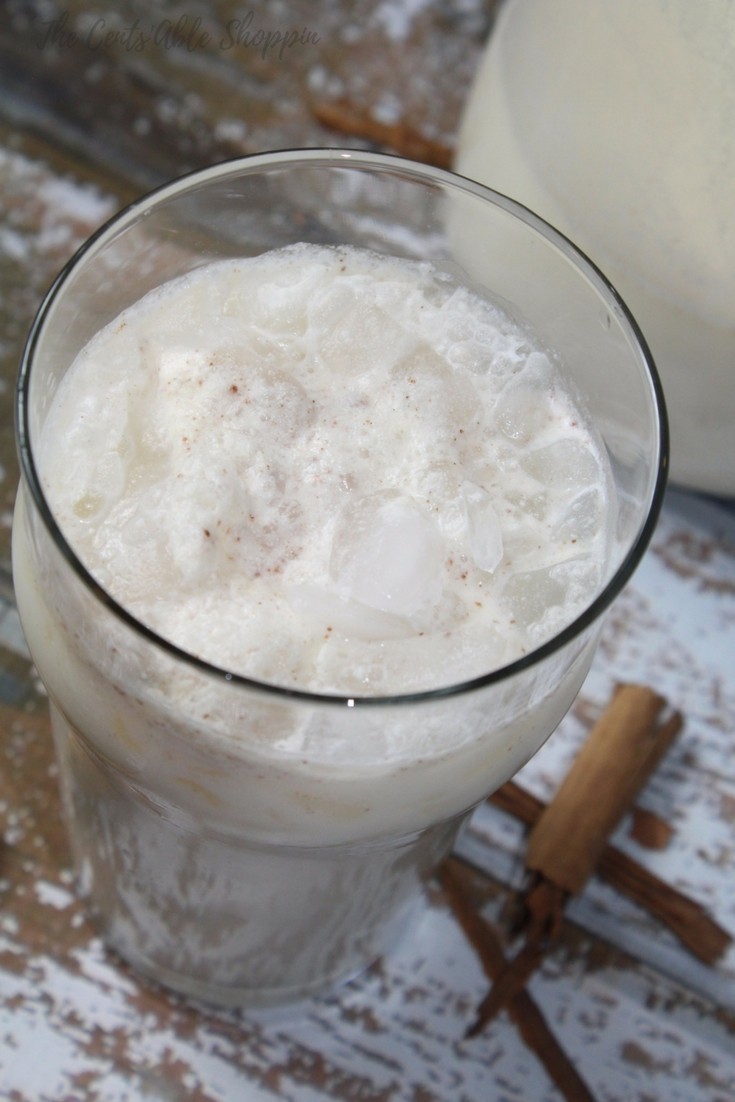 I'll be the first to admit that I love milk. Not just any milk, but raw milk. It's the best. Every so often though, I feel bold and step out of my comfort zone and make homemade Mexican horchata.
You can find horchata at many gas stations, Mexican restaurants, and even at the Latin market. Each place makes it so vastly different. I have only had the perfect horchata once – and it was from a really incredible food truck at the Farmers Market out in my area.
One thing is certain – too much sugar in horchata is an honest to goodness turnoff, as is using sweetened condensed milk. I try to use real ingredients and go easy on the sweetener and it's terrific.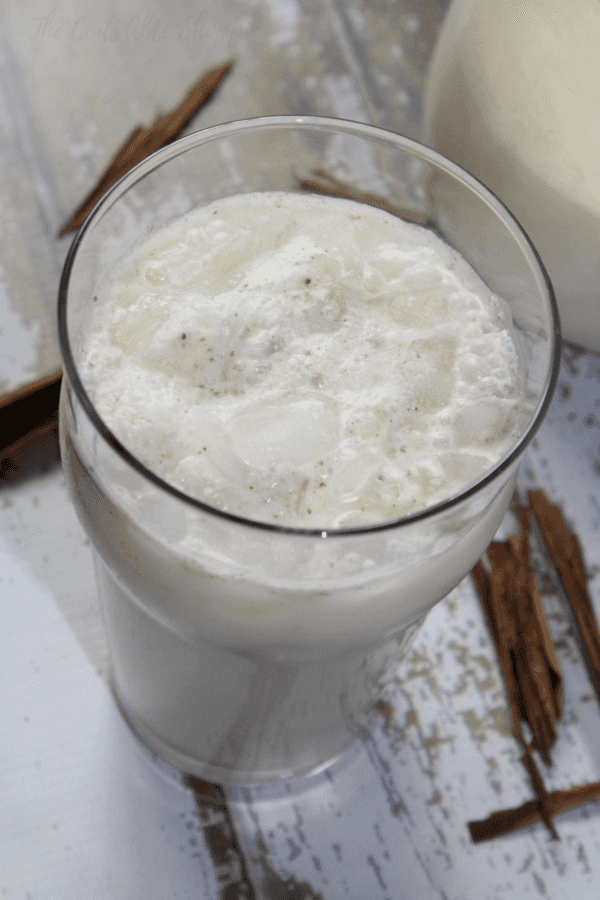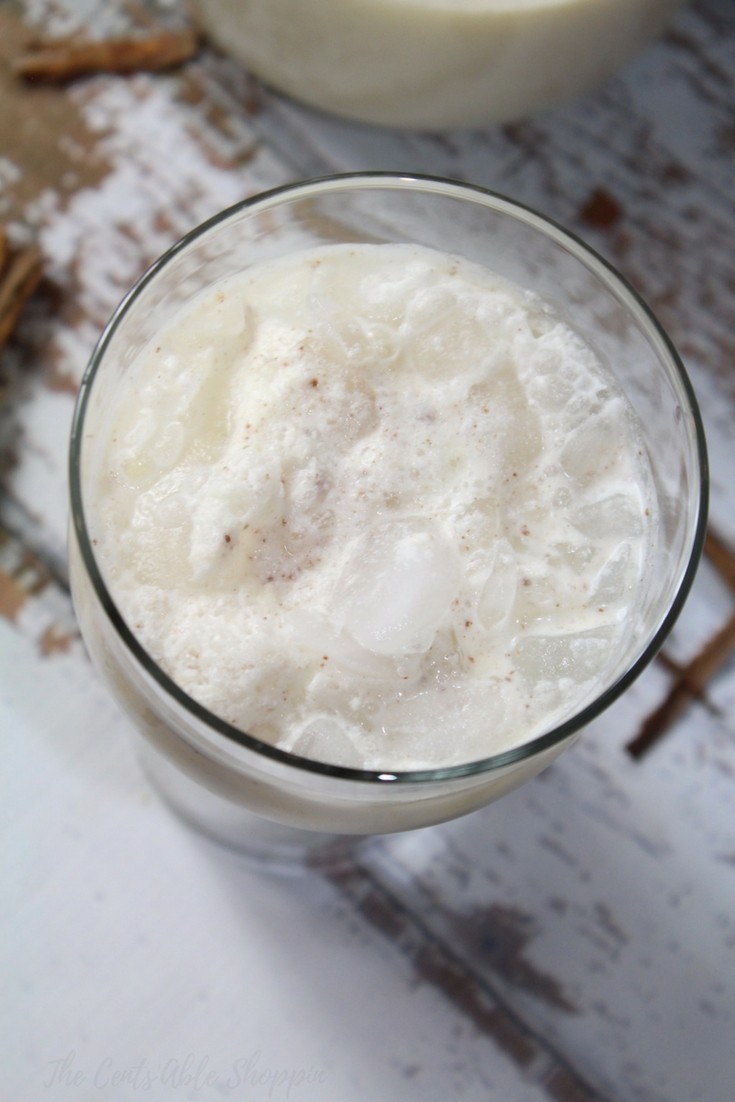 Thankfully homemade Mexican horchata is super easy to make at home – water, raw milk, organic white rice, and maple syrup (dates, or raw honey!)
Homemade Mexican Horchata
The best way to make at home is to let the rice soak for 6-8 hours along with a cinnamon stick or two before throwing in the blender. No matter how much you blend, you will have lots of rice left … so strain, and then re-blend a few times to get the best flavor.

Make it refined sugar free by sweetening with maple syrup – or, opt for honey. You can even use medjool dates to sweeten your horchata. If using honey, you'll want to reserve 1 C. of the blended liquid to pair with the honey. Then, throw on low heat on your stovetop until it's blended. Then re-add to the jug before giving it a stir.
No matter how many times you blend and strain, there will always be rice pulp. Lots and lots of rice pulp. Even after you strain, that pulp will end up on the bottom of the jug. Before you pour/serve, always give it a quick stir.
Feel free to add more cinnamon/sweetener to taste – you might love yours a little sweeter than I do.
Horchata (Mexican Rice Drink)
Easy, creamy and lightly sweetened Homemade Mexican Horchata, made with simple ingredients and free of refined sugar.
Ingredients
3

C

water

1

C

white rice

5

C

milk

preferably full fat

2

tsp

ground cinnamon

1

tsp

vanilla extract

1/2

C

honey

or 1/2 C. maple syrup

1

stick of cinnamon
Instructions
Soak 1 C. of white rice and the cinnamon stick in 3 C. of water 6-8 hours if not overnight.

Dump the rice, cinnamon stick and soaking water in the blender and blend for 1 1/2 - 2 minutes until they are coarsely ground. Pour the blended liquid into your jug through a fine mesh strainer.

Add the rice pulp from the strainer back to the blender, with raw milk, cinnamon, vanilla and maple syrup and blend again - 30 seconds to 1 minute.

(If you are using honey, you will want to reserve 1 C. of the blended mixture and add to the honey over low heat and allow the honey to dissolve before adding to your jug.)

Pour that mixture through the strainer into your jug.

Take 1 C. of your blended liquid and add back to the rice pulp a third time and blend one last time for 30 seconds to 1 minute - then pour through the strainer into the jug.

Taste test to determine if you need additional sweetener - serve in glasses over ice. It's best to stir well before serving.
Notes
*If using regular granulated sugar the beverage will not be refined sugar free.
Nutrition
Calories:
328
kcal
|
Carbohydrates:
59
g
|
Protein:
9
g
|
Fat:
7
g
|
Saturated Fat:
4
g
|
Cholesterol:
20
mg
|
Sodium:
97
mg
|
Potassium:
319
mg
|
Fiber:
1
g
|
Sugar:
34
g
|
Vitamin A:
329
IU
|
Vitamin C:
1
mg
|
Calcium:
258
mg
|
Iron:
1
mg