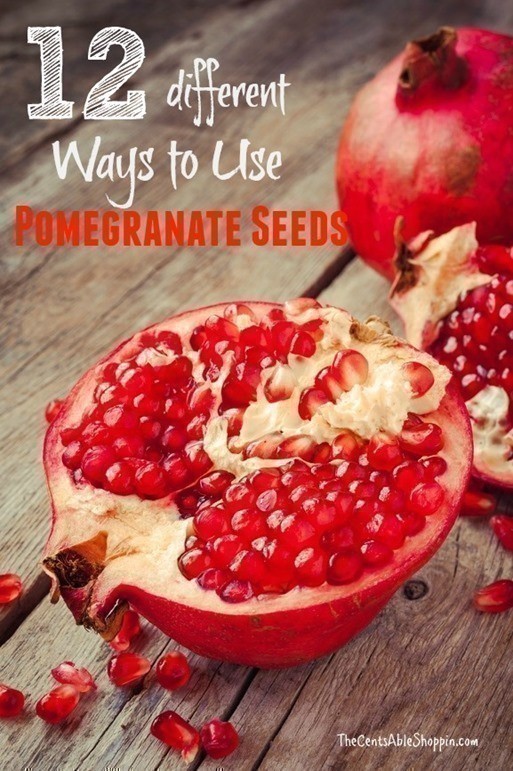 Pomegranates are in season here in Arizona .. usually through December. We have several sitting in our kitchen counter and my husband loves them.
They are one of the healthiest things you can eat — rich with antioxidants, they can prevent arthritis, and have many other health benefits. Each one can contain up to 1,400 arils – which can be frozen up to 3 months.
To freeze them lay them in a single layer on a parchment lined cookie sheet. Give them 2 hours in the freezer, then put in a Hefty OneZip for up to 3 months.
You can also keep them in the refrigerator for up to 2 months. OR you can just buy them & eat them as is – after you remove the arils.
Picking your Pomegranate
Heavier Pomegranates are juicier and more sweet
They will stain – so cut your Pomegranate on a non-porous surface
Pomegranates that are deeper tend to be sweeter in flavor
Removing the Arils is easy – check out this video & grab a spoon to give it a whirl.
Seeding them isn't as hard as they appear to be – score them around the middle, then place the pomegranate (seed side down) in the palm of your hand. Smack the back (unseeded side) with a hard spoon until the seeds fall out.
Then use the seeds right away, or opt to freeze them for recipes you can make later on.
Here are 12 ways to use up your cheap Pomegranates:
Use them on top of your oatmeal each morning.
Make a Pomegranate Peanut Butter Sandwich.
Add the seeds to regular plain or vanilla yogurt.
Juice the seeds of the Pomegranate and use that to marinate your shrimp, chicken or pork.
Sprinkle in your popcorn.
Make a festive Pomegranate Cheeseball.
Make a Pomegranate Cosmo- pour 1 oz of Vodka and 1/2 Triple Sec in a glass – top with cranberry juice & one squeeze of Lime Juice. Top with Pomegranate Seeds.
Add to your ice cream or frozen yogurt.
Make Pomegranate Vinegar as a base for marinades or dressings.
Blend Pomegranate Seeds with Roasted Red Peppers, Walnuts & a bit of Olive Oil to make a spread for crackers.
Stir into your Wild Rice or Brown Rice with some chopped nuts.
Sprinkle in your salad along with dressing and an avocado.
Interestingly enough, pomegranates belong to the berry family – they are native to the Middle East. In latin, pomegranate means "apple with many seeds" – though it kind of looks like a cross between an apple and a tomato.
They are a superfruit – and can be stored in the refrigerator for up to 2 months. You'll find that they grow well here in Arizona because they do best in hot, dry climates.