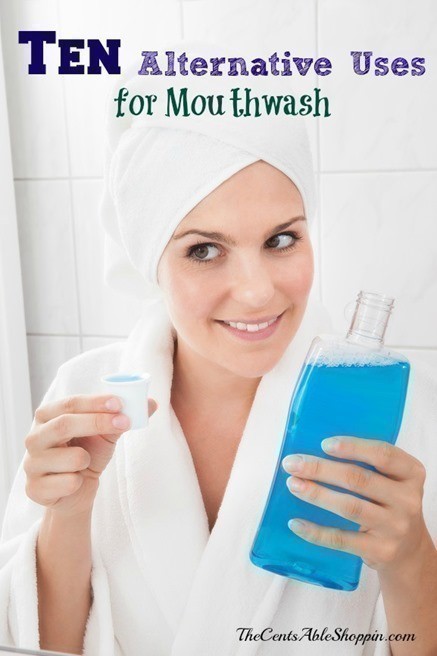 Chances are.. if you coupon, you have tons and tons of mouthwash. This week you can score Colgate for ONLY $.50 at Walgreens!
Believe it or not, mouthwash is one item that has several uses – from mopping to laundry. If you have any alcohol based, sugar free mouthwash around your home, here are 10 uses for putting those extra bottles to good use:
Glass Cleaner. Apply to a damp cloth and wipe down your mirrors. You'll nee d to dry with a dry cotton cloth.
Freshen your Laundry. Add one cup to a cycle of clothes (in the Rinse Cycle!) – it'll eliminate the stinky smell. (I love doing this.. and I keep a bottle in the laundry room regularly for this!)
Treat your Dandruff. Rinse your hair with 1/2 C. of Each Mouthwash an water after you shampoo. It might take a few rinses
Floor Cleaner. You can use Mouthwash to Mop your Floors.. just add to Mop Water as you would anything else.
Toilet Cleaner. Pour a cup in your toilet bowl, let it sit 30 minutes an rinse.
Facial Cleanser. Use a cotton ball dipped in mouthwash as astringent on your face – cheaper, an cleaner than buying brand name facial items.
Pet Pee. Deter your pets from peeing .. fill a spray bottle with 1 C. Water and 3 Tablespoons of Clear Mouthwash and spritz on the area.
Clean your Hands. After peeling onions or garlic, use it to clean your hands – simply wipe your hands with a cotton ball moistened in mouthwash.
Athlete's Foot. Soak your Cotton Ball and dabble between the toes after your shower.
Garbage Disposal. Pour 1/2 C. down the sink / Garbage Disposal and run the disposal to eliminate a nasty odor.
See more ways to put household items to use… including Lemons, Baking Soda, Vinegar, Peroxide & More.
Related Posts: