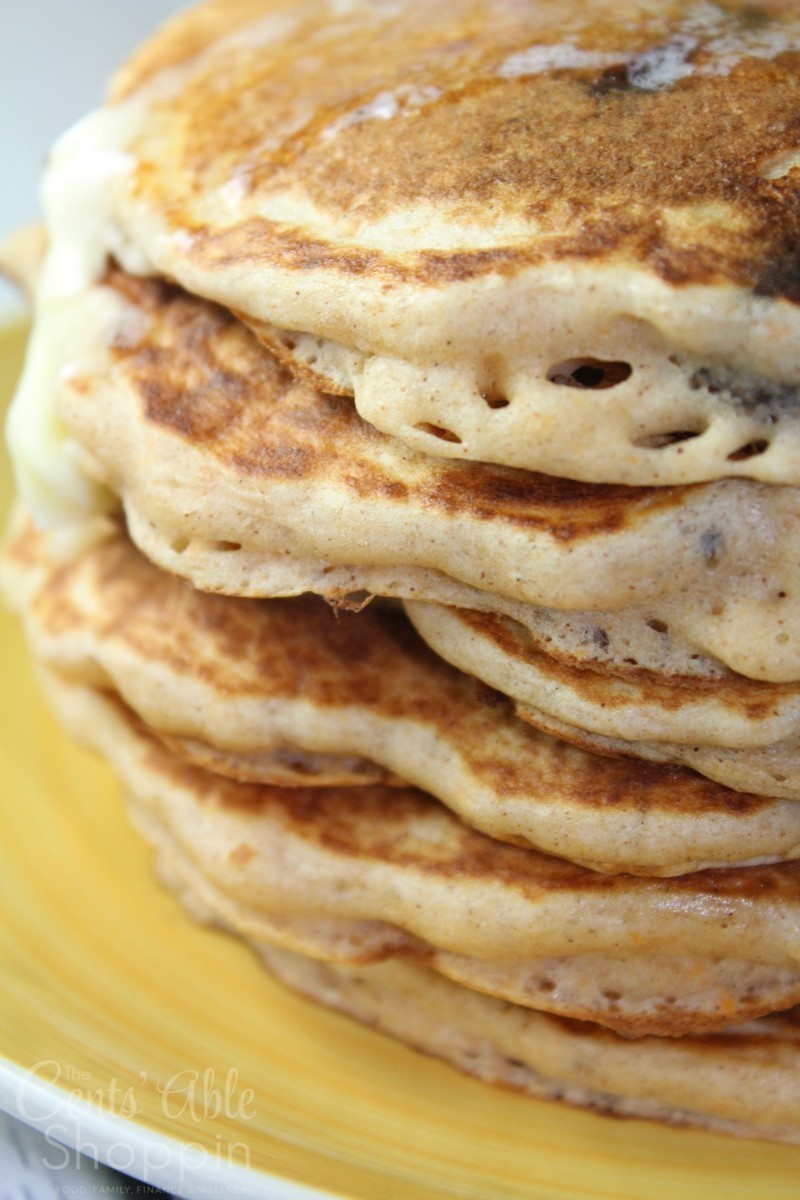 For over 20 years of my life, I was in denial of my love for Sweet Potatoes. I really was – it wasn't until just this last few years that I realized I was head over heels for them.
Not only are they really easy to cook, it works super when you cook too many of them – keep them in the fridge (mashed) and use them for breads and muffins. And pancakes. Do your kids love pancakes?
These are really easy to make and unless your kids see you making them, they may never even realize there are sweet potatoes IN them. We threw a few chocolate chips in them too – not too many, a fistful in the batter was enough.
When dropping the batter in the pan, spread it out as thin as you can — this batter is a thicker batter and the thicker you spread them, the more difficult they will be to cook up (they will be gooey in the middle!) So think "thin" :)
Sweet Potato Pancakes
2016-07-20 02:13:46
Ingredients
2 medium Sweet Potatoes, mashed
1/4 C. Butter, melted
1 1/2 C. Milk (we use Raw)
2 Tbsp Vinegar
2 Eggs, beaten
1 tsp Cinnamon
1 3/4 - 2 C. Organic, All Purpose Unbleached Flour
3 1/2 tsp Baking Powder
Optional: 1/4 - 1/2 C. Chocolate Chips
Instructions
In your mixer, combine the milk with the vinegar and let sit (it will curdle).
Add the eggs, butter, and sweet potatoes until well blended (you can also use your mixer to puree if you wish).
Add cinnamon, baking powder and 1 C. flour. Then add flour 1/4 C. at a time until you reach 1 3/4 C. flour - check the consistency of the batter, and add the last 1/4 C. flour if needed.
Fold in chocolate chips, if desired.
Preheat the griddle on medium, and lightly grease.
Drop the batter on the griddle - spread the batter out thin so the pancakes cook evenly - turn once with a spatula when the surface bubbles.
(If you lay the batter out too thick, the middles will not cook - so it's important that you spread the batter out thin when cooking. Don't worry - your pancakes won't come out too thin.
Notes
These pancakes refrigerate well - once cooked, stack and place in a zipper storage bag in the fridge. Eat within 3-4 days.
Adapted from AllRecipes
The CentsAble Shoppin https://www.thecentsableshoppin.com/