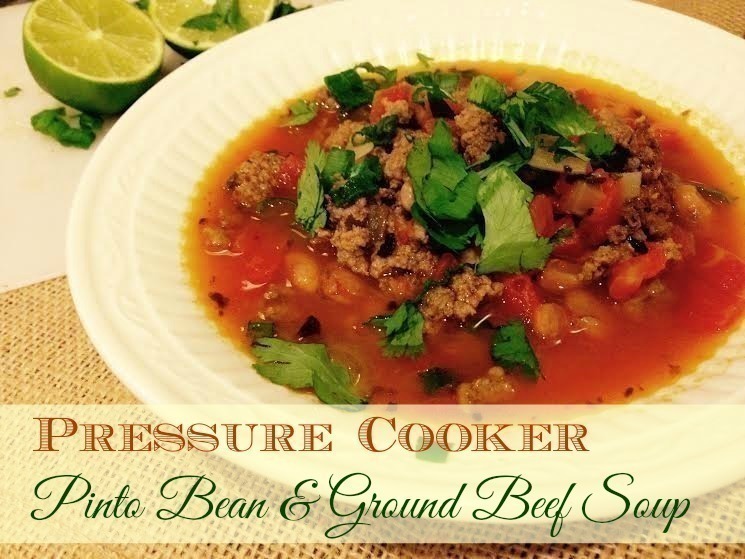 I was lucky enough to score a Pressure Cooker a few weeks ago – I posted it on the blog — it was a total steal for just $20.
We love Pinto Beans, and we made this recipe back in May – it's BACK On the Menu for tonight. It's the BEST soup we have ever made, and it might just beat out the Olive Garden soup.
The fact that the pressure cooker COOKS them from DRY to ready in 15 minutes was incredible. If you have Pinto Beans around the pantry you might want to give this a try, too.
Pressure Cooker Pinto Bean and Ground Beef Soup
2015-05-04 15:20:24
Serves 6
If you have a pressure cooker, this is a great way to feed a family with a soup that's full of fiber, low in fat and inexpensive to make.
Ingredients
1 C. Dry Beans
1 pound Lean Ground Beef (I used 93%)
1 small Onion, chopped
1-2 tsp Minced Garlic
3 C. Chicken Stock
1/2 can Tomato Paste
1 can Diced Tomatoes
Cumin & Oregano (to taste)
1/2 C. Green Onions, chopped
1/2 C. Cilantro, chopped
Juice of 4 Limes
Instructions
To get started you will want to use a small bag (15 - 16 oz) of Pinto Beans, or 1 Cup Dried.  Throw them in the pressure cooker and fill the cooker halfway with water, put the lid on and pressure cook for 15 minutes (start the 15 minutes after the high pressure is reached).
After 15 minutes, turn off the heat and let the pressure release naturally, then drain the beans into an colander.  Keep 1 Cup of the Bean Cooking Liquid.
In a separate pan, heat a little olive oil and brown 1 pound of lean ground beef with 1 onion (chopped) and 1-2 teaspoons of Minced garlic.
Add Beans, Ground Beef, Minced Garlic and Onion to the Pressure Cooker along with Cumin, and Oregano and Bean Cooking Liquid, Tomato Paste, and Diced Tomatoes along with the Chicken Stock.
Lock the Pressure Cooker lid a second time and pressure cook for 3 minutes this time at high - start to time AFTER high pressure is reached.
Let the pressure release and then add your chopped, fresh cilantro, lime juice and green onion, and simmer on the stove for up to 5 minutes.
Notes
Don't have a pressure cooker? This can be adapted to make on the stove top too.
Adapted from Kalyn's Kitchen
The CentsAble Shoppin https://www.thecentsableshoppin.com/