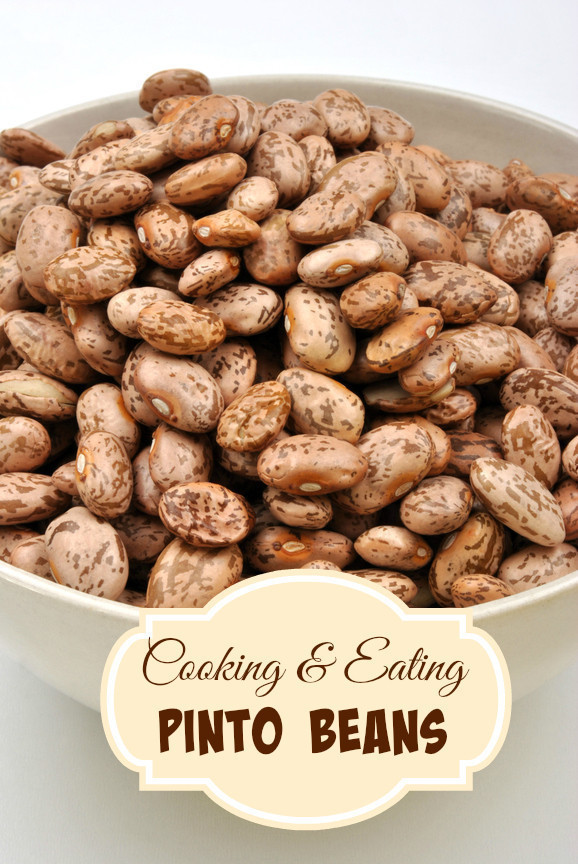 Beans are a great, inexpensive way to feed a large family for less. They are a huge part of our diet and menu in our home, from Burritos at Breakfast to meal ideas at Supper. We love beans. Ask my kids what their favorite food is… they'll all chime in "Beans!" :)
Thankfully they are ALSO easy to make – you can buy them in bulk at the grocery store, or you can find them in 1-2 pound bags at most grocers. Save even more buy buying them in bulk at Costco – they store relatively well in any pantry and can really help you stretch your money when it comes to meals for the family.
Pinto Beans are the Ultimate Healthy Food
A Cup of Cooked Pinto Beans provides over 15 grams of fiber. They are also a great source of Vitamin B1, Protein, Vitamin B6 and Potassium, Magnesium, Iron, Copper AND Phosphorus.
They help to lower cholesterol and prevent your blood sugar from rising rapidly after a meal making them a good option for those who are diabetic. They are VERY low in sodium, which help reduce blood pressure.
Preparing Pinto Beans
Before you start cooking them, you'll want to spread the beans out onto a tray or plate to check for small stones, and damaged beans – discard and rinse the beans under cool water.
Lessen the cooking time by pre-soaking them – you can pre-soak them several ways:
Place each cup of beans in a saucepan with 3 cups of water (2 cups of beans = 6 cups of water)
1. Boil the Beans for 2-3 minutes, remove from the stove, and cover. Let stand for 2 hours.
2. Soak the beans in water overnight (6-8 hours), in the refrigerator. After they are done, drain the water, and rinse with clean water before cooking. After soaking, take one of 3 methods to cook (below).
To Cook the Pinto Beans
You can cook Pinto Beans in the Crock Pot or, in a Pressure Cooker.
To cook on the Stove, add 3 cups of water per cup of beans – bring to a boil and simmer (partially covered). Remove any foam as they boil, they can take up to 2 hours to cook.
For the Pressure Cooker, add 3 – 4 cups of water per cup of dry beans.. and cook 22 – 25 minutes. Quick release pressure by placing the pressure cooker under cold running water.
For the Crock Pot, add 1 pound of Pinto Beans and 6-8 Cups of hot water ( enough to cover + 2 inches above). Cook all day on high (6-8 hours), add salt at the end (to taste). By far my FAVORITE way to cook them, it is so easy and effortless.
Storing Cooked Pinto Beans
Once you cook them, Pinto Beans can last for quite a little while. We usually keep them in a tupperware bowl (covered) in the fridge for the next few days.
Let them cool once they cook. Then place them in an airtight container (not too much into one though because they get squishy on the bottom if you pack too many in a container). Use them within 4 days of cooking.
If you can't use them in 4 days, put 1 – 1/2 Cups of Cooked Pinto beans into a freezer friendly container 2-3 cups in size – and fill the space with water or broth until they are covered. Once you put in the freezer, they will keep for 2-3 months.
Eating the Beans
Some ways we use ours include Beans with Tostadas, Tacos with Beans, Bean & Chorizo Burritos, Beans with Brown Rice and Chicken, Gorditas with Beans, Beans in Breakfast Burritos, and whole beans, cooked with fresh mexican cheese.