Authentic Mexican tamales with fresh cheese, jalapeños and fresh salsa – whipped up quickly and easily in your pressure cooker!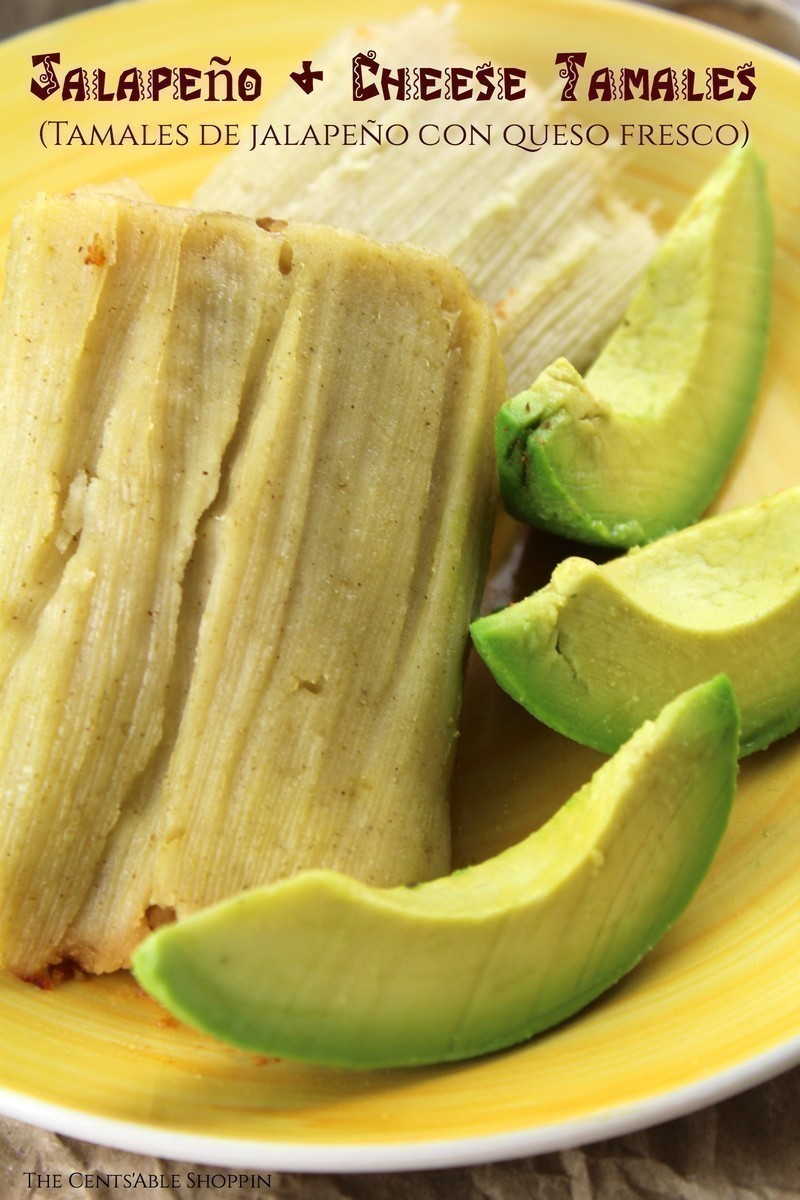 In any Mexican family, tamales are a pretty big deal. In Mexico, there are hundreds of combinations of the tamal. You could literally make them with anything you desire. You can use beef, chicken… cheese and chiles, or even beans and chorizo.
Tamales are usually common around holidays or, special occasions. Think perhaps birthdays, Christmas, Easter, Thanksgiving or else.
And while they are truly a labor of love, they are much less labor intensive if you have an Instant Pot. I picked up an Instant Pot in 2015 and it was a total game changer when it comes to tamales.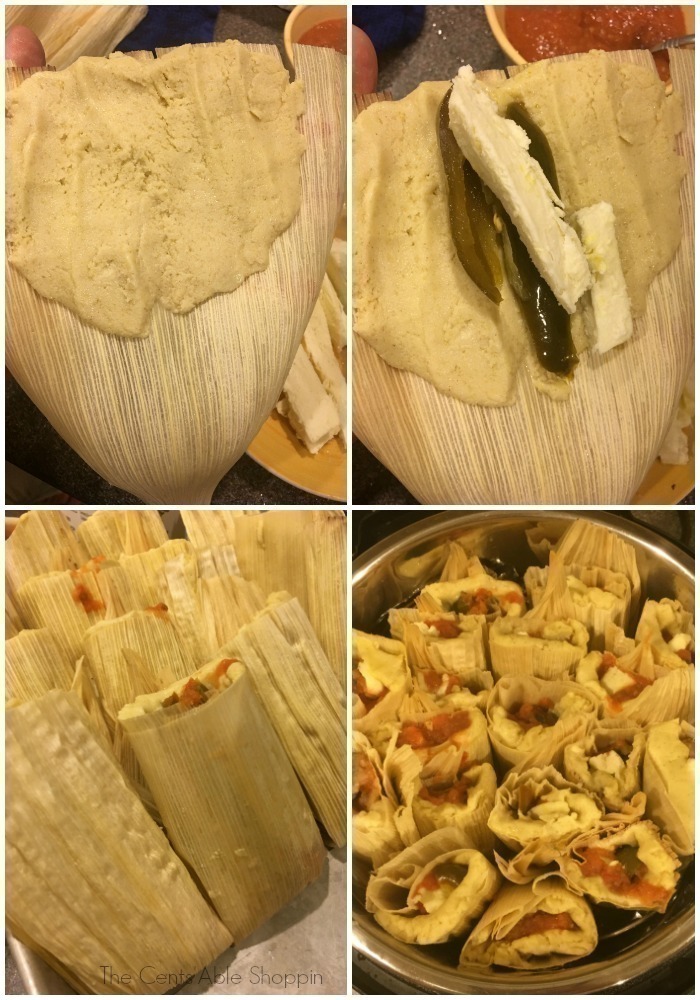 Using the Instant Pot to make tamales would be most appropriate if you needed to whip out 18 or less tamales rather quickly. However, if you need to make 4-5 + dozen, then the stovetop stock pot steamer would be your better option.
Jalapeño Cheese Tamales in the Instant Pot (Pressure Cooker)
Soak your husks in a clean sink, or in a deep dish of water and set a plate on top to keep them submerged. Drain them once they are soft and place on a damp towel on your counter. Fold the damp towel over to keep them moist.
Prepare your salsa – it's quite easy to make and takes just minutes.
Grab your queso fresco – use homemade queso fresco or purchase in store. Cut into 1/2 inch strips.
Gather your jalapeño chile peppers – roast some fresh jalapeño, remove the skin and slice – or used canned sliced jalapeño.
Gather all your items – prepare the tamales per the directions below. First, spread the masa, then top with fresh cheese,jalapeño, a little salsa, and fold the tamales before repeating with the remainder of the masa.
I hope you love these tamales as much as I do!
Fresh Cheese and Jalapeño Tamales
Authentic Mexican tamales with fresh cheese, jalapeños and fresh salsa - whipped up quickly and easily in your pressure cooker!
Ingredients
For the Masa:
3

C

maseca

1

C

vegetable oil

or, lard if that is your preference

2.5

C

chicken stock

warm

1

tsp

baking powder

1

tsp

salt

or more, to taste
For the Tamales & Sauce
1.5

C

salsa

1

queso fresco

recipe HERE

28

oz

jalapeños

sliced

1

pack corn husks

cleaned
Instructions
Rinse the husks and put them in a dish where they can soak - put something of weight down on them so they stay submerged. We use our clean sink. Once softened, drain and set aside.

In a separate bowl, mix the maseca, oil, chicken stock, salt and baking powder. You don't want it to be doughy, but you don't want it to be runny - after all, you will be spreading it loosely in the husks. If you are using oil instead of lard, ensure you are generous with your salt because lard gives so much flavor that you will need to replace if you are using oil instead. Set that masa aside.

Cut your cheese into 1/2 inch strips, and place in a bowl.

Open the can of peppers and dump into a large bowl and set aside (or, if roasting peppers, roast, cut into strips and set aside).

Place the husks, salsa, peppers and cheese together so you can get started. Have a large pan next to you to hold the tamales until they are ready to go in the Instant Pot.

Take a tamale husk and spread 3-4 Tbsp of dough out with the back of a spoon. Place a strip of cheese in the center, followed by a strip or two of peppers, and 2 spoons of salsa. Fold the left side of the husk over the center. Then the right over the center, and then fold the bottom flap up, and set on the tray next to your work area. Repeat with the remainder of the masa.

Once you have used all your masa/husks, rinse your hands, and place the steamer rack in the bottom of your Instant Pot. Fill the pot with 1 1/2 C. water, and place a piece of foil on the top of the steamer rack and mold up the excess to the side of the pot.

Carefully place your tamales in the Instant Pot, the neater and tighter you place them, the more you will be able to cook at once. I am able to fit 18 very carefully with a little room around the edge of the pot. Place the lid on the pot, and close the valve.

Set the pot for 27 minutes on manual (high) pressure. It will take some time to come to pressure, once it does, it will count down the minutes that are remaining on the front of the Instant Pot.

Once the pot beeps done, allow to rest for 5 minutes, then do a quick release and carefully open the lid. Allow the steam to dissipate for a few minutes, then carefully use a thong to remove the tamales and put in a baking pan.

Enjoy with additional salsa. Refrigerate leftover tamales, and reheat leftover tamales for 20-30 seconds in the microwave with the husk on; then remove the husk prior to enjoying.
Nutrition
Calories:
194
kcal
|
Carbohydrates:
18
g
|
Protein:
3
g
|
Fat:
13
g
|
Saturated Fat:
10
g
|
Cholesterol:
1
mg
|
Sodium:
331
mg
|
Potassium:
176
mg
|
Fiber:
2
g
|
Sugar:
2
g
|
Vitamin A:
104
IU
|
Vitamin C:
1
mg
|
Calcium:
46
mg
|
Iron:
1
mg
Did you make these Tamales? If you did, please rate the recipe and make sure you tag us on Facebook!
Looking for more tamale recipes?