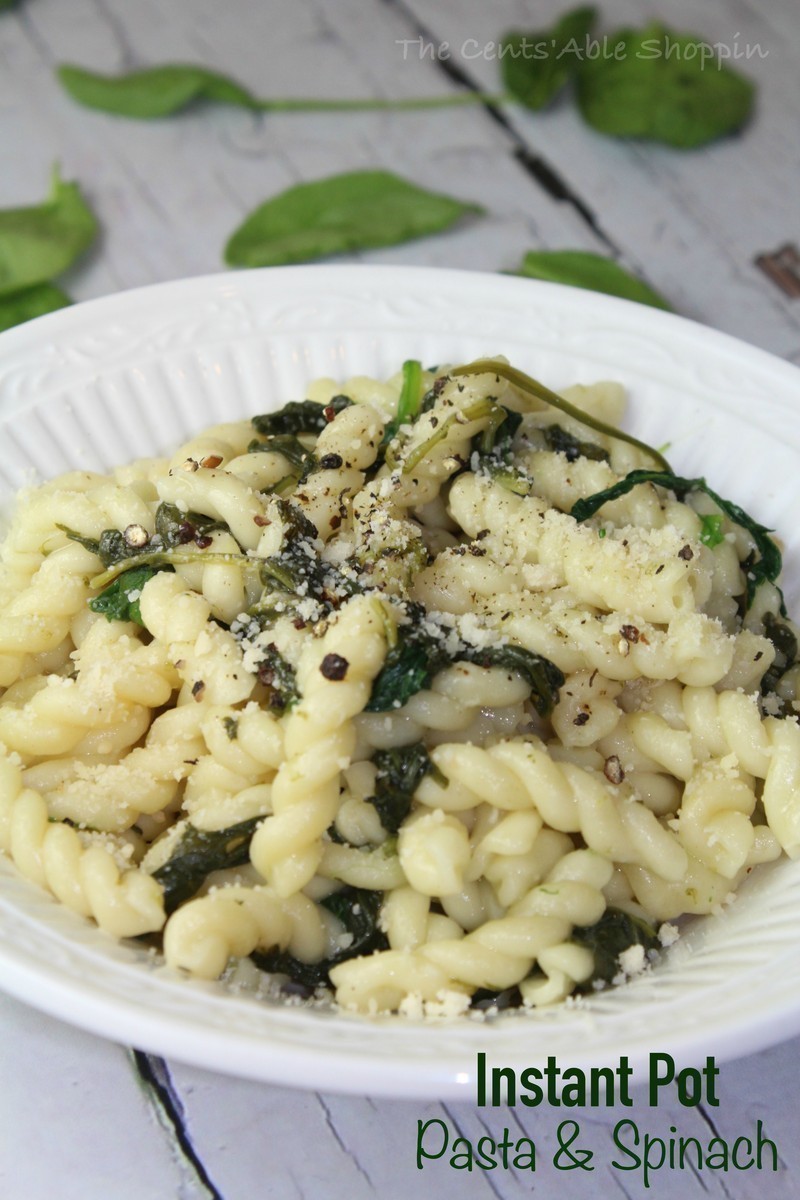 Just a few months ago we invested in an Instant Pot – it has been one of the most life-changing appliances. I can't even tell you how much we love this pot… it's amazing!
Every week we make food for fellowship at church … and this week we decided that Pasta & Spinach would be the BEST item to make. Not only did we have pasta from our monthly trip to Costco, we also had a nice big gallon-size bag of fresh Organic Spinach from our CSA (that we picked up Thursday).
Making this was a no-brainer – and it turned out super.
I've always been hesitant to make pasta in the Instant Pot ~ if you read about the Instant Pot online, cooking Pasta has always been one of those things that either does great or .. doesn't do well. I read that you shouldn't make pasta with water in the pot because it will turn out mushy…. but I figured I'd go for it.
I didn't really want to waste ingredients, but was hoping that it would turn out – it did…. and I was thrilled.
So grab your Instant Pot, and your ingredients – this is a really healthy, inexpensive dish that your kids will love too!
Instant Pot Organic Pasta & Spinach
2016-04-09 23:57:22
Serves 6
Ingredients
1 pound Organic Pasta
4-5 C. fresh Organic Spinach
4 Cloves Garlic
Olive Oil
3 Tbsp Butter (Cubed)
5 C. Water
Salt & Pepper
Instructions
Set the Saute function on the Instant Pot and put 1-2 Tbsp of Olive Oil in the pot.
Saute the Spinach and the Garlic for 2-3 minutes or until soft.
Add the dry bag of pasta in the Instant Pot, and cover with 5 C. Water.
Place 3 Tbsp Butter (cubed) on top.
Lock the lid, and set on Manual (High Pressure) for 6 minutes.
Quick release and add salt/pepper to taste.
The CentsAble Shoppin https://www.thecentsableshoppin.com/
Checkout more recent Instant Pot Recipes… see 10 Reasons why we invested in an Instant Pot, and find the BEST Instant Pot Accessories to have for Instant Pot Owners!