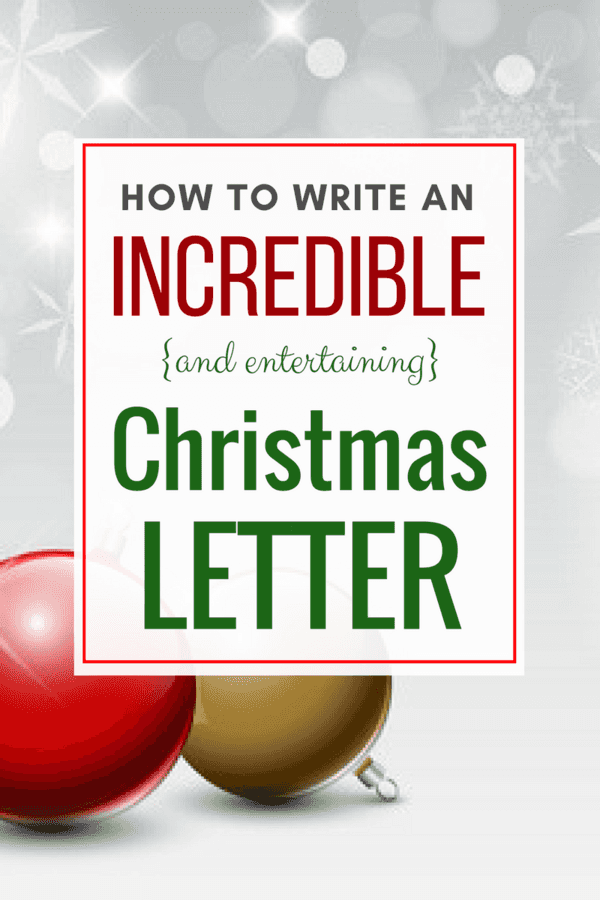 It's totally no secret, I love writing Christmas letters. I also love receiving Christmas letters. There is something about transforming a whole entire year of family "stuff" into one informative letter to go out to friends and family who know us so well.
I have fun writing ours each year.
I have even more fun reading those that I receive – though every year it seems to be dwindling! I used to get so many cards and letters but last year I got maybe 3 … and only one had a letter. The others were just cards.
If there is anything I have learned, it's been that captivating people gets a little more challenging every year. It's a challenge to write a good letter. You want something that captivates people, informs, and makes them laugh – without them being bored.
In other words, you want a letter that people are actually going to want to read.
Not throw away.
It's a challenge for sure. But certainly not impossible. Here are some tips.
Be humorous, but not braggy
Share successes but never brag. Good gosh – we might seem like we have it all together but in reality? It's really just a daily struggle to avoid having it all fall apart. Anyone who knows or has been to my house, met my kids or even ran into me would know that we certainly are far from having anything "together".
Braggy. "Easton is one of our most agreeable children. He's always listening, always goes to bed on time, and his room couldn't be more meticulous."
Comical. The award of the year goes to Easton, for being the child of many talents.
For being able to singlehanded toss not just one, but two of his mom's candy thermometers on the roof of the house so she can't reach them. For being able to help us discover what happens to bananas when they go through a wash cycle (trust me… it's not good). Leave it to Easton to find a way to make our down comforter glow in the dark for less than $3. (It's called Flarp Silly Putty. … ever heard of it? If not, be thankful.)
The list could go on, but I'd need about a half dozen more sheets of paper.
Just write
It may sound so simple, but just put fingers to keyboard and type. Write about what you would like to read, not about how perfect you want to make it seem. Try to reconnect with friends and family this year.
Share personalities
Most of our good friends and family members live out of state, so we try to include a short paragraph about each child's personality – not just what they like and dislike. It's fun to tell people about the quirks each child has and the type of people they are becoming. I would like to think others appreciate reading about our kids that way – to us it seems more fun and entertaining.
Don't drag it out
This is certainly a challenge – sure, you want to tell everyone everything that happened over the course of the year, but please… make it interesting. Make it fun to read, and don't drag out any one particular event.
Your letter should not drag out for pages – seriously, it's like reading a really lengthy blog post.. nobody wants to.
Make it one, and keep it simple..
Personalize it
It's so easy to just make a mass letter to send out, along with a picture/card, but try to include a handwritten note in there for the recipient to. You don't just want them to think they are on the "send list" — go the extra step and make it personal, even if you allow your kids to put their own mark on it.
Include a photo
You can't send a letter without a photo – the photo is the best part! I make photo cards every year, whether on Snapfish, Shutterfly, using Canva.com or.. if money is tight, I'll just print out a 4×6 and get 100 of them printed off to tuck in the letter.
Friends and family need to see how much your kids have grown. Lord knowns it's a challenge for me to get mine to stand or sit still so make it a silly family picture – if that's what helps them stand still for a few seconds.
Be creative
My biggest tip of all? Be creative with your letter – change it up from the norm. Instead of the typical paragraph form letter that talks about each personality, run wild with it.
Top 10 list – top 10 things we have discovered this year, 10 exciting things that happened this year, the list goes on
Write from the perspective of your toddler or one of your toddlers
This year in numbers (a numerical representation of everything that has happened this year – kept fairly simple)
Twas the night before Christmas in a poem style, but representative of your family
Probably the most important part – is to remember who you are writing to. What would be the most interesting to those reading your letter -mention those things that you would like to hear from your closest friends. Close the letter with your sincere Christmas wish at the end.
While I love the fact that social media is something we have to keep ourselves connected to friends and loved ones, it can be incredibly difficult to keep track of all of our friends in the noise of a Facebook feed. The Christmas letter is a great way for me to review the important parts of the year in our family and touch base with those who are important to us.
While it might seem like everyone is on Facebook these days, there are actually many in our family who don't use social media – so sending out that letter once a year gives me a chance to connect with those people and update them on our lives.
Whether you send a Christmas letter or not, it's a great time to sit down and reflect on the events of the year – put them on paper, so that you can see how your family has grown and changed.
Do you write a Christmas letter?
Do you like receiving Christmas letters from others?