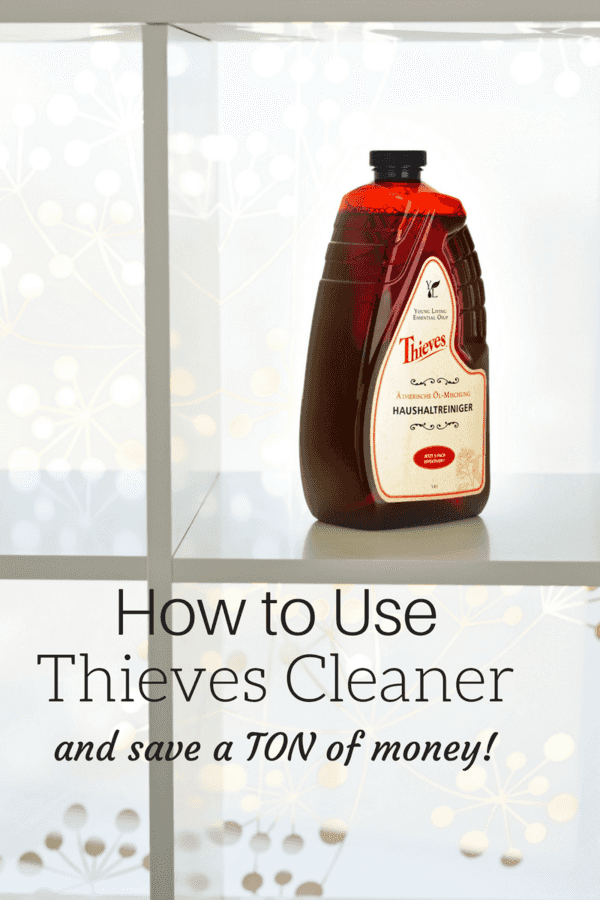 With 5 kids and one husband in the house, we clean a lot. In fact, I should say I clean a lot because I'm pretty much the main "cleaner" in the house.
Every few days my kids get the urge to clean, but it usually goes away a few minutes later when they realize that they are missing out on something more fun. And although my husband knows how to clean, it's not exactly something he usually feels the urge to do… unless of course I'm trying to make a point by telling him I'm not doing anything for anyone until he lifts a finger.
Please tell me I'm not alone?! I'd hate to know it's just me who faces that challenge.
Anyways — from our steam mop to wiping walls, kitchen table, sofas, wood floors and tile bathrooms, to spraying the front and top of our washer and dryer, there are so many crazy things I do to keep the house clean. And even after I'm done cleaning, there is more to be washed, scrubbed or perfected, the cycle truly is never ending.
I used to have a TON of bottles for cleaning – Pine Sol, 409, Clorox, dish soap, detergent, oh my .. the list truly could go on and on – my husband was glued to Ajax and Comet for quite a while too.
However… that all changed a few years ago. I threw all of those things out. I found one cleaner that could tackle it all, and the pure simplicity of having one was so less stressful. No sales to watch for, no running to the store, no finding empty shelves, no fighting over truly toxic commercial products that truly aren't even worth the cost of free… open up my cabinet now and it's beautifully empty. Except for a few green scrubbies, there is nothing in there.
(Yay for minimalism – right?)
Y'all, I have better things to do with my time now than run to the grocery store. Like raising a family and spending time with them. That is something to be excited about!
From making our own hand soap to cleaning the kitchen, clothes, walls, bathroom and more, this cleaner did it all. In fact.. it's so incredible we carry a bottle with us in the car when we go on road trips. I can't tell you how many boy accidents we have had from someone not being able to hold it until the rest stop. (thankfully this has since helped, too!)
What is Thieves Household Cleaner?
This cleaner above is what we use and have for the last 3 years to keep our house clean. Thieves Cleaner is an all in one natural cleaner – it's 100% plant and mineral based, with:
Vegetable Based Surfactants
Biodegradable cutting agents
Therapeutic grade Thieves and Lemon Essential Oils
Safe for pets & kids
Although you can't look up Thieves Cleaner on the EWG database, you can look up the individual ingredients:
Water
Alkyl Polyglucoside – limited
Sodium Methyl 2-Sulfolaurate- limited
Disodium 2-Sulfolaurate – limited
Thieves [Eugenia Caryophyllus† (Clove) Bud Oil, Citrus Limon† (Lemon) Peel Oil, Cinnamomum Zeylanicum† (Cinnamon) Bark Oil, Eucalyptus Radiata† Leaf Oil, and Rosmarinus Officinalis† (Rosemary) Leaf Oil] – 100% pure, therapeutic grade essential oil
Tetrasodium Glutamate Diacetate – limited
Instead of having a ton of different bottles under the cabinet, we have one. This cleaner is a concentrate… and it can replace most of your household cleaners. For most all purpose cleaning, you take one capful of Thieves Cleaner to 30 parts of water (we dilute one capful in 15-20 oz of water).
You can actually get (30) bottles of regular cleaner from a 64 oz bottle of Thieves Cleaner – making it just $.88 per bottle. Thieves Cleaner does everything from:
Regular Cleaning: 30 parts water to 1 part Thieves Cleaner
Light Cleaning: 60 parts water to 1 part Thieves Cleaner
Heavy Cleaning: 15 parts water to 1 part Thieves Cleaner
Laundry Freshener: 1/2 cap of Thieves Cleaner in the wash load
Thieves Cleaner is so easy to make – in fact, I have a half dozen spray bottles at home and have a capful of Thieves in each one topped off with 20 oz of water – one bottle in each bathroom, 2 in the kitchen, one in the car, and and one in the living room for spills.
Here are some of the best ways to use Thieves Cleaner:
#1 – Kitchen Counters
Mix one capful of Thieves Cleaner with 20 oz of water in a spray bottle, and use to spray the counters, backsplash, and wipe clean.
#2 – Cabinets and Appliances
Mix one capful of Thieves Cleaner with 20 oz of water and spray the front of the cabinets and appliances to remove dirt and grime.
#3 – DIY Soft Scrub
If your sinks need extra attention, use a half capful or more to make this easy DIY soft scrub recipe to remove grime from the tub and sinks.
#4 – Bathroom Toilets
Mix a capful of Thieves Cleaner with a 1/2 Cup of baking soda to scrub the inside of your toilets and keep them smelling fresh. Then use a capful of Thieves Cleaner in 20 oz of water to clean around the toilet seat, base, and lid.
#5 – Kitchen, Hallway and Living Room Floors
Mix a 1/2 cap of Thieves Cleaner to your steam mop and mop your floors – Thieves Cleaner is perfectly safe for wood and tile floors, linoleum too.
#6 – Carpet Cleaner
Add 1-2 capfuls of Thieves Cleaner to your carpet cleaner instead of toxic commercial products, to help you remove dirt and grime from the carpet and keep it fresh.
#7 – Dishwasher Cleaner
Add 1/2 capful of Thieves Cleaner to your dishwasher cycle with the powder or tablet to keep it fresh and clean and if you wish, clean out the dishwasher completely and run with just 1/2 capful of Thieves Cleaner and a few spoons of citric acid.
#8 – Laundry Freshener
Add 1/2 cap to your worst laundry loads as the washer fills, to keep the laundry smelling fresh.
#9 – Pots/Pans
For the pots and pans that have lived a rough life, spray with 1/2 capful of Thieves Cleaner in 20 oz of water and add a bit of Lemon Essential Oil to a scrubby – give them a little elbow to remove the worst stains.
#10 – Foaming Hand Soap
Add 2 Tbsp Castile soap, 1/2 capful Thieves Cleaner, and 6 oz water to an 8 oz foaming hand pump to make your own foaming hand soap that's easy, inexpensive and doesn't have all the questionable toxins that regular commercial hand soap would.
#11 – Laundry Stains
Spray your clothes with a mixture of 1 capful of Thieves Cleaner in 15 oz water directly on the stain, and allow to sit for 5-10 minutes before laundering.
#12 – General Cleaning
Use for general cleaning – one capful of Thieves Cleaner in 20 oz of water works perfect to wash your walls, clean the insides of cabinets, shelves on entertainment centers, or for cleaning kids toys.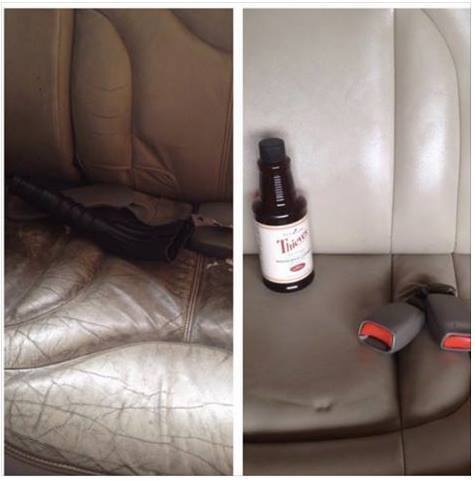 #13 – Clean your Vehicle
One capful of Thieves Cleaner in 20 oz of water will do wonders for cleaning your vehicle! Not only will it smell incredible, it works terrific on leather seats. These are our seats we physically removed from of our GMC Yukon trucks in March of 2016 – we were debating buying new bench seats or cleaning ourselves and cleaning took precedence in order to save the most money.
We removed them completely from the truck, put them on the front yard grass, and used Thieves Cleaner at a heavy duty strength (1 capful to 15 oz of water) on them to get the stains off.
#14 – Furniture
One capful of Thieves Cleaner in 20 oz of water is great for cleaning sofas, and wiping down bed frames.
#15 – Scrub the Sink
We use Thieves Cleaner to scrub our white farmhouse sink and it works beautifully. Nothing else compares.
Whew! I know I missed probably a zillion other uses – but this stuff totally trumps everything we have ever had or used. Not to mention, it smells like Christmas. Who wouldn't want that?!