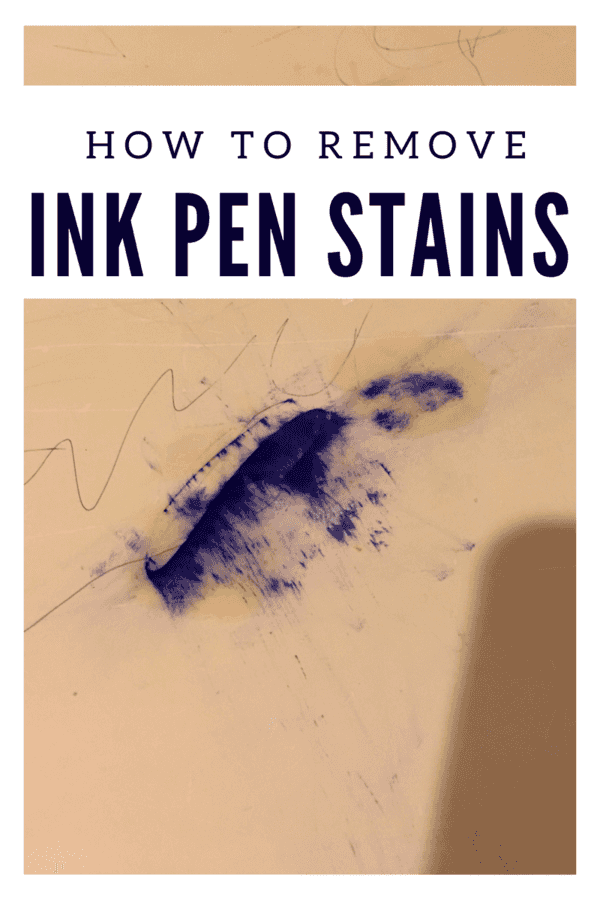 Late one night last week, I found myself scrubbing kitchen cabinets. I had made a concoction up within seconds that removed this ugly, permanent ink stain on my beautiful white kitchen cabinets.
All I know is that I didn't do it.
I had been working between the laundry room and the kitchen, switching laundry and making food for the family… using the steam mop as I waited for food to get done, and listening to the dinging of the washer as it told me my 50 minute wash load was ready to go in the dryer.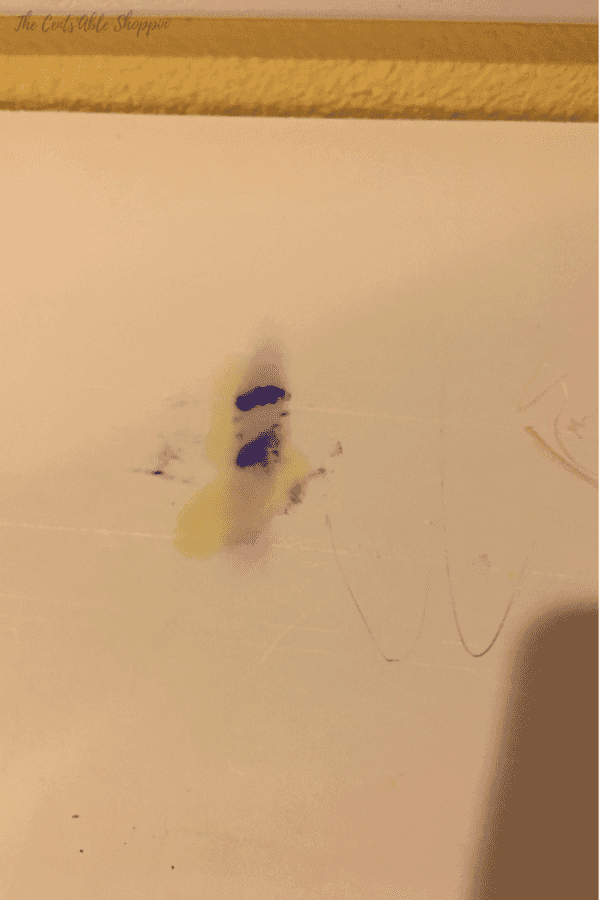 In the midst of all of that were my kids. They were so stinkin' happy, making blanket forts in the living room with piles upon piles of sheets and comforters. Lots of work for me later on … but in the moment, they were having a blast. They had Finding Dory going on the TV and they were tucked away with popcorn in their own hideaway.
Or so I thought…
One child was missing – she had escaped the blanket fort and was in her brother's backpack in the bedroom trying to dig through all the fun stuff that kids get to bring home from school. She located an old ink pen that blew up and decided that it was time to share her passion for art with the rest of the family, though in secret… so she walked right behind me in the kitchen and started painting my white cabinets with a blown up ink pen.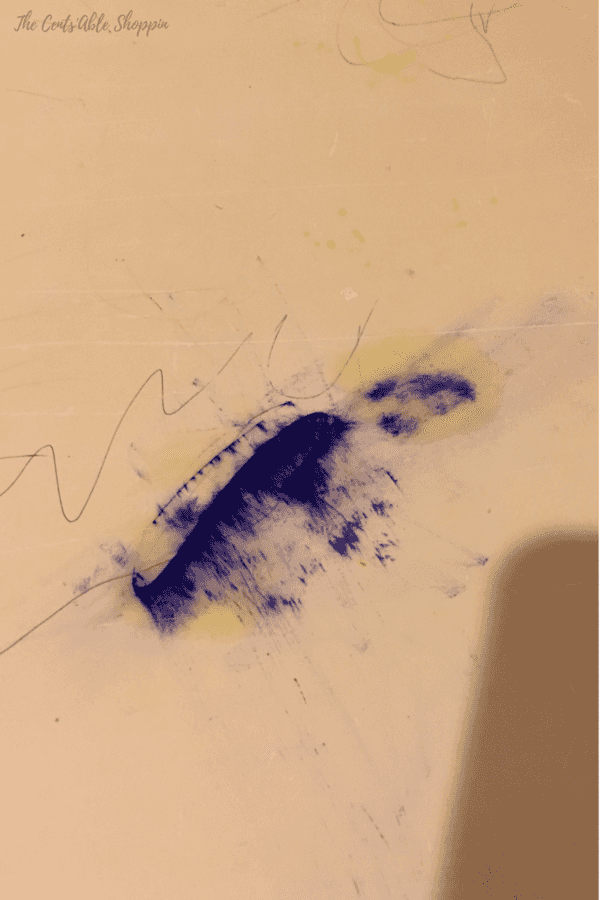 She then thought it would be amazing to decorate that blown up stained white cabinet with highlighter and crayon, after all, it must be colorful – right?
By the time I realized she had done the damage it was too late – I was left with a mess of a stain on my cabinets. Dad was in another room of the house relaxing… and the other kids figured that she was helping me in the kitchen. After all, she usually is the first one to willingly haul dishes to the sink for me to wash.
The panic started, as I needed the ink to come off. It looked horrible.. and the last thing I needed to do was to re-paint a kitchen.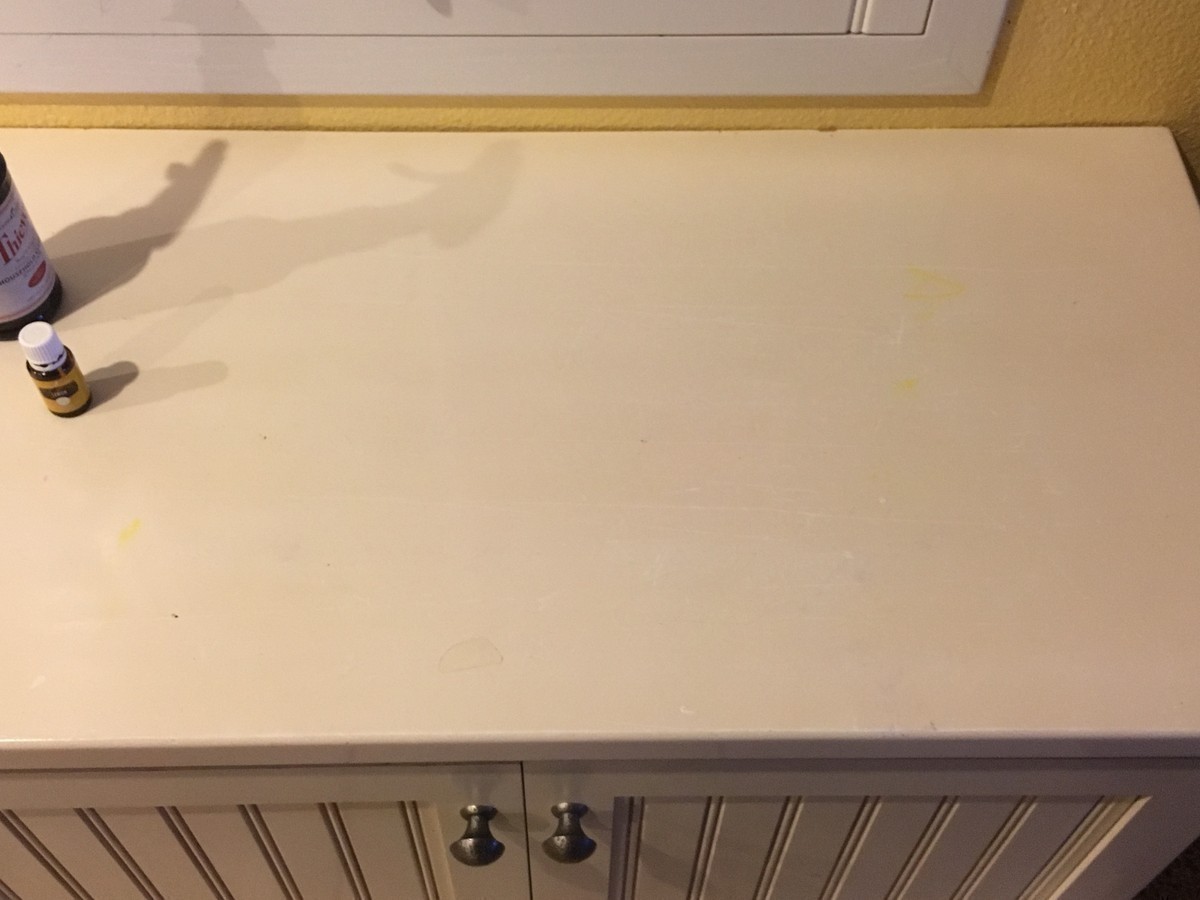 This concoction worked amazing to help get that stain off – now, a week later, you would never ever know that she had so much fun in the kitchen as I was working to clean up after dinner. Hopefully it helps those of you who have young, starving artists at home ;)
My cabinets are a high quality wood – and are painted in a distressed white gloss paint. I didn't use a scrub sponge – just a regular sponge (with no scrub side to it).
It's always best to test your lemon essential oil in an inconspicuous area before applying to ensure there is no adverse reaction.
However, we have never had a problem using lemon to take stains off of our walls, floors and more – it's much similar to goo gone without the harsh toxic additives. Baking soda is a natural abrasive, that is safe for surfaces, and Thieves Cleaner is a non-toxic plant-based cleaner that is safe around children and animals.
Ingredients
Instructions
In a small dish, mix the baking soda with the Thieves Cleaner.
To combat the stain (this stain was on wood), drop 3-4 drops of Lemon Essential Oil directly on the stain and allow to sit for 2-3 minutes.
Follow by spreading the paste of Baking Soda and Thieves Cleaner on the stain. Allow to sit for another 3-4 minutes.
Take a sponge and wipe off the paste.
https://www.thecentsableshoppin.com/how-to-remove-ink-pen-stain/