This fun Rubber Ducky Valentine is an adorable non-candy alternative for kids of all ages to hand out this Valentine's Day!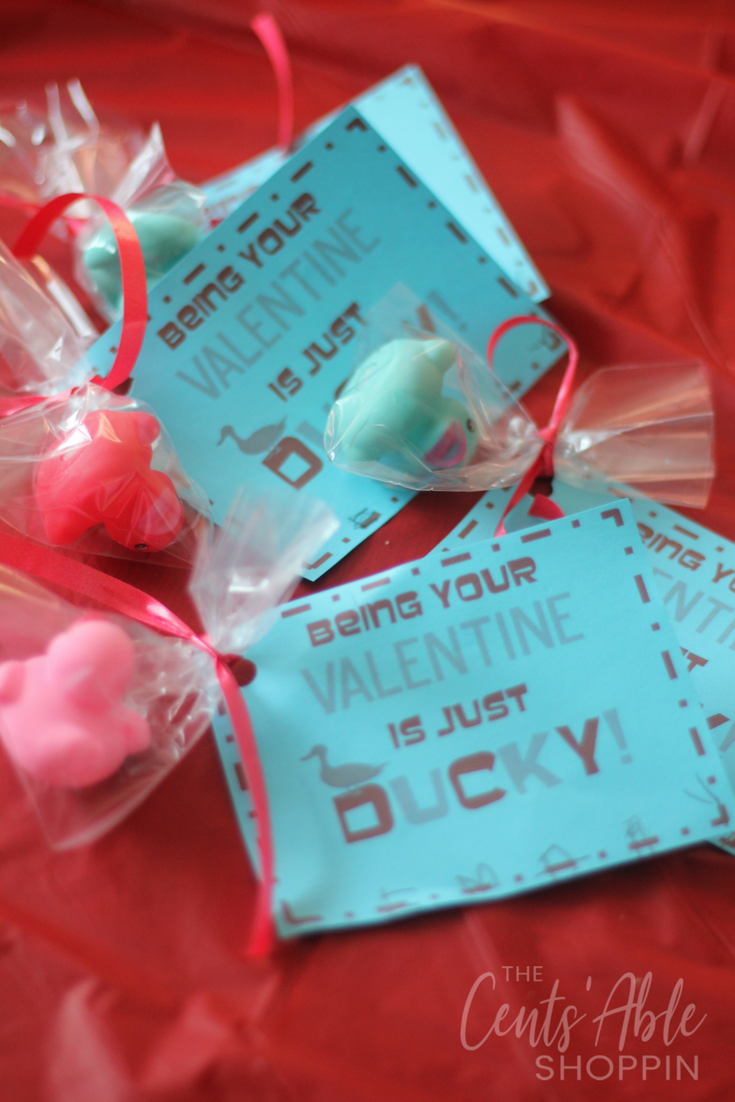 Are you ready for Valentine's Day yet? If not, this rubber duckie might just help you get there!
🎶 Rubber Ducky, you're the one … 🎶 🎶…. you make bath time so much fun! 🎶🎶
I remember that all too well even though I'm well in my 30's. I's still a song my kids sing and my smaller kids get especially excited for. This cute Rubber Ducky Valentine is perfect for any age. It can be made with regular yellow rubber duckies or Valentine-themed rubber duckies.


Amazon offers quite a few different duck varieties. Some of them float and squirt water, while others are just merely ornamental – they truly are very cost effective if you have a lot of Valentines to pass out!
Once you gather up your ducks, print out your Valentines on a nice, white card stock. Or, opt to send them to Staples to print for just $.50 per page. Print out as many as you need for your group, there are 6 per page .
Once printed, cut around each one so the dotted line works as a frame.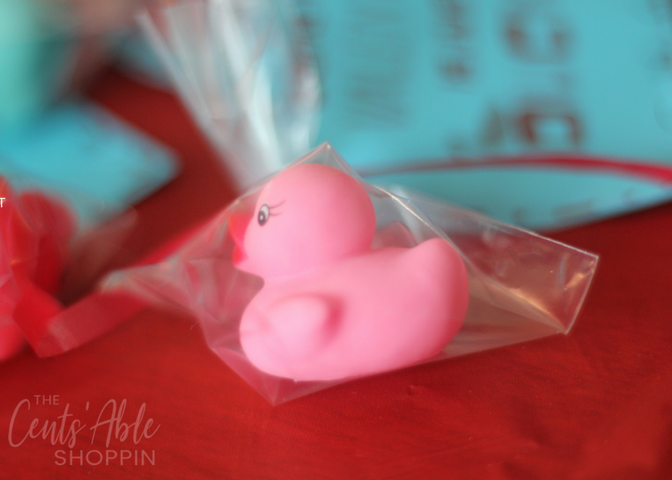 Punch a hole in the top of the Valentine, and have your child write their name on each. Put the duck in the bag and use the ribbon to tie the top with the Valentine.
Print the Just Ducky Valentine printable on card stock – there are 6 per page. Please feel free to share this post with others – however, if you share on social media (Pinterest, Facebook) be sure to link to this post directly instead of sharing the printable on its own.
Just Ducky Valentine Printable
Materials:
Scissors

Ribbon or String

Hole Punch

Printer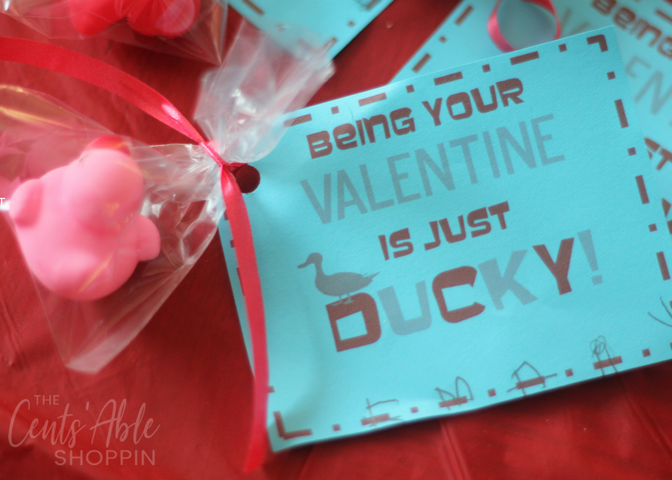 Instructions:
Print your Just Ducky Valentines on Card Stock.

Print as many

as you need for your child's classroom. There are 6 per page.
Cut out each Valentine.

Leave some

blank space around each one so the dotted line works as a frame.

Punch a hole in the top left corner of each Valentine.

Have your child sign their name on each one.

Place a duck in each bag.

Tie each bag closed with ribbon.

Tie each bag so that it appears on the front side of the Valentine.
That's it! Place the Valentines ever so gently in a bag so they are ready for your child to bring to school and hand out to their friends.

Kids love prizes and they will enjoy these fun, one of a kind Valentines. These are especially great for classrooms where there are food allergies or preferences or for schools that do not allow treats.