These homemade peach fruit snacks are an incredible way to support a healthy gut, hair, skin and nails while fun for kids to eat. They can be made in a matter of minutes.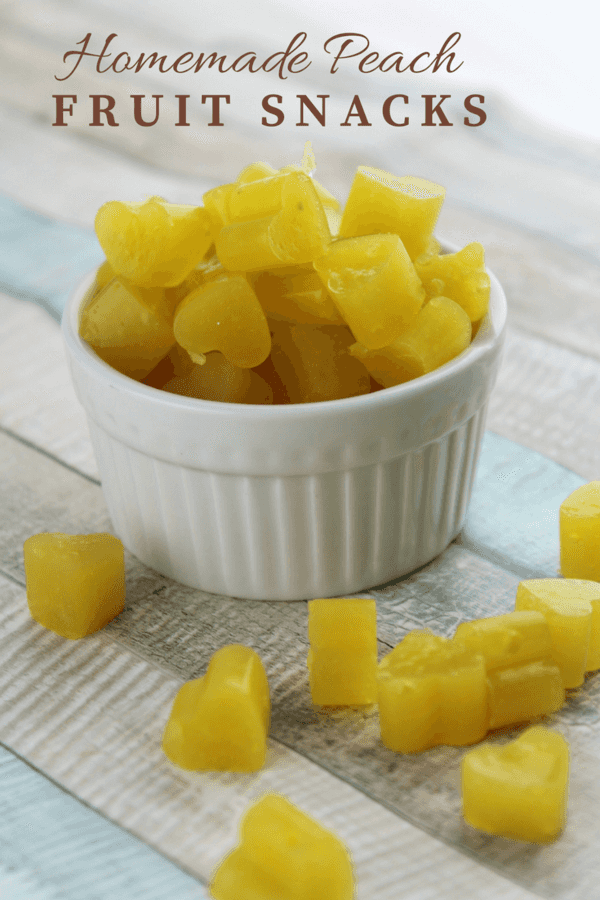 Fruit snacks are pretty easy to make at home, and so good for your kids. I don't know any child that doesn't go wild for the opportunity to scarf down a bunch of fruit snacks.
We're not talking about the high fructose corn syrup commercial gummy bears you buy in store, but making them yourself at home with just a few simple ingredients.
Since are in peach season, it only makes sense to find great ways to use a ton of freshly picked peaches – yum! Two of my kids demolished these fruit snacks in a matter of 30 minutes.. and instead of telling them no, I was happy they loved them.
These fruit snacks are made with 1 C. of pureed peaches, combined with a little raw honey and a high quality gelatin. There are so many benefits that can come from eating gelatin – including support for your hair, skin, nails and gut.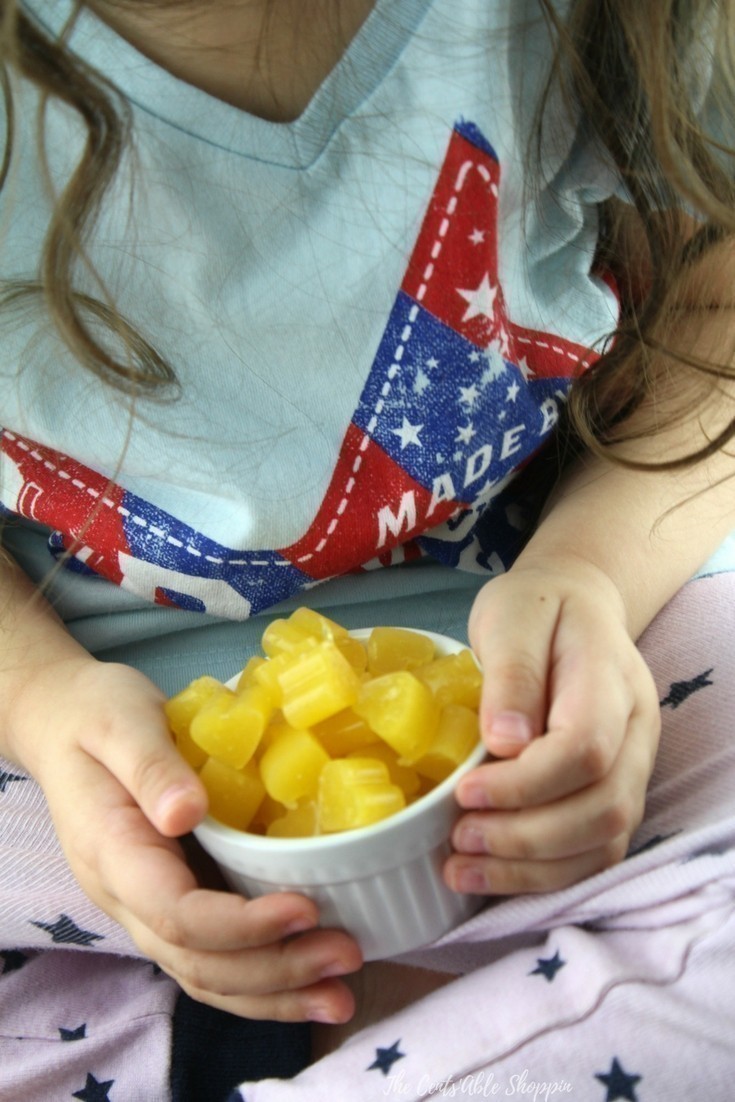 We incorporate collagen peptides in our diet daily (usually in our milk) and use gelatin for making gummies. Our kids have beautiful, thick, long hair that grows quickly and gelatin helps tremendously with that.
Right now, most people are not eating enough of it – while we can make many of the amino acids in gelatin on our own, we require more as we get older, not to mention if we have high levels of inflammation, a leaky gut, or weak joints.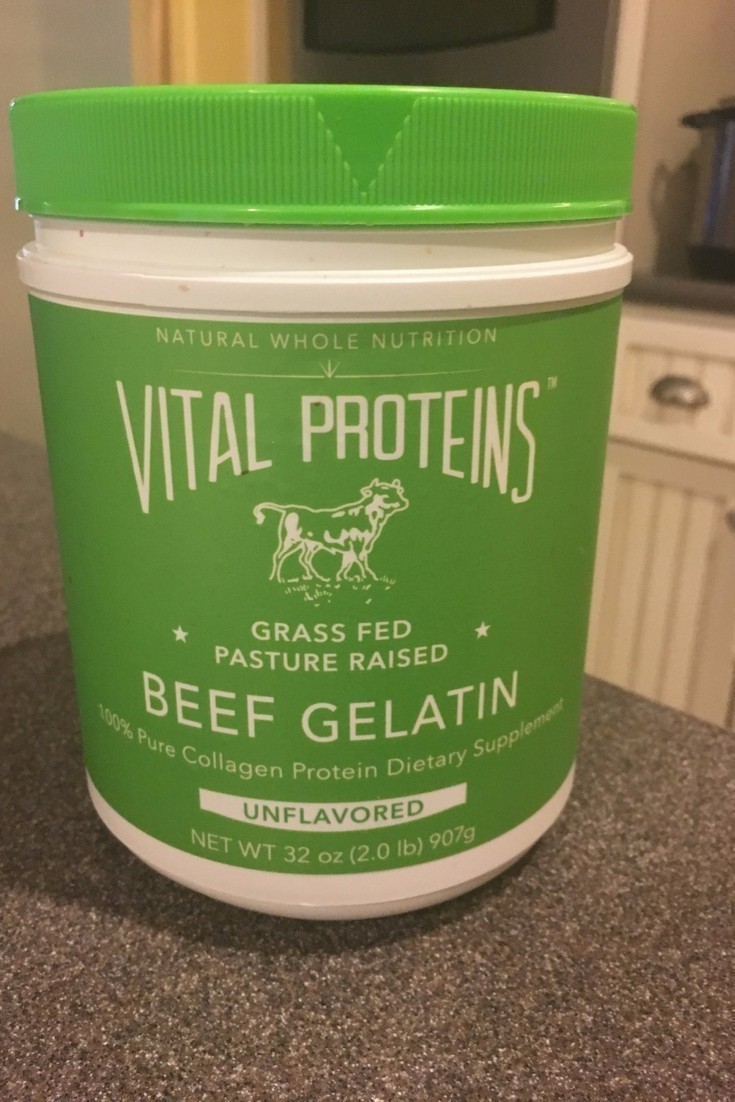 Avoid using the Knox brand gelatin in store… or any store variety for that matter because most are the byproduct of confined feeding operations and are low quality.
Instead, pick a high quality gelatin from cattle raised on pasture, without added hormones. There are a few types of gelatin out there – you want to aim for a pastured (grass fed) high quality gelatin.
Great Lakes and Vital Proteins are both wonderful options that are derived from pastured cattle that aren't kept in a confined animal feeding operation (like lesser, cheaper brands). The tub may be a significant cost up front, but it will last you an incredibly long time.
High quality gelatin is quite a bit more costly but has a myriad of benefits:
It can help you sleep better – as the glycine from gelatin helps support healthy sleep quality.
Gelatin can support your mental health – that same glycine that helps you sleep is also an inhibitory neurotransmitter – that decreases anxiety and promotes clarity. The reason it can do that is because glycine balances norepinephrine – which is a stress hormone that causes your feelings of panic and anxiety in the first place.
Gelatin supports healthy skin – glycine and proline are two amino acids that are used in the production of collagen. Collagen is a building block for healthy skin. Eating gelatin can help with the adverse effects of wrinkles, and sunlight. (src)
Gelatin can help repair your gut – it enhances gastric acid secretion and restore that lining of the stomach. One of the problems with a leaky gut is low stomach acid and – gelatin absorbs water and helps keep fluid "in" the digestive tract, which then helps to repair the gut over time. Repairing leaky gut means helping with those autoimmune issues, food intolerances and food allergies you may have once had.
Muscle meats (and eggs) are a source of methionine. Methionine is an amino acid that increases the need for homocysteine neutralizing nutrients (B6, B12, folate, choline). Too much homocysteine in the blood can lead to heart disease, mental illness, fractures (which might be one of the reasons a diet high in meat correlates to several diseases). To balance out the methionine from meat you need sufficient glycine (from gelatin).
Or use this heart silicone mold that we used this time, instead. They are the perfect size.
Here are some tips that you will need to follow when making gummies at home:
Do not use mango, or pineapple juice unless you boil it first. These fruits contain bromelain – which is an enzyme that denatures the gelatin (meaning that it won't set properly).
When you heat up the juice, do not heat it to boiling – you want the liquid warm, but not too hot. If it's too hot, the gelatin will not help the gummies set.
Once you heat up the liquid, sprinkle in the gelatin very slowly while whisking – which will prevent clumping. If you mix it all at once, then you will have some pretty big clumps.
You will need to use a full 2 – 2 1/2 Tbsp of gelatin per 1 C. of liquid – anything less and they won't set properly in the mold. There is no reason to grease your silicone molds – if you use sufficient gelatin, the gummies will pop right out. If you are using a baking dish, however, then you do need to grease prior to pouring in the liquid.
You can get creative too – use pureed fruit or experiment with your own combinations. See other fruit snack recipes below:
Ingredients
2 1/2 Tbp grass fed gelatin (we use Vital Proteins)
1 C. pureed peaches*
1 Tbsp raw honey
Silicone molds or a greased glass baking dish
Instructions
Place your silicone molds on a flat baking sheet.
In a small saucepan, add your pureed peaches and honey and heat on low until it's very warm (but not boiling).
Turn off the stove, and take the saucepan off - slowly pour the grass fed gelatin into the liquid while whisking until it's blended well.
Pour the mixture into the silicone molds with the dropper provided with the molds - there is no need to grease the molds.
Refrigerate the gummy snacks for at least an hour or two then pop them out and enjoy.
Keep the gummies in the fridge in a covered container, they'll keep for a few days (but they probably won't last around the house that long!)
Notes
* It might be necessary to add 1/8 - 1/4 C. of water to the food processor to blend the peaches easily.
https://www.thecentsableshoppin.com/homemade-peach-fruit-snacks/
Have you ever made fruit snacks? What's your favorite way to make them?