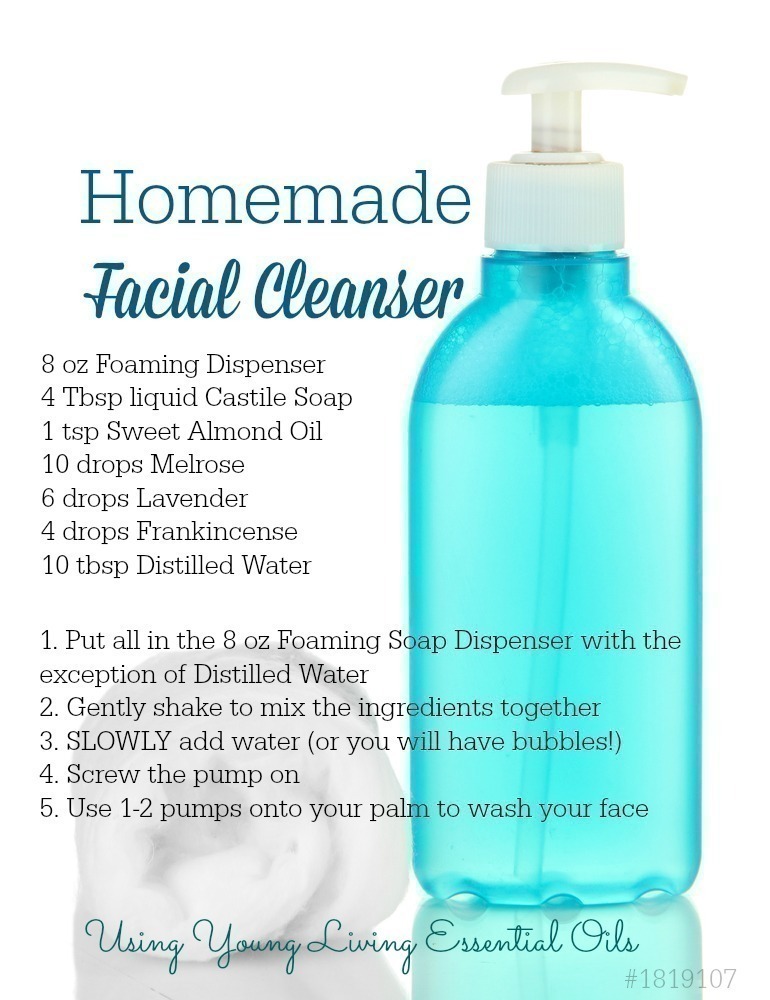 Why on earth would ANYONE on earth make their own facial cleanser?
I think it was a few weeks ago we mentioned that we make our own facial cream – we don't always share our posts on Facebook but this particular facial cream made it to Facebook where the comment was made several times..
"That's crazy. I'll stick with the kind in the store".
And while I'd say a lot of folks probably just don't necessarily care too much about what is on the label, some of us do… it's so easy to throw things in your cart without a care in the world as to what you are putting in or on your body – I see it all the time, and it's honestly scary. Until…. something happens to your health that forces you to care. Unfortunate but true.
There are FOUR reasons we opt to make our own. And while some people may blow off the harm in buying, there really is greater risk than you think.
#1 – You KNOW What's in Them
#2 – It's Cheaper to Make your Own
#3 – You Can't Get Better than Your Own
#4 – It's FUN to make your own – you can do it at home, any time
Your skin is your largest organ… so what you put on it really does make a huge difference. Much like what you eat goes IN your body to feed your body, the stuff that goes on your skin ALSO nourishes your body from the outside on in.
You can make lip care, sugar scrub and body butter with as little as 2 ingredients – why go for a laundry list of ingredients (of which you can't even pronounce?) when you can keep it fairly simple?
While you'll have to buy some of these items to get started, they last quite a long time — we use our Castile Soap for Body Wash too so it goes several ways.
Your beauty products from the store may have some natural ingredients, but never more than a trace amount.. making them really nothing but a marketing ploy to make you think they are worth much more than they really are.
NOTHING compares to making your own. Here's how you can make your own:
Ingredients:
8 oz Foaming Dispenser (we opt for glass with Essential Oils)
4 Tbsp Castile Soap (Liquid) – we prefer THIS variety
(Tip: You can often find at Fry's, the 32 oz for $9.00 on sale and it lasts forever)
1 Tsp Sweet Almond Oil (we use THIS)
10 drops Melrose Essential Oil
6 drops Lavender Essential Oil
4 drops Frankincense Essential Oil
ALL 3 of those Essential Oils are great for skin support.
Directions:
Mix everything with the exception of the Distilled Water.
Gently shake to combine.
Add distilled water VERY SLOWLY (unless you want lots of bubbles!)
Then put the topper back on and use 1-2 pumps in your palm to wash your face
To use, 1-2 pumps is sufficient with warm water, and towel dry.
We use Young Living Oils in our home and I will not use ANY other brand. I'm glued to our choices and want to know why? They have been around for 20 years. They own their own fields. They have a Seed to Seal pledge that means a LOT to me and you can go to their farms at any time to help with planting and harvesting. You can't do that with anyone else!
Read our last post to learn WHY we love them so much, and why we chose Young Living.
We LOVE everything about our oils and use for everything from personal health to wellness.
Thankfully Young Living makes it incredibly easy to score a wholesale discount on your oils – when you pick up their starter kit…you get ALL of those oils above, and a diffuser – not to mention the opportunity to buy your oils at wholesale cost.