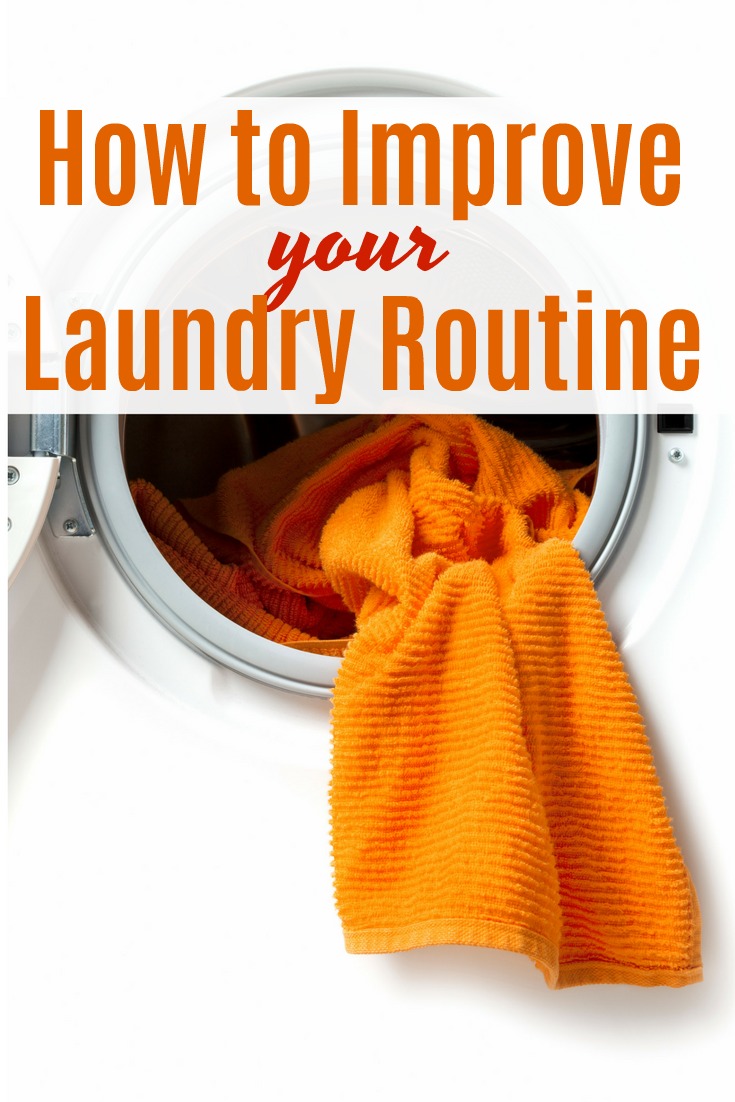 Believe it or not, I hate doing laundry.
You can ask my kids .. and even my husband how much I despise washing clothes – they will readily agree with you.
It seems as if I'm not on top of it all the time, it quickly piles up – and before I had a routine down, it used to pile up REALLY quickly.
I would wash large loads, dry them, and then dump them on the floor to fold ~ except I would not get around to folding … 3-4 days later, that small pile would turn into a HUGE heap, and I'd spend hours on a Sunday night folding clothes.
With having 7 of us at home, and with both of us working full time, managing the laundry has to be efficient ~ and I can honestly say we have an incredible laundry system that works for us.
Because our laundry system works for us, we are sharing ~ however, we know that it might not work for everyone. Hopefully you can take a few things from it and use them to enhance your laundry routine.
Do Small Loads Frequently
Forget waiting until the basket is full – so frequent loads that are smaller in size. Not only will they wash better, you won't be as overwhelmed as waiting until the basket is full with a larger load. When it's done, you'll spend much less time folding (5 minutes – 7 minutes) as opposed to dumping them in heaps on the floor and folding for longer.
Think you are wasting water? I have an Eco-Cycle machine, so I'm not wasting water at all – packing it full and overloading it, however, will wear down your clothes, won't allow them to get as clean, and you'll end up doing another load just to get them clean in the end. Small is best.
Have an Organizational Method
BINS work amazing! Bins Bins Bins Bins — I can't say that enough. If you have children, have a bin for each child ~ share a basket between you and your spouse. Gather the bins around as you take items out of the dryer – fold and put in their appropriate bin. For your larger children, task them with putting their clothing away.
They may not always want to help, but they need to learn that doing it on their own is important. I had to sit my boys down to explain to them that one day I will not be here to do their laundry, and that they will need to know how so they can teach their kids.
Our organizational method includes bins and they work incredible for us. Mom folds and puts clothes in the bin. Bins go in the bookshelf. The kids then take their own bins and put away clothes after dinner.
Have Hangers in the Laundry Room
You know… it's easier, some clothes are not meant to be folded. They are meant to go on a hanger – so those hangers just help. Keep some in there, all the time.
Fold Clothes
Often
This should not be hard – as long as you are doing smaller loads. If I have 5 minutes in the morning I'll wander in and fold what's in the dryer right then. Provided it's a small load, it might take me 5 minutes.
You are more apt to do it if it's manageable – if you wash LARGE loads, your fold load will be huge – you dump in a basket and it sits and it will NEVER get folded efficiently. Ask me.. I know. :)
Enlist your Children to Help
As my children grow, I can only assume the piles of clothes will rack up even faster. But that doesn't mean you can't still keep yourself on track ~ my kids are great at helping – and putting their own clothes away properly was a great way to help them start. That means kids even older should be even more capable of doing some work – after all, they need to learn anyways, Mom can't do it for them forever.
After putting their clothes away at night, they each carry the contents of their bin to the laundry so I can sort/make use of what will go in the wash. It's really fairly quick & painless. The kids how to do things for themselves, mom is happy, it's a win win.
The chore of laundry is MUCH lighter when you can divide into smaller tasks ~ find what works for you and get into a routine that works with your schedule.
If you can find a way to stay organized it'll be a much more efficient process for everyone in the family. Even better, you'll find yourself less stressed with more time to devote to the things that are most important.