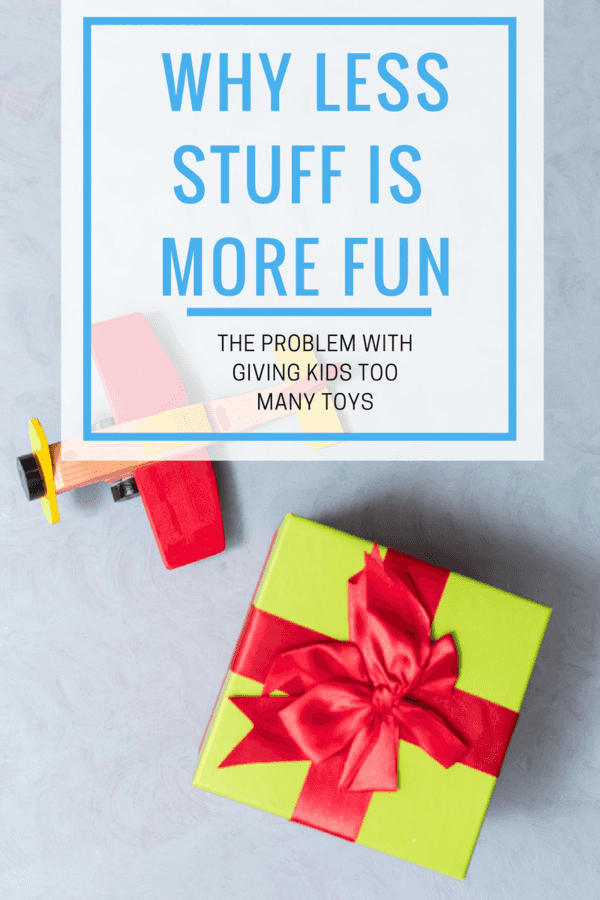 School will be done in a few months, and it won't be long before you will start to see Christmas decor go up – it seems like it gets earlier and earlier with every year that passes.
The entire thought just makes my stomach turn.
As much as we don't want to think about the holidays when the school starts each summer, we have to – because every store loads up the aisles starting as early as August with Christmas decor.
We live by my husband's family but my family is up north and every year starting in June/July the discussion comes up about who is going where this holiday season. The "who is going where" conversation usually turns into "what do the kids want for Christmas"… and I quickly respond with "nothing. They don't need anything. Just come here, that's all they want."
Then, Christmas passes, Valentine's passes, and I find myself on Saturdays like today, cleaning out an overflowing toy box of broken, cheap, plastic boys.
Can I be honest? I'm so SICK of cleaning this stupid toy box, because I feel like I do it way too much. I don't understand why we have this toy problem, considering we don't buy them gifts for the holidays OR their birthday. The toy box and surrounding bins are full of low quality, plastic, made-in-China LOUD toys that people have given them over the last year or two.
I wake up at night and I'm constantly stepping on toys. Broken pieces, heads off dolls, batteries that have fallen out. And I'm always asking myself WHY does this happen?!
The toys are far from durable. They are a huge eyesore. They are broken and in pieces… not all though, a good majority.
There are a rare few that aren't – we have a few Melissa and Doug toys that have held up for years. They are worth their weight in gold. Our matchbox cars (all 200+) that my now 6 year old son used to play with when he was 1 and 2 years old – those are all over. And as much as I hate stepping on them in the middle of the night, they are pretty amazing little contraptions to take on trips to keep the kids busy.
Every year we try so hard to avoid gifts for birthdays and holidays – we have done a great job the last few years with avoiding gifts for the adults too. After all, we're grown ups now. If someone is going to get bent out of shape about a gift, then they might need a life shift. ;)
Good quality toys are essential, but they don't need an overflowing abundance of toys.
Toys are not just for playing – at least not with mine. They help my kids learn about themselves, and they help teach them about the world. While they are somewhat important, it doesn't necessarily mean that we need to fill up their bedroom from floor to ceiling with toys either.. limiting is almost necessary in most cases.
Fewer toys can actually be a benefit to our kids:
Kids learn creativity. Too many toys prevents our kids from using their imagination to play. Although my kids may initially get bored not having so many toys, they turn to use their imagination to invent their own games – whether inside or by going outside to keep busy.
Social skills improve. Having fewer toys encourages them to develop their imagination through interpersonal relationships with their siblings or other kids/adults. Although the conversation may not always be amicable.. it teaches them to give and take.
Kids take better care of the toys they have. When they have too many toys, they tend to get tossed, thrown and beat up – they don't value them quite as much. I see this with my own – when we take away certain toys. When the have too many, they drag them outside, throw them in the bath (destroying them intentionally). Once we sorted through them and donated over half to get rid of the excess, they started taking better care of the toys they had. Perhaps out of fear? Who knows, but it worked.
Kids argue less. Whew – this took me forever to figure out. Our kids occasionally fight (who am I kidding, they fight ALL the time?!) They actually do argue LESS with less toys. Too few toys means that our kids have to share – I'm not buying one toy for each of them, so that kickball that we bought them last year has to get shared. If not, then the ball gets taken away. That "one" ball is so prized to them that it forces them to collaborate together, and work so that they can all share.
Kids become less selfish. Although many might disagree.. I firmly believe that when kids get everything they want, they will assume that is going to continue with age. Kids will appreciate what they have and not expect as much if you limit the toys they have.
Kids learn to function outside of the house. Lots of toys clutters up our homes, and doesn't encourage kids to find happiness through anything else but through tons of gadgets and gizmos. Looking back to my childhood, my parents didn't buy us many toys (if any) – we played outside – long days, into the evening, in the sweltering humid heat. We created our own fun – and we found satisfaction outside of the toy store and created an appreciation for what was around us (dry bed creek, cornfields and huge forest on our parents property). We definitely didn't have any video games. Oh how times have changed! :)
I think back now and we just loved catching salamanders in old glass pasta sauce jars.. and holding them in plastic baby pools scattered on the yard. Then dumping the pool out and watching them scatter all over as they moved in all different directions.
I'm definitely not anti-toy – and I'm not against seeing my kids happy. I, like any other parent, love to see my kids excited and full of smiles. I just don't think too many toys are the way to do it.
Sure, it might be hard to eliminate toys completely at the holidays – especially when you have friends and family who don't see your kids all year that want to make up for that with toys. Or if you have in laws that like to take your kids to the Dollar Tree every week.. because goodness knows that those plastic toys can accumulate fast (and lead to busted toys too).
What is a great option for gifting kids aside from toys?
Books are a great option to give at the holidays or birthdays – they don't take up much space, they are educational and you can never have too many – right? Having a toy swap is also an option where you regift a toy that you already own so that another child may enjoy. Or, you can substitute toys with an experience – take them somewhere they will remember versus a toy that will get broken with time.
As much as we all like seeing our kids happy, there is an opportunity for kids to have fun at the holidays without opening tons of gifts and putting pressure on parents to spend loads of money and time shopping for things that will eventually lead us to have to organize, sort and clean.